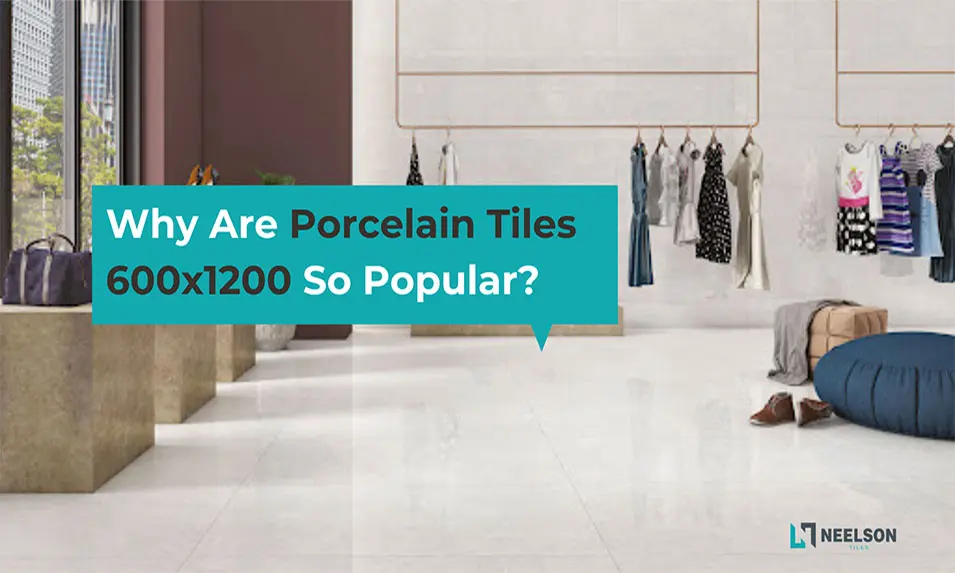 Home is more than just a physical place. Rather, it is a place where you spend time with your loved ones, make the fondest memories, and spend your entire life and the majority of your day!
For all of these compelling reasons, you must make it a lively place that you adore. And, in order to make it a lively setting, you must first work on its design and decor. Everything should be considered– from the tiles to the colors to the architecture to the interior design.
In this blog, we'll look at why porcelain tiles 600X1200 are so popular and trending among interior designers wishing to renovate their homes. We'll take a quick glance at each tile's qualities, such as appearance, strength, cost, and maintenance, among others.
7 Qualities That Makes Porcelain Tiles Unique
The 7 causes or qualities that distinguish porcelain tiles 600X1200 from other floor tiles are listed below.
One of the most appealing aspects of porcelain tiles 600X1200 is their gleaming appearance. Compared to other porcelain tiles, the polished surface of these tiles improves their appearance significantly. Most polished tiles are fired twice, once with the specified pattern or color and then again with a clear coating. Afterward, polished tiles are sealed to keep their luster.
Overall, this one-of-a-kind manufacturing process gives porcelain tiles 600X1200 a distinct touch and appearance. Ultimately, the unique appearance of the tiles will improve the overall appearance of the space and make it more comfy to live in.
Another unique feature of polished porcelain tiles 600X1200 that we noticed is their exceptional strength. Since these tiles are crafted with the same materials – clay, feldspar, and quartz – and go through the same manufacturing process as other porcelain tiles, they have extraordinary strength that can withstand high wear and tear and ensure a long lifespan.
Furthermore, the polished porcelain tiles 600X1200's incredibly dense surface makes it non-porous, preventing water degradation. This quality makes it excellent for wet floors such as kitchens, as well as for places with changing temperatures.
3.
An Array of Styles & Sizes
Another feature that contributes to the popularity of polished porcelain tiles 600X1200 is their versatility. Since each person has a particular taste and preference for a certain style, it is critical that the product be available in multiple styles and patterns. Fortunately, polished porcelain tiles suit this need perfectly.
When you buy polished porcelain tiles 600X1200 from a reputable porcelain tile manufacturer like Neelson, you gain access to a large array of tiles in various eye-catching colors and stunning patterns in a range of sizes. The range of options and colors eventually allows you to find the perfect tiles that you desire and give your place the perfect look that you are craving.
Along with the appearance and strength, affordability is another aspect that adds to the popularity of polished porcelain tiles 600X1200 among the mass. Porcelain tiles typically cost between 50 and 100 INR per square foot. However, if you buy premium-grade tiles, the price may be slightly higher. However, compared to other flooring options such as hardwood or marble, porcelain tiles are pretty affordable.
Moreover, when you buy polished porcelain tiles 600X1200 from a top porcelain floor tiles manufacturer like Neelson, you do not only get tiles at low costs, but you also get installation guidance and timely delivery. So, in a nutshell, another important reason people prefer polished porcelain tiles is their low cost.
5.
Ability to Blend with Distinct Themes
When designing a home or any other facility, there is much more to consider than flooring. There is a theme, a décor, wall colors, and so on. More significantly, each of these pieces must fit each other and complement one another in order to give your space the desired look. For example, if you want a strong theme, you might go with rocker finish tiles. Similarly, for a more serene look, pick polished porcelain tiles 600X1200.
Not only are the styles, but so are the various sizes of polished porcelain tiles make it more preferable. For example, porcelain tiles 300X300mm or 300X600mm can be used in small areas such as the kitchen, while 600X1200mm can be used in larger areas such as the living room or dining room.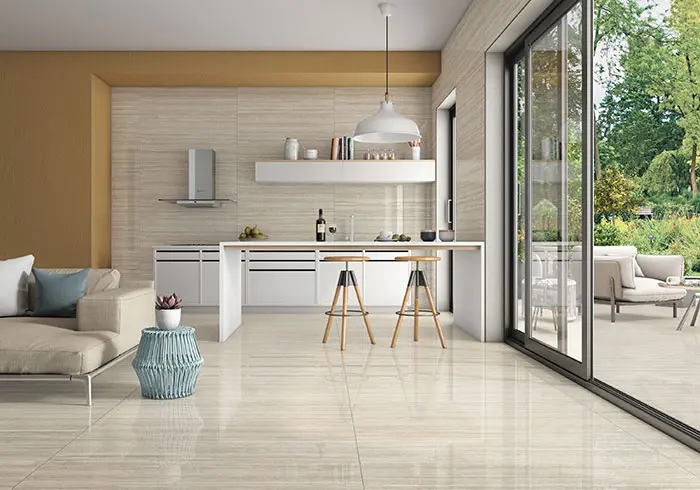 Nobody likes to choose tiles that require a lot of maintenance or that need to be thoroughly cleaned daily. Fortunately, polished porcelain tiles 600X1200 are quite simple to clean and maintain. Dirt would be easier to clean on these tiles since they have a flat or even surface, as opposed to matt floor tiles that have a rough texture. Simply wipe away the stains with a wet sponge to clean the tiles. You can also check our guide on simple techniques of remove stretches effectively.
Moreover, if any of the tiles get damaged, you may simply replace that specific tile without having to replace any other adjacent tiles. However, to ensure that you replace the damaged tiles with the same pattern tiles, always buy an extra box or two of the same pattern tiles. So you don't have to go from post to pillar looking for the right match.
7.
Quick & Easy To Install
The 7th factor that adds to the widespread popularity of polished porcelain tiles 600X1200 is their ease of installation. Porcelain tile installation is far easier than marble or wood flooring installation. The installation procedure consists of several simple and quick steps, such as:
1. Prepare the floor and install the substrate.
2. Laying the foundation.
3. Evaluate the space that needs to be tiled.
4. Decide on your tile size and pattern. If required, consult with the designer.
5. Rehearse laying out tiles.
6. Back butter the polished porcelain tiles 600X1200 with mortar.
7. Start installation from one end of the room and move towards the other.
8. Grout the joints and wipe the extra grout after 15-20 minutes.
9. Once the grout is dried, apply silicone sealant to the expansion joints.
Once all of the stages have been completed, your magnificent porcelain tile floor is done!
These 7 factors or qualities contribute to the massive popularity of polished porcelain tiles. Read our previous blogs to learn more about the installation method or the FAQ about porcelain tiles.
Neelson Ceramic is an Indian porcelain tile manufacturer well-known for its innovative tile patterns and high quality. The company hosts a wide variety of glazed porcelain tiles, including matt, polished, wood look, rocker, and high gloss finish porcelain tiles. Contact us to learn more about our product line and policies.