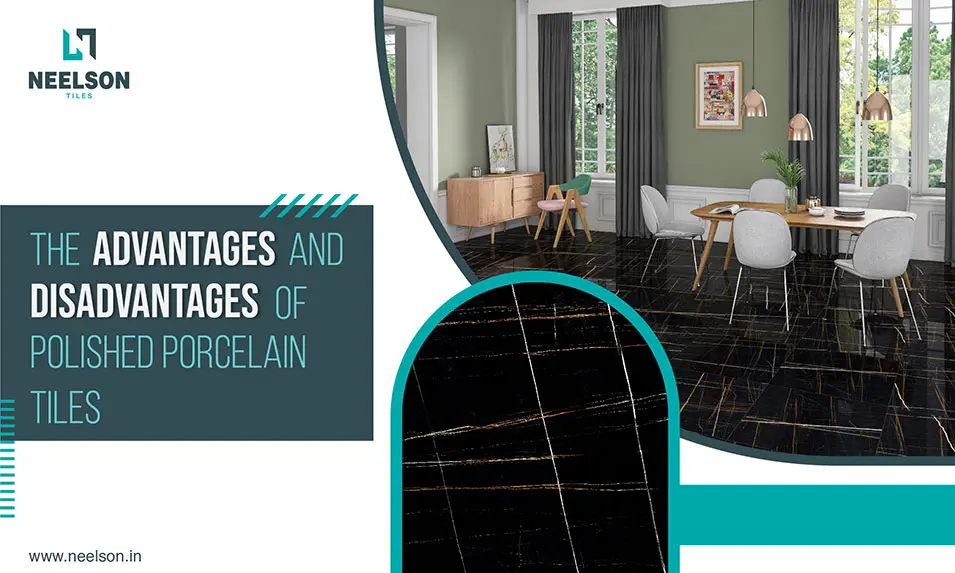 Choosing the right material for your floor is an important decision when building a new home or renovating an existing one. There are numerous tile choices available, but polished porcelain tile is one of the most popular option. This is a type of ceramic tile that many homeowners are unfamiliar with. This tile contributes significantly to the overall appearance of the floor.
Polished porcelain tile differs from ordinary tile in terms of strength, hardness, durability, and water resistance. Despite the fact that glazed porcelain tiles is made from many of the same materials, but it is made with a better manufacturing process and offers more advantages than other tile flooring.
In this blog, we will discuss some of the significant advantages and disadvantages of polished porcelain tile. So, let's get started with what is polished porcelain tile?
What are Polished Porcelain Tiles?
Before looking deeper into the advantages and disadvantages of polished porcelain tile, it's important to understand what it is. Polished porcelain tiles are a type of ceramic tile whose surface is polished with a diamond disk. During the grinding process, microscopic pores are formed on the surface of the tile, which is hidden by the glossy finish.
Its availability of a beautiful range of tones and perfectly smooth finish are a few of the features that appeal to homeowners and architects. These tiles come in a variety of designs and sizes such as glazed porcelain tiles 300X600mm, 600x600mm, and 600x1200mm. These tiles are suitable for many interior and exterior applications.
Next, let's know why we should use polished porcelain tiles with their advantages.
The Advantages Of Polished Porcelain Tile
The following are some of the most significant benefits of polished porcelain tile.
A great thing about polished porcelain tiles is that they require incredibly low maintenance. Porcelain is a strong material that is also resistant to stains, which makes cleaning easy and water is easily wiped away without causing any real damage.
This tiles don't require any special sealing to keep out water. As a result, polished porcelain tile is widely used in moist areas such as kitchens, bathrooms, and entryways. This tile will look great for years to come with little effort.
Second, one of the most important advantages of polished tile is its durability. This tile is made of highly refined clay that has been fired at higher temperatures and is intended to last longer than most other types of flooring tile on the market. Furthermore, the advanced manufacturing technique makes the polished porcelain tiles durable. Besides that, it performs admirably in high-traffic areas and even commercial areas.
Another advantage of polished porcelain tiles is that they are fairly easy to clean and maintain. Porcelain tiles do not accumulate bacteria like other porous materials, are very easy to wipe off, and can be kept clean for long periods of time. You can add detergent and wash with clean water. Tiles are kept cleaner than traditional tiles and don't get dirty easily and are used both indoors and outdoors.
4.
More Moisture Resistant
Polished porcelain tiles are particularly useful in cold climates as they are less susceptible to moisture and do not crack in the cold. This is because the polished floor tile is denser, more uniform, and much less porous than other types of tiles. Moisture does not easily penetrate into polished tiles, providing a stronger and more reliable flooring material. In any case, the polished tiles are very moisture resistant and are ideal for rooms that are sometimes slightly damp.
Polished porcelain tiles have an advantage over other materials because they are stain-resistant. These tiles not only repel liquids but also keep colors from penetrating and staining the tiles. The glazing process further enhances this property, making it almost impossible for the surface color of these tiles to fade. Proper care can prevent staining as well as mildew growth due to moisture.
The Disadvantages Of Porcelain Tiles
Despite these advantages, this tile also has some disadvantages.
Polished porcelain tiles are more expensive because they go through an advanced polished manufacturing process. They are not exorbitantly expensive, but they usually cost more than ceramic and are more expensive to install. However, because the flooring is likely to last for years longer than more affordable alternatives, it gives a better long-term value than a less expensive flooring option.
2.
Difficult Installation
Polished porcelain tiles are heavy and dense, making them extremely difficult to install. The characteristics that make it so durable and dependable also make it more difficult to cut through and layout properly. Due to its weight, the installation of these tiles is more labor-intensive. Due to the difficulty of cutting these tiles, getting a precise cut is difficult and frequently results in a lot of waste.
Like other smooth and shiny surfaces, polished porcelain tends to be slippery compared to matte surfaces, especially when wet. So, It should not be used in the bathroom. Matte-finish and textured unpolished tiles have a better foot grip and are therefore non-slip. They are ideal for damp interior spaces such as bathrooms.
Final Thoughts
Polished Porcelain tiles are an excellent choice for a variety of rooms throughout the home due to the numerous advantages they provide. This blog went over the advantages and disadvantages of polished porcelain tiles, but the advantages outweigh the disadvantages. So if you are looking for tiles for your home or office, then this tile can be the best option.
Neelson Tiles is an ISO 9001-2008 certified glazed porcelain tiles manufacturer in India known for its exquisite porcelain tile collection and cutting-edge infrastructure. The collection includes a variety of tiles finishes other than polished porcelain tiles. So check our tile collection for more detail.