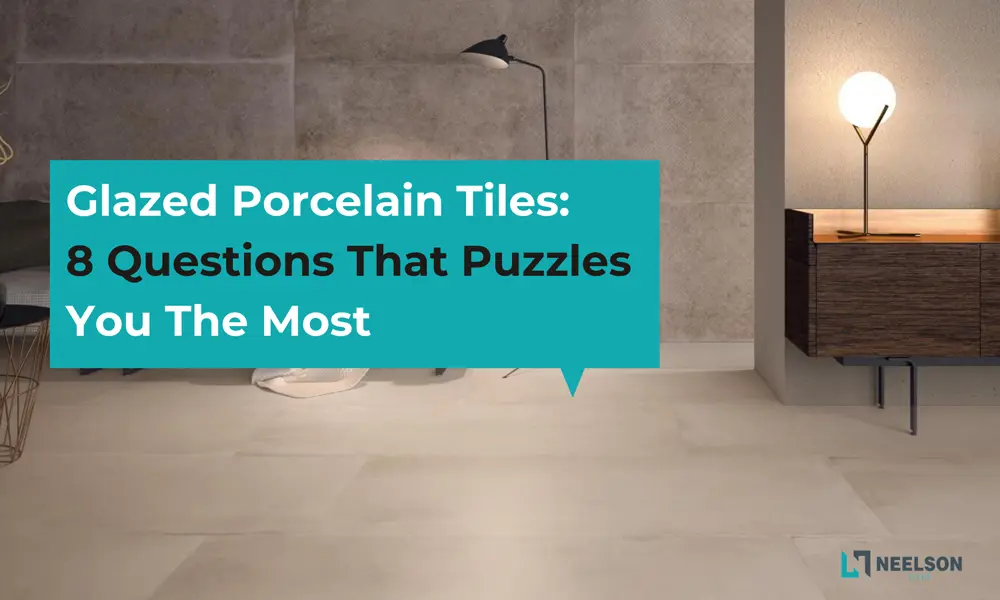 Though glazed porcelain tiles have become increasingly popular over the years, many people still have questions about this product, such as what these tiles are made of, how durable they are, how much glazed tiles cost, and so on. Moreover, there are some myths or misconceptions concerning glazed floor tiles, such as the perception that they are not as durable as polished tiles.
Therefore, we've decided to answer all of these questions and dispel the myths and misconceptions that exist. So this blog is a kind of glazed porcelain tiles FAQs, but in XL size, where we have answered the eight most frequently asked questions about glazed tiles.
Glazed Porcelain Tiles – 8 Questions That Puzzles You The Most
Q1:
What Are Glazed Porcelain Tiles?
Glazed porcelain tiles, as the name suggests, have a glazed surface. However, it should be noted that a glazed coating does not only limit to a shiny or glossy surface. Rather, it is a substance that is coated on the tiles. For example, it might be liquid glass or enamel that is coated on tiles to make them glazed. Besides, because of their fine and slippery surface, these tiles are mostly used in household applications. The additional layer also enables the printing of several fine designs and patterns.
Q2:
How Glazed Porcelain Tiles Made?
The glazed tiles are made of the same material as other porcelain tiles but with a little difference in the manufacturing method. The glaze is added to the surface of the tiles before they are fired in the kiln. During the firing process, the glaze fuses to the body of the tile. Ultimately, the manufacturing method of glazed porcelain tiles is fairly similar to that of regular tiles, with the addition of glazed material.
However, the glazed surface significantly improves the beauty of the tiles in ways that unglazed tiles do not.
Q3:
How Much Does Glazed Porcelain Tiles Price?
The cost of glazed porcelain tiles is certainly influenced by numerous factors, including quality, size, pattern, order quantity, and raw material cost at the time. For example, a typical box of glazed porcelain tiles 60X60cm will cost you roughly 260-300 INR. Moreover, if you want personalized glazed tiles, you will have to spend extra money.
However, when you buy porcelain tiles from a reputable porcelain tile manufacturer, such as Neelson, you can be certain of their affordable pricing.
Q4:
How Durable Are Glazed Porcelain Tiles?
There is no doubt about their durability when it comes to glazed tiles. Since these tiles are made of the same materials as porcelain tiles, they have good wear and tear resistance, are resistant to water, and require little maintenance. As a result, glazed porcelain tiles can be used in almost any type of home setting.
However, due to their slippery surface, these tiles are often avoided in commercial settings. Moreover, if a tile gets damaged for whatever reason, you can easily repair it without having to remove other adjacent tiles.
Q5:
What Are The Qualities of Glazed Porcelain Tiles?
Water resistance, stain resistance, easy maintenance, and the ability to tolerate high traffic are just a few of the benefits of glazed porcelain tiles. Because of the dense surface of these tiles, the structure made it impossible for liquid to enter. Moreover, the tough surface allows tiles to survive heavy traffic. These tiles are stain-resistant due to their glazed surface. Even if you spill something on these tiles, it will be simple to clean it without staining the floor.
Q6:
Which Is Better– Glazed Porcelain Tiles or Polished Porcelain Tiles?
Although polished porcelain tiles and glazed porcelain tiles appear to be the same, there are some obvious differences between them. For example, polished tiles have a polished surface–in other words, it's all about the surface. However, in the case of glazed porcelain tiles, the material is more important.
The additional glazed coating added to the glazed tiles improves not only their appearance but also their quality. So, when deciding between glazed and polished tiles, we recommend that you always go with glazed porcelain tiles.
Q7:
What Are The Advantages of Glazed Porcelain Tiles?
Some of the key benefits of glazed porcelain tiles include: being incredibly durable and long-lasting, being easier to maintain, being more hygienic, being fire-resistant, and so on. Moreover, these tiles are a great flooring solution for high-traffic areas, available in a variety of designs, have a considerably low moisture absorption rate, and can be slip-resistant.
Another significant feature of glazed porcelain tiles is their ability to mimic a variety of different materials such as wood and marble. All of these advantages make glazed tiles an excellent choice for flooring.
Q8:
How To Install Glazed Porcelain Tiles?
The tile installation process is simpler than you think, but it does necessitate that you follow a few guidelines and execute each stage in the correct order.
Step 1: Clean the area and prepare it for tile installation.
Step 2: Next, gather all of the necessary tools, materials, and equipment required to install glazed porcelain tiles.
Step 3: Test the layout before going full-fledged.
Step 4: Next, using the mortar, lay the tiles.
Step 6:Cut and lay the border tiles.
Step 7: Put the grout in place.
Step 8: Remove any extra grout and seal it.
Step 9: Lastly, clean the entire surface.
These are the top eight most frequently asked questions about glazed porcelain tiles that we encounter the most. We hope that these answers have cleared up any confusion you may have had about glazed tiles. If you have any questions that are not addressed in this blog, feel free to contact us via email at
[email protected]
. Our expert will answer you with all of the relevant information.
Neelson Tiles is a leading manufacturer of glazed porcelain tiles in India. The company produces and sells a range of tile finishes, including matt, polished, high gloss, rocker, and wood look. All of these products are extremely durable and look fantastic. Visit our product page to explore our entire collection.