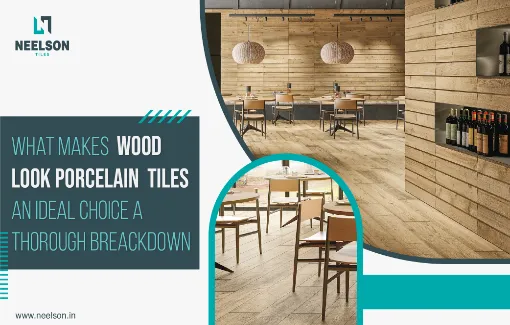 Porcelain tiles are manufactured using high-quality material and a fine ground sand mixture. The mixture is subjected to high heat which makes the tiles extremely durable and provides an authentic look. Wood look porcelain tiles appear wood-like, as the name suggests, that date back to the 15th century. Recently, homeowners have inclined towards wood look porcelain tiles for their flooring as it provides a natural and luxurious look to the home.
These tiles are highly functional as they can be used on the floor as well as on the walls to provide an aesthetic look that soothes the eye. Using wood for furniture and home appliances has always been preferred over any other material because of the classic appearance it provides. Wood look porcelain tile has many advantages, applications, and significance.
Features and Application of Wood Look Porcelain Tile
These tiles uniquely appeal to the eye, the aesthetic wood look is rather attractive because of its classic yet contemporary style. Over the years, porcelain tiles have observed a dramatic change in their designs without compromising their authenticity and originality, wood look porcelain tiles are therefore a product of creativity yet original.
These tiles go through a process called vitrification that provides them strength to withstand many activities. As the tile is subjected to high heat (more than 1200 Celsius) they lack moisture, which allows them to be waterproof and hence is suitable for long-term use. Main features of these tiles are as follows,
These tiles can withstand heavy foot traffic, excessive loads, and moisture
All the features without compromising their visuals.
These features favor the multi-functionality of wood-look porcelain tiles, as they can be used for floors as well as walls.
The durable features of these tiles contribute to their long lifespan and stain-free life.
Applications of wood look porcelain tiles
The wood look appearance of these tiles can be co-related with the ancient classical appearance in south-east Asia and Europe. Such a style of tile is gaining popularity in the modern world because of its aesthetics and durability.
Different type of wood look porcelain tiles is available for different occasion and use. As porcelain tiles are recommended for residential and commercial, wood-look porcelain tiles are often preferred by homeowners.
Cost-effective yet aesthetically pleasing tiles are popular in the modern market, the features that are readily found in wood-look porcelain tiles.
Significance of Wood Look Porcelain Tiles
Now that we know that these tiles are subjected to very high heat and are made of clay, we can understand that these tiles are highly durable yet environmentally friendly.
Some key differences:
Homeowners who want the retro-neo look for their homes can opt for these tiles and get splendid results for just a fraction of the cost as compared to original wooden tiles (that are NOT waterproof).
Hardwood is obtained from trees and porcelain tiles are made of clay and fine sand particles; thus, a majority of homeowners are now actively opting for these tiles over hardwood.
Not to mention, the maintenance of hardwood could become a bit 'hectic'.
Artificially manufactured Wood Look Porcelain Tiles are rather versatile when it comes to designs. These tiles can be used to create beautiful patterns and designs as per individual liking, the sheer availability of various designs allows the individual to create a custom pattern.
Porcelain tiles are known to have existed since the 15th century. These tiles are a mixture of clay and fine sand particles that are subjected to high heat thus making them durable and waterproof (because of lack of moisture). These tiles are dense and stain-free with a classic look that has undergone dynamic changes over the years due to changes in technologies and production.
Visually appealing, aesthetically pleasing, durable, dense, waterproof, and cost-effective; these are some of the prime features of Wood Look Porcelain Tiles. As they appear wood-like, they are an excellent substitute for hardwood tiles which are expensive and harder to maintain.
Hardwood tiles are also NOT waterproof, thus because of these reasons wood look porcelain tiles are getting popular among homeowners. Porcelain tiles differ from ceramic tiles as they have much more strength and durability, mainly due to the process of vitrification.
Neelson Tiles are leading porcelain tile manufacturer based in India. We export our tiles on a global scale to countries such as the USA. We have created a splendid collection of wood look porcelain tiles that are fit for every environment. Be it indoors or outdoors, residential or commercial; we have something in our store for every space and environment.
Neelson Tiles manufactures wood look porcelain tiles that are highly durable and visually appealing, these are available in different designs and sizes of 60x60cm. Our vision of infusing classical tiles with a modern contemporary look has allowed us to introduce our wide variety of wood look porcelain tiles in the market, during the growing demand for the same. Abundant patterns and colors of porcelain tiles are available that are cost-effective and long-lasting.