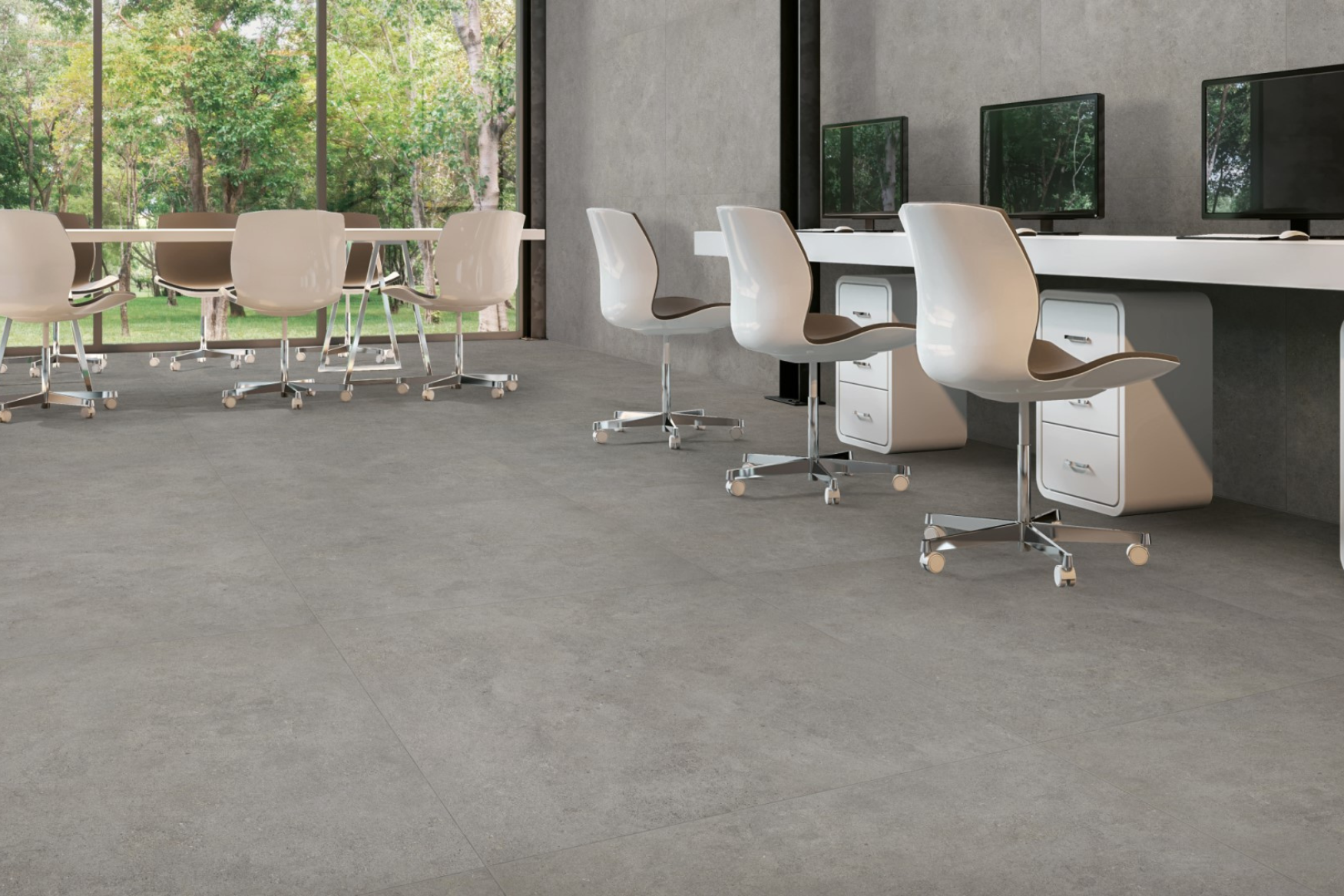 Are you ready for the hottest commercial trend in 2023?
Glazed porcelain tiles are the way to go!
Glazed porcelain tiles can undoubtedly give your restaurants, hotels, or retail spaces a glossy and stylish appearance. Therefore these beautiful and long-lasting tiles are ideal for commercial spaces. So say goodbye to those outdated flooring options and revamp your commercial space with these hot and sizzling tiles.
Through this blog, we will explain how to utilize Glazed Porcelain tiles in various commercial areas and how they can become a style statement for a long-time.
Elevating Commercial Interiors with Glazed Porcelain Tiles
Restaurants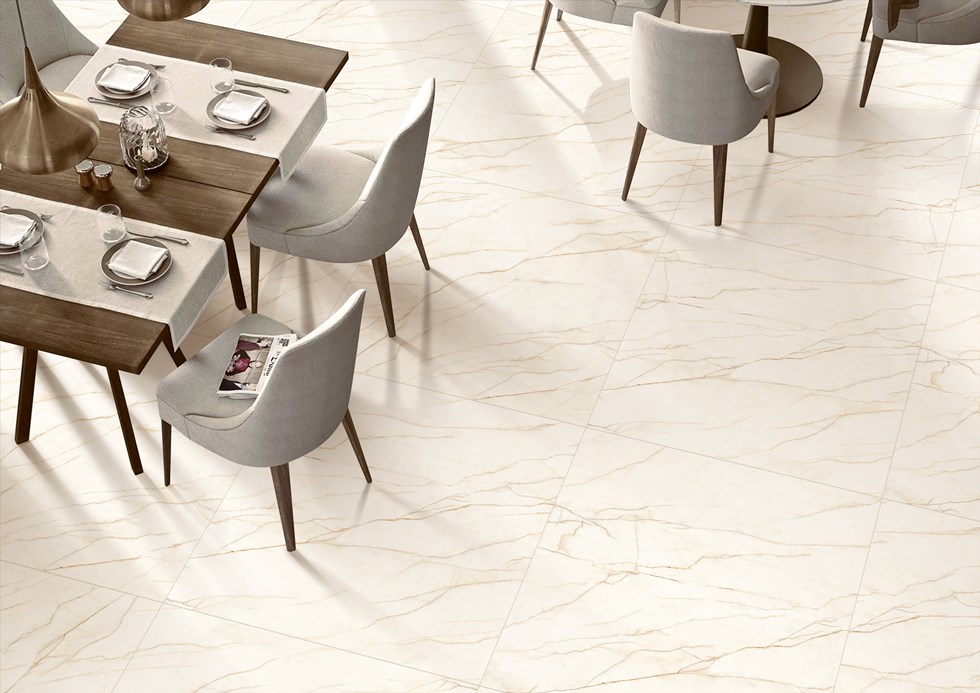 Restaurants can use glazed porcelain tiles to create a gorgeous ambiance that sets the tone for a great dining experience for their customers. For starters, its smooth appearance produces a warm and inviting atmosphere. On the other hand, their brilliant color and designs replenish the energy in the room.
You can create a stunning style statement by using these glazed porcelain tiles as a focal point in your restaurant. A unique mosaic tile pattern, black colors, and many more different designs to create an eye-catching restro is a great example. It will also be a long-lasting and sustainable solution that will serve you nicely.
Beautiful Hotels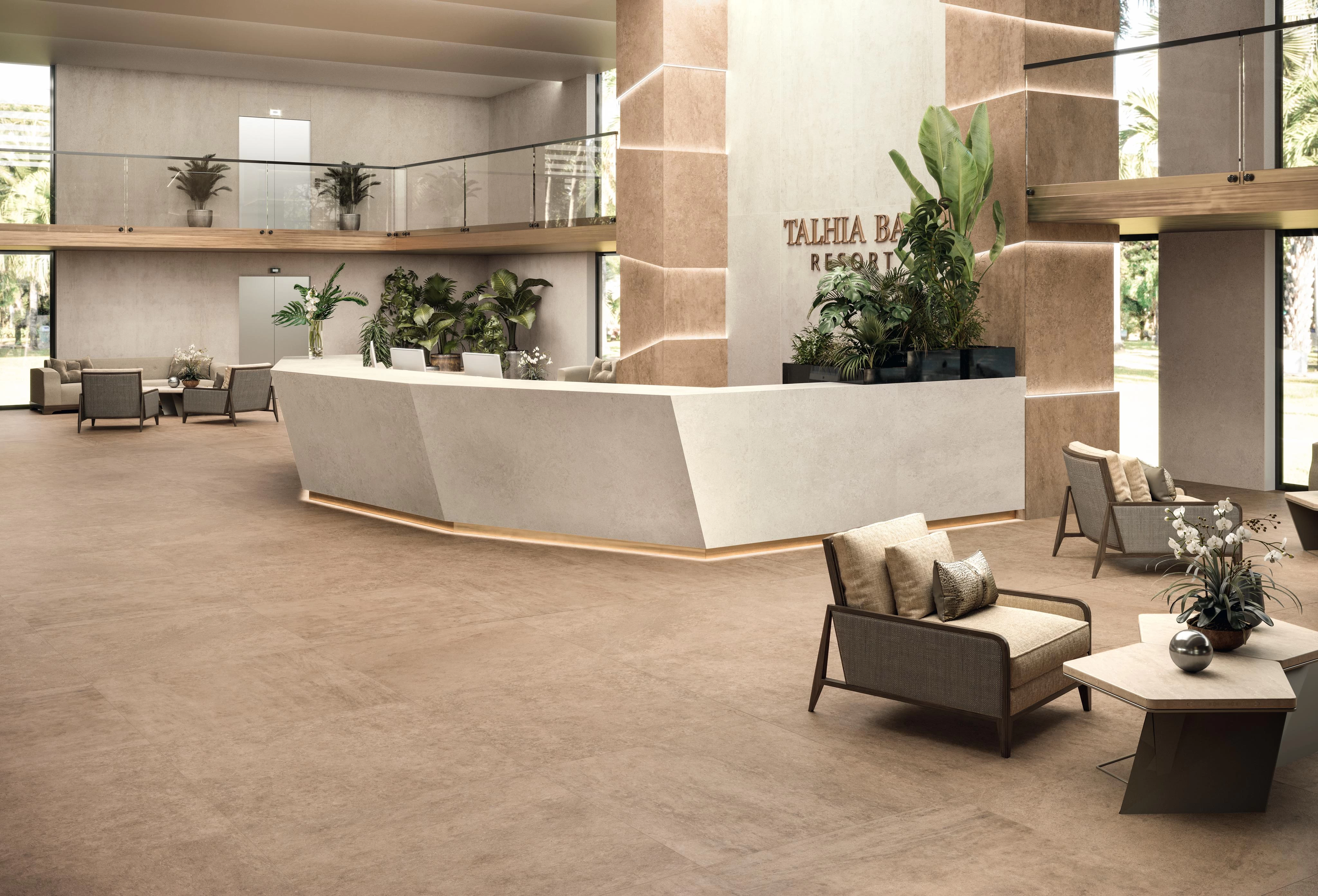 "First impressions are everything," as the saying goes. Nobody wants stains on their floors, and with most flooring alternatives, this is a major issue. Because these floorings are not stain resistant, they leave a negative impression on guests. Perhaps you have had a similar experience.
But these problems do not arise with Glazed porcelain tiles because these tiles are stain resistant. Moreover being highly durable there is no fear of cracking or denting. This means that your flooring will look new and fresh for a long time. With easy maintenance and cleaning features, it helps you provide a warm stay to your guests. Therefore it can enhance the guest experience and encourage repeat business.
Retail Stores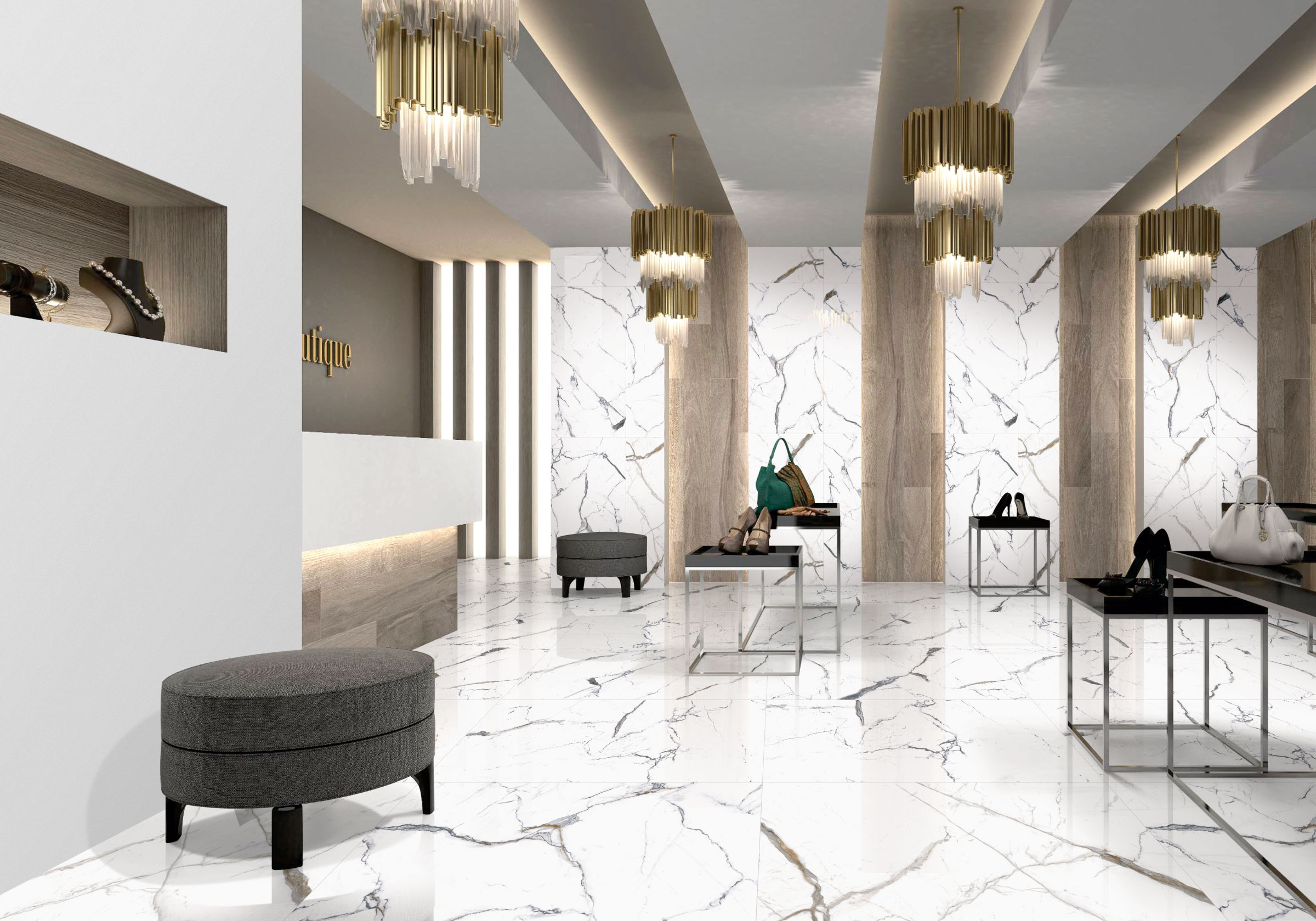 Retail stores are usually crowded. That's why the flooring of these stores should be strong and also beautiful. Common flooring materials tend to crack very quickly and are also very difficult to clean. The risk of slipping also increases during rainy days. That's why it becomes the cause of headache for the store owner. But why are you getting worried because you are going to use Glazed Porcelain Tiles.
These tiles can easily withstand high foot traffic. Being easy to clean and slip-resistant, there is no need for repeated cleaning or any fear of slipping. Therefore these tiles are the best choice to build a welcoming retail store and attract more customers.
Energetic Workplace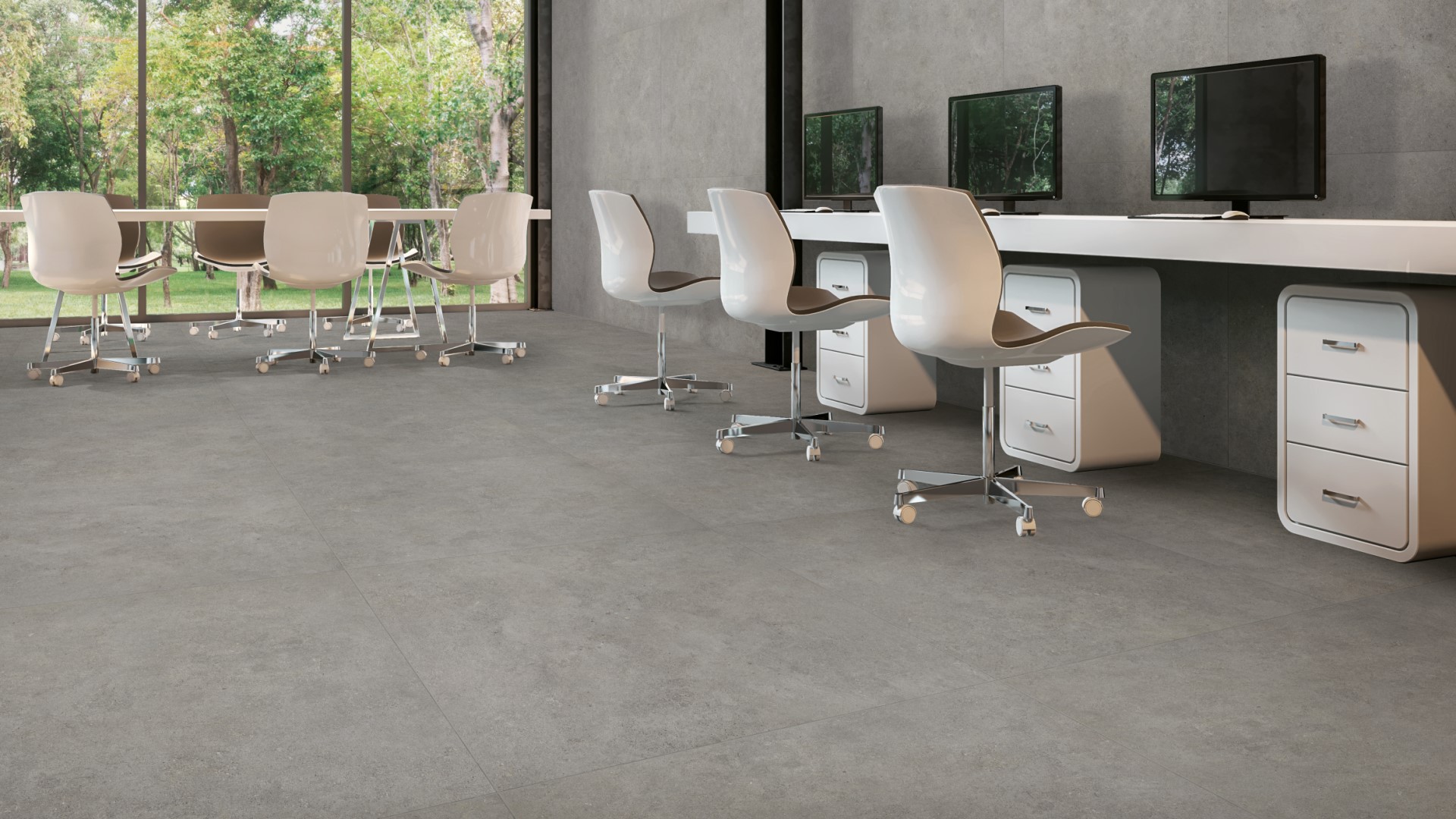 Do you want to step into a workspace that exudes professionalism and style at once? Then Glazed porcelain tiles are the best option for you. Their matt look enhances the office atmosphere and boosts the enthusiasm of the employees and co-workers. Therefore these tiles are the secret ingredient to creating a corporate high professional workplace that will leave your employees and clients impressed.
Glazed porcelain tiles are also incredibly durable and easy to maintain. So you can spend less time worrying about upkeep and more time focusing on your business. All these benefits make them an exotic choice for your workplace flooring.
Healthy for Hospitals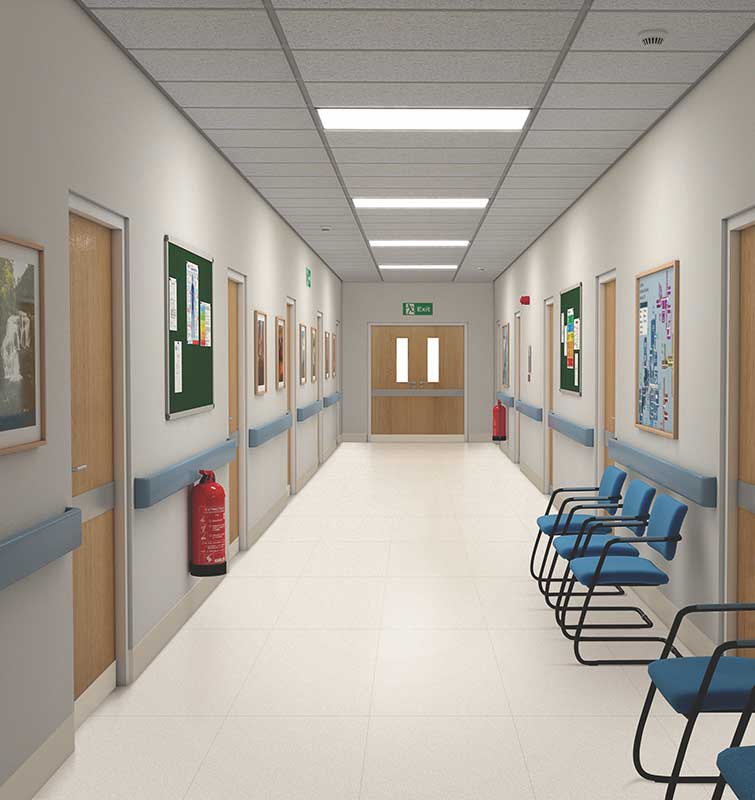 Glazed porcelain tiles have a non-porous surface therefore they do not absorb moisture. So there is absolutely no bacteria growth. This reduces the risk of infection transmission in hospitals. They can also be easily cleaned and disinfected even if they come into contact with bodily fluids or other contaminants.
The best thing is that Glazed porcelain tiles do not emit volatile organic compounds. This means that they can be used safely in hospitals without compromising air quality. These properties of glazed porcelain tiles make them a more hygienic option for hospitals compared to other flooring materials.
GYM Centers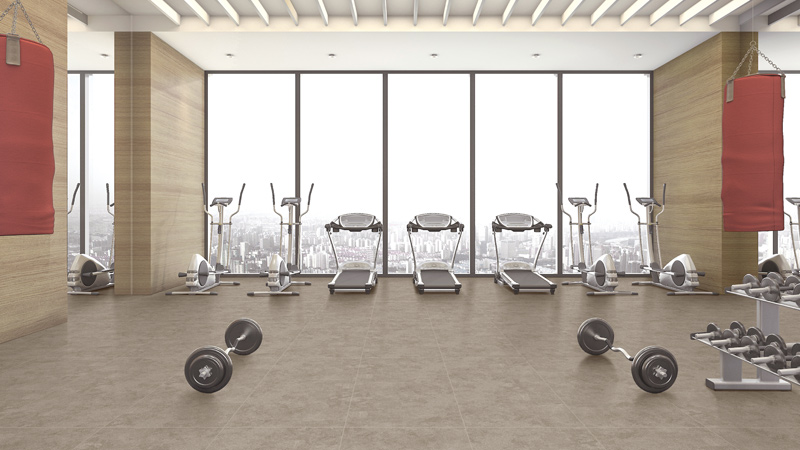 Glazed porcelain tiles can be an energetic option for gym centers, giving the space a dynamic and vibrant look that can motivate and energize gym-goers. The sleek and modern appearance of glazed porcelain tiles can create a sense of energy and excitement, making the gym a more inviting and inspiring place to work out.
They can withstand the constant movement and impact of gym equipment, ensuring that the space remains safe and functional for years to come. With their vibrant energy and durable construction, glazed porcelain tiles can help gym centers create a dynamic and inspiring workout environment that energizes and motivates their clients.
In conclusion, glazed porcelain tiles are an excellent choice for commercial spaces due to their sustainability and durability. Not only do they offer a long-lasting solution that can withstand high-traffic areas, but they also come in a wide range of designs and colors to fit any aesthetic. Glazed porcelain tiles are easy to clean and maintain, which can save time and money in the long run.
Why Choose Neelson Tiles?
When it comes to choosing the best glazed porcelain tiles for commercial spaces, Neelson Tiles is an excellent option. We offer a wide range of high quality glazed porcelain tiles that are perfect for commercial applications. Our tiles are made from the finest materials and are designed to last for many years.
Additionally, at Neelson Tiles offers competitive prices and excellent customer service, making them an ideal choice for anyone looking for glazed porcelain tiles for their commercial space. So, if you want durable, sustainable, and beautiful porcelain tiles for your commercial space, contact us!!