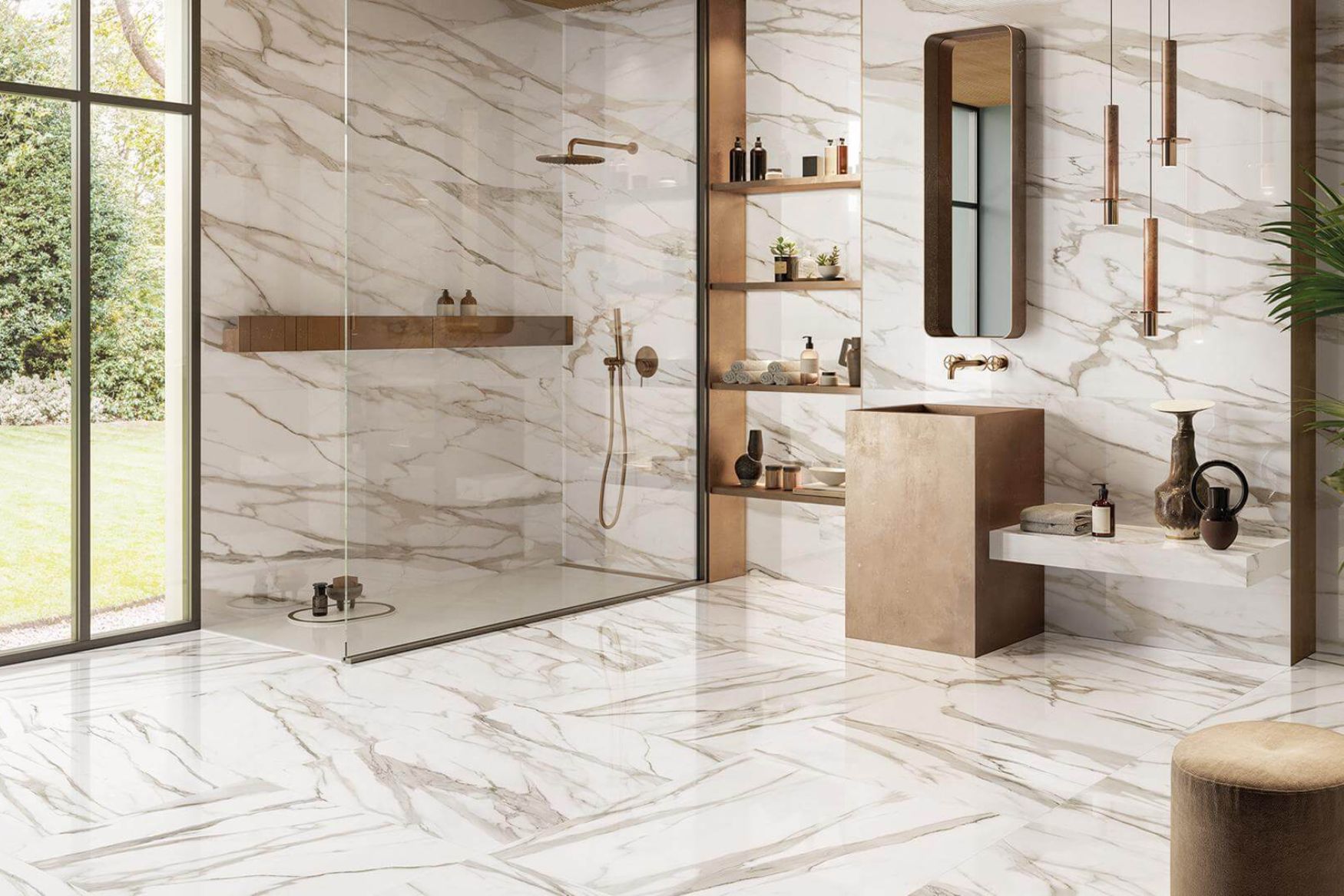 In recent years, Porcelain tiles have become the hottest buzzword in the world of home decor. The elegant beauty and high endurance of these tiles are continuously stealing the hearts of homeowners and interior designers. Being available in diverse size ranges and formats, these tiles have set a playground for countless design possibilities.
Today, among all the available formats, we are going to discuss one of the most popular tile sizes i.e. porcelain tiles 30x60. These rectangular tiles are listed among the most used and loved tiles in the past decade. But why is it so popular and how can you use them in your upcoming projects for creating mesmerizing ambiances?
In this blog, we are going to discuss the same and also give you some tips to create your own luxury oasis utilizing porcelain tiles 30x60cm. So what are you waiting for? Let's get started.
A World of Designs: From Minimalism to Extravagance
Porcelain tiles 30x60 will drive you into a world of magical interiors with their wide range of design possibilities. Starting from embracing nature's grace to creating sophisticated modern decor, porcelain tiles 30x60 serve you everything that you need to transform your space. Let's have a look at how different designs of porcelain tiles can transform your dreams into reality.
Classic and Minimalistic: Classic or vintage-themed homes require elegance in every step to bring the essence of serenity. Porcelain tiles 30x60 with Matt finish can help you achieve such minimalist interiors. These tiles have clean strokes and fine finish to radiate opulence in every space. Matt's finish gives life to the neutral hues creating a comfortable and decluttered atmosphere.
Luxury and Extravagance: Glazed porcelain tile is the key to intricate luxury in your spaces. Their premium shining appearance with a high gloss finish creates a sleek and modern appearance. Porcelain tiles with different patterns such as mosaics can feature trendy styles in your interiors. That's why porcelain tiles 30x60cm are the choice to transform your home into a luxury oasis.
Effortless Versatility: Adapting to Various Spaces
In recent years, Versatility has become synonymous with porcelain tiles. These tiles being available with an array of designs, patterns, and formats serve you the freedom and luxury of unbeatable functionality. These tiles can be used to beautify different spaces starting from your living to your bathroom.
Cozy Flooring in Living Rooms: Porcelain tiles 30x60cm are known for crafting warm and spacious flooring that binds your living room with all the other interiors to create a welcoming ambiance. Their uniformity improves visual consistency and makes your space look visually wider by adding contrast and depth.
Seamless Kitchen Backsplashes: Add some magical flavors to your kitchen by adopting premium backsplashes with porcelain tiles. It will infuse the essence of modern aesthetics into your kitchen and also improve functionality with easy cleaning and maintenance features.
Stunning Bathroom Wall Covers: It's time to transform your bathrooms from ordinary to regal and sophisticated. Porcelain's grandeur will help you in this transformation with its sleek designs. Wall covers with porcelain tiles 30x60cm add grace of luxury to your bathroom with visual expansion and bold patterns.
Comfortable Outdoors: Porcelain tiles' transformative capacity is not only limited to interiors but it can also make your outdoors more comfortable and durable. Being resistant to wear and tear, porcelain tiles are the best option to rejuvenate your outdoor spaces such as pools, patios, and balconies.
Durability Meets Aesthetics: The Strength of Tiles
Every homeowner dreams about long-lasting decor that can serve them for years with the same beauty and luxury as in the original form. If you are also looking for such options their porcelain tiles 30x60cm can be the end of your search. Their immortal grace will be a boon for your spaces that binds them with the magic of everlasting beauty and charm.
This is due to the incomparable durability of porcelain tiles. These tiles are manufactured using premium natural materials and complex processes to achieve high-class quality and endurance. These tiles can easily withstand heavy foot traffic and are wear and tear-resistant. Therefore porcelain tiles are able to retain their original look for decades and will be a profitable one-time investment for you.
Visual Illusions: Enlarge Your Space
Porcelain tiles are renowned as their seamless structure can create the illusion of visual expansion of your space. It's not a spell, it is the brilliant manufacturing of these tiles. Porcelain tiles 30x60cm are considered vertical large format tiles. These tiles can effectively reduce the number of grout lines in your space eliminating interruptions for building a cohesive look. It results in a seamless transition between spaces and hence visual continuity.
This kind of uniformity when coupled with wise design ideas such as using tiles having neutral hues can lead to optically expanding the space making it look more pleasant and comfortable. Moreover, porcelain tiles can easily infuse with the interiors to provide a decluttered appearance that also helps in creating visually larger spaces.
Elevating Elegance With High-End Designs
Elevating elegance in high-end designs is effortlessly achieved through the incorporation of 30x60cm porcelain tiles. These tiles, with their precise dimensions and exceptional quality, bring a sense of sophistication to interior and exterior spaces. Their sleek and versatile nature makes them the perfect canvas for various design styles, from contemporary to classic.
Whether replicating the opulence of marble or the warmth of wood, porcelain tiles offer an exquisite foundation for luxury interiors. Their durability and ease of maintenance ensure that this elegance stands the test of time. In both residential and commercial settings, the choice of 30x60cm porcelain tiles elevates aesthetics, making them an indispensable element in the realm of high-end design.
Design Freedom: Creating Patterns and Layouts
Porcelain tiles 30x60cm give you the luxury to play with a diverse range of patterns and layouts to achieve your desired decor. Let's have some examples of different design options
Herringbone: Herringbone is one of the classic decor systems that has its roots in vintage homes. It consists of a unique diagonal orientation of tiles with a repetitive V-shaped arrangement at 45 degrees. Herringbone is perfect for those who are looking for a classy and rustic interior for their home.
Mosaic Pattern: Using ornate motifs such as colored mosaics creates an impression of modern decor styles. Porcelain tiles of different cut into small pieces are infused together to form such a unique design. It functions as an eye-catching decorative element that elevates the overall aesthetics of your space.
Brick Bond Pattern: Brick bond pattern is one of the most common design styles used for vertical tiles. Porcelain tiles 30x60cm are arranged in a staggered layout to achieve the classic brick bond appearance. This style is best for large spaces to create a soothing appeal.
Practical Elegance: Maintenance and Longevity
Are you looking for a hassle-free interior that is easy to clean and requires minimal maintenance to retain the original beauty? Then porcelain tiles are the answer for all your searches. Porcelain tiles offer a wide range of easy cleaning and maintenance features.
With the use of advanced technology, porcelain tiles are made scratch and stain-resistant, therefore able to withstand heavy impacts without any damage. This quality also helps in maintaining the lustrous surface of tiles effortlessly in busy areas like the kitchen and living room. Porcelain tiles 30x60 are water resistant and need minimal upkeep for a consistent appearance in wet areas such as the bathroom. Therefore if you're looking for decor settings with seamless cleaning and maintenance then must go with porcelain tiles 30x60.
Designing Dreams: Crafting Unique Ambiances
Porcelain tiles 30x60 sets the canvas for crafting your dreams and building mesmerizing ambiances. The extravaganza of porcelain coupled with your innovation can result in the greatest and most awe-inspiring decor settings. We have listed a couple of innovative examples for creating unique ambiances. Let's have a closer look at them.
Modern Monochrome: Make your home a statement of style and glamour with the monochromatic design with porcelain tiles. Go with bold monochromes such as granite black or royal blue to infuse luxury into your spaces. Use the tiles on both walls and floor to add contrast and enhance the style with dim lighting in the space.
Cozy Wood-Look Retreat: Install wood-look porcelain tiles in a herringbone pattern for the flooring of a living room or bedroom. Pair this with warm, earthy tones, plush furniture, and soft lighting for a cozy, rustic retreat reminiscent of a mountain cabin.
Conclusion
In summary, we can say porcelain tiles 30x60cm are truly magical whether it comes to creating luxury ambiances or building a long-lasting decor. Embracing these tiles will never disappoint you in terms of quality and durability. But before choosing the tiles remember to analyze your space to confirm that the tile size is compatible with it. Choosing the wrong tile size can lead to a huge loss. Therefore consult with the tiles manufacturer before choosing the tiles for your project.
Why Choose Neelson?