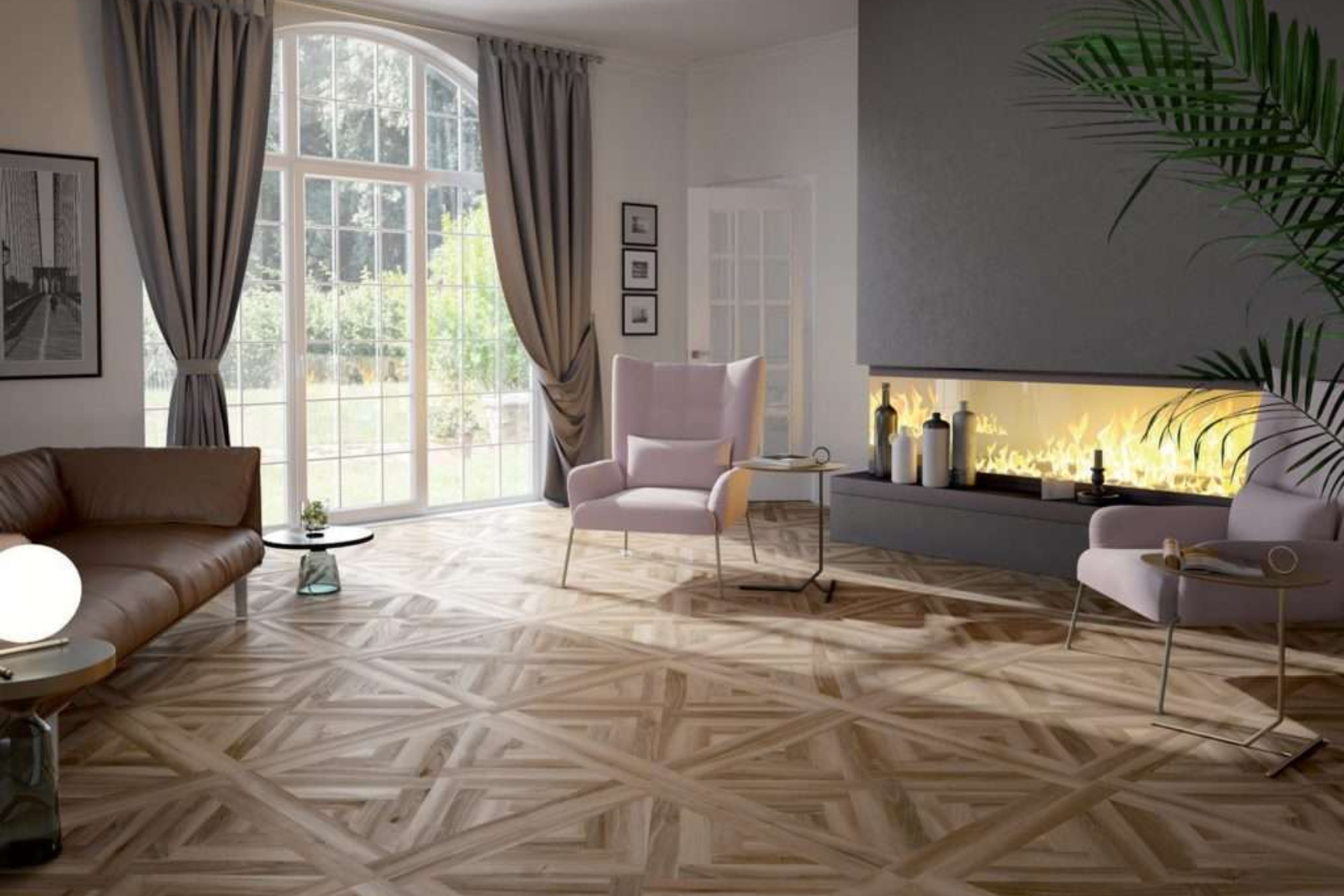 Do you want to know if wood look porcelain tiles are a good alternative for hardwood floors? Hardwood flooring are expensive and prone to scratches and stains. Additionally, hardwood floors require a lot of maintenance to keep them looking new. Wood look porcelain tiles are a great option that combine the look of hardwood with a boatload of additional benefits. It has grown in popularity with homeowners in recent years. This article will provide you with information about wood-look floor tiles.
What is a Wood Look Porcelain Tile?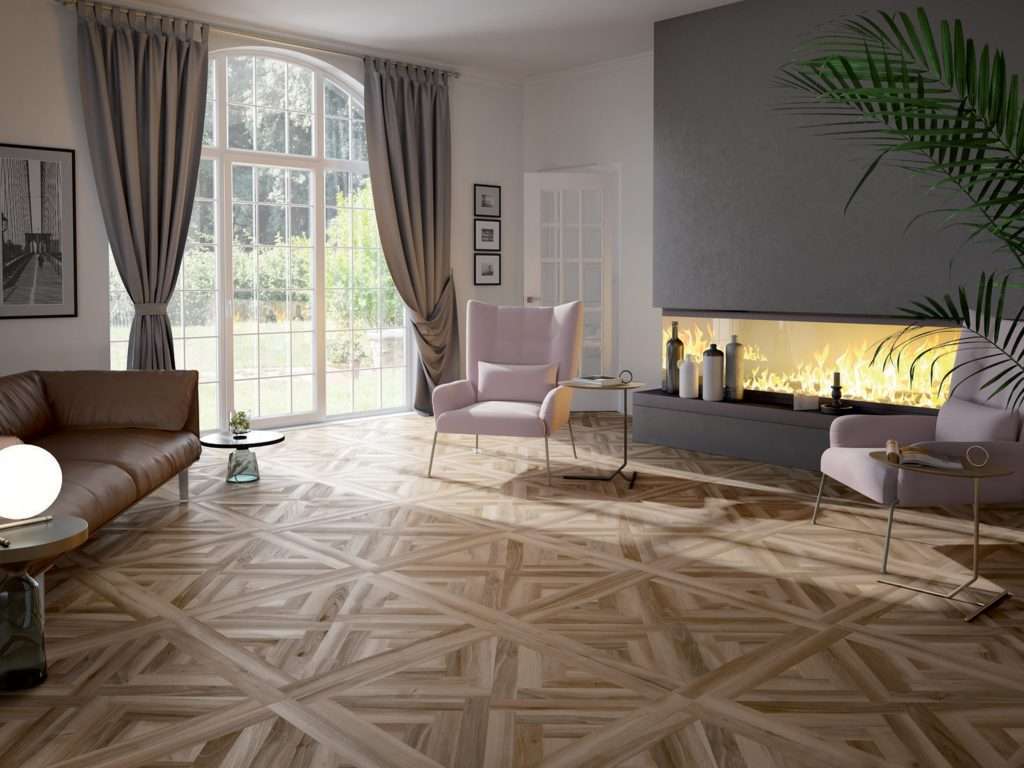 Wood look porcelain tiles are a great way to get hardwood aesthetics without having to spend money on pricey genuine hardwood. It also transforms your room into a traditional yet contemporary place. The fact that hardwood tile blends nicely with any home design, whether it be classic or modern, is another important benefit. In addition, you may combine these tiles in different ways to create a distinctive appearance.
There are a lot of additional benefits to wood look porcelain tiles strength. These tiles may be used to handle high wetness, high foot traffic, and pet-related wear and tear in an aesthetically pleasing manner. In addition, wood-look tiles are easier to install, have a significantly longer lifespan, and are better suited to Indian weather.
The popularity of porcelain tile with a wood appearance has recently attracted purchasers and designers. The use of wood that resembles porcelain tiles has a number of advantages. It is a porcelain tile with a wood design on the surface that mimics real hardwood. Porcelain tiles with a wood-look are more affordable than real wood flooring, as well as strong, weatherproof, and simple to maintain.
Why Choose Wood Look Porcelain Tiles for Your Flooring Project?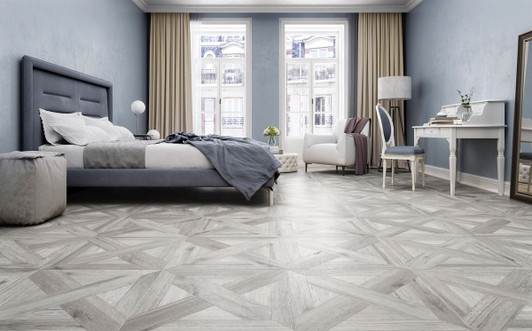 In addition to being more cost-effective and simpler to install, wood look porcelain tiles can provide many of the same advantages as actual hardwood flooring, such as longevity, ease of upkeep, and colour variety. Although solid hardwood floors can endure far longer, they are not ideal for all settings. For instance, solid wood can be dangerous in humid areas such as bathrooms, rooms below grade, and even kitchens, whereas tile is made to handle that heat.
Extremely Durable
Since wood look porcelain tiles are a product that will be used every day, quality should be given priority while selecting them. The tiles should be extremely durable and have a long lifespan as a result. The good news is that you can depend on the longevity of porcelain tiles with a wood effect. As a result of the exceptional durability of porcelain materials, its products are likewise highly durable and last longer than other tiles.
Even in places with a lot of traffic, it can survive severe wear and tear. Also, the wood-like porcelain tile doesn't need to be constantly re-sanded or re-sealed. Overall, its high level of durability makes it the ideal flooring choice for both residential and business environments.
Scratchy and Stain Proof
In addition to being durable, wood look porcelain tiles also resist dampness, stains, and scratches. As a result, if properly cared for and maintained, wood appearance floor tiles may survive for decades. Also, the long-lasting coating on the wood-effect flooring tiles makes them stain- and maintenance-resistant.
Moreover, natural wood flooring is vulnerable to water damage and scratch damage, making it inappropriate for use in bathrooms, kitchens, and other moist areas. The bathroom, kitchen, shower, mudroom, and other rooms may all have porcelain wood tiles installed, though.
Easy to Maintain
On the one hand, cleaning wood appearance porcelain tiles involves almost little effort compared to cleaning a wood floor, which demands a lot of care, time, and resources. All you need to clean them is a basic mop or a vacuum. Moreover, clean them once a week with ordinary detergent if they start to look dull or lack shine.
As a result, the wood-look floor tiles continue to shine like metal. Also, you won't have to worry about water absorption or water damage because these porcelain tiles with a wood effect can endure moisture and water. All of these benefits, in a nutshell, combine to make porcelain wood tiles the low-maintenance tiles.
Natural Look
The main reason for using wood look porcelain tiles is to have the appearance of real wood flooring at a reduced price. Doesn't it? Thankfully, porcelain wood tiles fully satisfies this need. It gives your house a very natural and exquisite aspect that goes well with the flooring that has a wood like appearance. The advantages of porcelain tiles with a wood look are therefore added to the cheap cost of the wood-like flooring!
Design Versatility
The versatility of porcelain wood tiles widens the number of styles that may be accomplished utilising wood appearance porcelain tiles. Overall, porcelain tiles that mimic wood perform better than real wood in many aspects and help to protect the environment. Hence, wood look porcelain tiles are highly versatile in design.
Environmental Friendly
You are not only making a smart choice for your house when you pick imitation wood tile flooring, but you are also doing your part to protect the environment. You may lessen the amount of trees harvested each year for flooring by using wood-look tiles. Tile is fully constructed of natural materials and is free of toxins (clay, sand, feldspar, and water).
Tile is comprised of renewable elements and is simple to recycle. Moreover, tile has a longer lifespan than unfinished wood, which lessens the already low carbon footprint of tile during manufacture. There is no competition for green, and Wood look tile beats actual wood in every aspect.
Also Read: Why Glazed Porcelain Tiles Is Rising Popularity in USA
Why Wood Look Porcelain Tiles are Here to Stay: A Conclusion
Overall, wood look porcelain tiles are the greatest choice for improving the aesthetic of your home. The variety of designs you may utilise with porcelain wood look tiles is further expanded by their versatility. Hardwood is less resilient than ceramic and porcelain tiles, but they can support heavier loads and more usage, and they are unaffected by wetness.
Their lifetime is over twenty years. Wood look floor tiles are superior to real wood in many ways and also contribute to environmental preservation. The last of our five arguments for choosing wood look porcelain tiles is this one. We trust that the information we provided has persuaded you that wood-look tiles are a wise choice.
Checkout our trendy wood like porcelain tiles 600x600 collection…
Wood Look Porcelain Tiles FAQs
Q: Are wood look porcelain tiles really good to use?
A: The Wood Look Porcelain Tiles are very robust. It is neither faded nor worn and is scratch-resistant. These tiles are water-resistant, extremely durable, and do not bloat or warp. It can withstand daily traffic.
Q: How long does wood look porcelain tiles last?
A: Wood Look Porcelain Tiles are a fantastic investment because of its great durability. If you've decided to choose porcelain tile for your project, you can rest easy knowing that with routine maintenance, they might last up to 10 years or more!
Q: Is wood like porcelain tile durable enough for long term use?
A: Yes! Wood look porcelain tiles have the longest lifetime of any flooring material. Wood appearance tile is far more durable than actual wood, especially in high traffic or moisture-prone locations. Wood appearance tile does not require re-sanding, re-staining, or re-sealing on a regular basis.