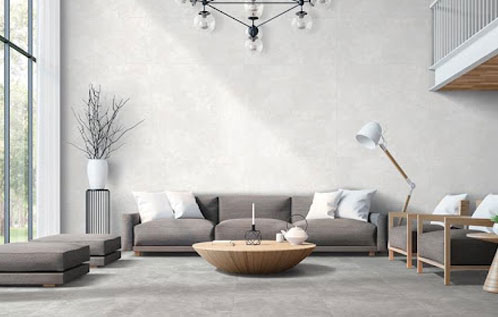 Wood look porcelain tiles are becoming more trendy by the day. This flooring's popularity may be ascribed to various causes, including its reduced cost when compared to natural wood flooring and its no-harm-to-nature production technique, as opposed to hardwood flooring. Other benefits include its beautiful appearance and long-lasting durability.
However, we will not go into detail about the benefits of porcelain tiles in this post. Here, we'll shine a focus on some of its popular designs.
9 Wood Look Porcelain Tile Designs To Explore In 2023
1. Classical Brown Wood-Look Like Porcelain Tiles
Classical brown wood look porcelain tiles are gaining popularity. It's a great way to add subtle yet lovely patterns and texture to even the most essential kitchen flooring, instantly elevating it to the spotlight.
Such wood appearance porcelain tiles may connect and combine a space while also providing warmth. The glazed surface of these tiles makes them slip-resistant. Its simple brown color style also makes it suitable for warehouse use. These are also highly resilient and can hide stains and scratches.
2. Forest Wood Look Porcelain Tiles
Forest wood look porcelain tiles are distinguished by their ambiguous form lines of various wood tones. Because of its durability and timeless appeal, this wood tile design is popular for kitchen tile ideas.
Forest wood look porcelain tiles keep your home close to nature as well as give a gloomy experience. Yet it is very economical and sustainable. Aside from that, the natural pattern of these tiles is amazing, lending a rich and sumptuous aspect to your space.
3. The Luxurious Light Brown Wood Tiles
The luxurious light brown tiles in the kitchen area provide a comfortable and welcoming environment. Such tiles add a feeling of simplicity and elegance to any kitchen space.
These wood appearance porcelain tiles are an ideal hardwood alternative due to their minimal maintenance and water-resistant ability. Luxury light brown tile flooring is a long-lasting flooring option for kitchens and other areas. It is stain and moisture-resistant, making it simple to clean.
4. Wood Look Porcelain Tiles With Strips Pattern
These wood look like porcelain tiles not strip tiles but have an elegant combination with stripe-like designs. This type of flooring mimics the appearance of natural wood. It provides the appearance of natural wood strips while also complementing black furniture and bright lighting.
You will get the impression that you have set real timber hardwood strips on the floor after installing these wood look porcelain tiles. Their excellent strip and unique textures will add an outstanding and attractive aspect to your kitchen regions.
5. Gray Wood Look Porcelain Tiles
Gray wood look porcelain tiles can be soothing to the senses. It has a sleek wood look and interesting, eye-catching wood grain patterns. This tile may create a beautiful and serene atmosphere in your space. These wood-look porcelain tiles are likely to appeal to people who want a light grey atmosphere.
These tiles could add a traditional touch to a beautiful white kitchen. The surface of this finish is light grey with slight golden cracks all over it. These two hues combine to produce a magnificent impression, making it an excellent choice for flooring.
The surface of these tiles is a natural light wood pattern that offers a rich look to your space's dark furniture. It also has the appearance of wildwood. So, if you want real wood flooring but don't have the budget, these wood appearance porcelain tiles are a good option.
6. Brown Rock Wood Look Tiles
The rockwood porcelain tiles are a fantastic alternative to wooden flooring. These tiles have a similar pattern to rockwood but are a dark brown tint. These tiles, unlike basketweave tiles, may be utilized in practically any area, including the living room, kitchen, and hallway.
The beauty of this wood tile is that they go with almost any décor, whether classic or modern. Brown rock wood look tiles are beautiful as well as durable. It can easily withstand extreme weather conditions.
7. Checker Dark Wood Tile
The checker dark wood tiles are made up of square or rectangular boxes. In some circumstances, they are all identical, but in others, they are asymmetrical. Unlike rockwood black tiles, these tiles provide your home with a tranquil yet dynamic appearance. The box pattern adds a distinctive touch to the overall aesthetic attractiveness of the area.
8. The Tiger Wood Look Tile
Tigerwood look porcelain tiles are unique and very beautiful tiles. In these tiles, you will see strips of deep golden brown and black color. Its woody appearance and strokes of the hues create a stunning look. These tiles leave a natural yet enhancing look on your floor.
Furthermore, we feel that dark wall colors would obscure the distinctiveness of these tiles and create a gloomy atmosphere.
9. Fear Wood Look Tile
Fear wood look porcelain tiles have a dark brown color with uniform black crack-like pattern. These floor tiles can definitely give a dramatic flow to your living or kitchen. White furniture and black cabinets look perfect with this type of flooring.
It is also advised that you choose these tiles with minimal furniture and decor to enhance their beauty.
This concludes our list of popular designs of wood-look porcelain tiles. You can use these tiles to get a wonderful and attractive look in your home. If you are interested to know more patterns of wood look tile then check out our collection page.
Neelson Tiles, founded in 2015 is a leading Indian porcelain tile manufacturer in India. We have something for every taste and style. Our products are made with high-quality raw materials and innovative technology.