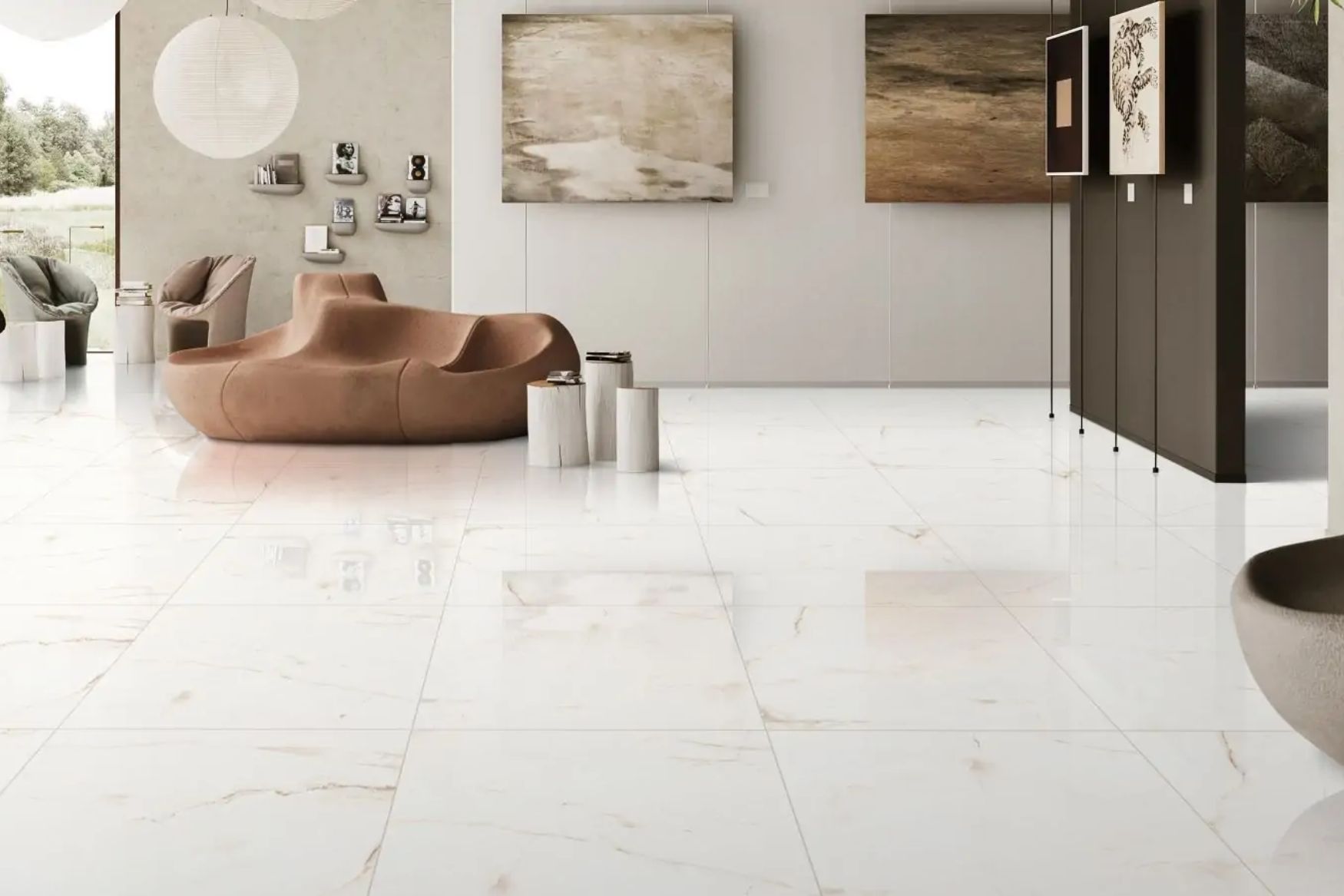 In the world of interior design, modern homeowners are seeking decor settings that are best in quality in terms of both aesthetics and durability. They are looking for options that can add luxury to their spaces and also retain the same for a long period of time. Are you also looking for the same? Then glazed porcelain tiles can be your answer to all these needs.
Glazed porcelain tiles with their exceptional beauty and endurance can be your high return investment in terms of sustainable decor settings. Thinking about how it is possible?
In this blog, we will delve into the world of glazed porcelain tiles and understand how these tiles can transform your home into a luxurious retreat by elevating its overall appearance. So let's get started.
How Glazed Porcelain Tiles Transform Your Home
Visual Versatility: From Subtle Tones to Bold Patterns
Glazed porcelain tiles provide you with a pool of magical design possibilities starting from classic elegance to modern serenity. Having a diverse range of collections in different patterns and textures, these tiles can breathe life into your dream decor. Their versatility gives you the freedom to choose any design according to your taste.
If you are a classy person and looking for a vintage or rustic type appeal in your home then you can go with the natural stone look or wood look glazed porcelain tiles. Their natural textures will create a soothing and calm atmosphere in your spaces.
On the other hand, if you are searching for something trendy then you can go with bold patterns of glazed porcelain tiles. For example, the mosaic pattern. It is a combination of coloured tiles cut into small pieces showcasing a unique appearance and modernity at every glance.
Durability in Design: The Resilient Charm
Tiles having smooth and lustrous surfaces are always prone to damage with small impacts. But glazed porcelain tiles break the myth and set the benchmark for high-end durability. These tiles can easily withstand heavy wear and tear without losing their charm and glaze.
Their complex manufacturing process and choice of raw materials are the secret behind their endurance. Glazed porcelain tiles are shaped under high pressure and temperature to gain a non-porous and durable structure. That's why these tiles have a high strength and are not easily breakable.
Therefore during installation, you can replicate these tiles into your desired design pieces without any fear of chipping. Glazed porcelain tiles after installation serve you beautiful and sustainable decor for generations.
Sleek Reflections: Enhance Light and Space
Glazed porcelain tiles have a luxurious glass-like appearance above the surface that can significantly reflect light in open spaces to create the illusion of visual expansion and spaciousness. This quality serves homes with a more comfortable and welcoming atmosphere for their guests.
Glazed porcelain tiles having a high gloss surface rebound the light rays effectively throughout the space making it more brighter and comfortable. It is especially useful in cluttered spaces with limited natural light such as bathrooms and hallways. Glazed porcelain tiles amplify lighting in these spaces and create an optically contrasting appearance.
Their sleek appearance also brings continuity to design and builds seamless decor. When light reflects from its surface it moves seamlessly across the floor and walls creating a unified appearance. That's why these tiles are able to establish an illusion of visual expansion in small spaces.
Kitchen Elegance: Stylish Backsplashes
Are you looking for a luxurious and bold kitchen that can infuse your personal taste into the decor? Glazed porcelain tiles can serve as the best option for your search. Backsplashes made with glazed tiles are a vibrant and stylish solution for your kitchen that can breathe life into its appearance.
Glazed porcelain tiles give you a canvas available with a wide range of colors, patterns, and designs to create stunning backsplashes. Backsplashes made with these porcelain tiles improve the visual contrast of your kitchen and transform it into a focal point. You can choose from a range starting from vintage to modern with the unparalleled beauty of tiles.
These tiles also serve easy maintenance and cleaning features for the backsplashes. Being water resistant it is extremely beneficial in areas like kitchens that are prone to water damage. So if you are looking for a decor that is best in terms of both beauty and functionality then must choose glazed porcelain tiles.
Bathroom Luxury: Water-Resistant Elegance
Glazed porcelain tiles can be used to create luxurious bathrooms of your imagination. With the combination of opulent aesthetics and durability, these tiles will help you build a magical atmosphere in your bathroom. Their reflective nature can add a sense of depth and dimension to your bathroom space making it look more open and wider.
It ultimately results in a comfy space for your routine activities. You can add natural grace to the space with different variants that resemble nature such as the stone look glazed porcelain or wood-glazed porcelain tiles. Their beauty takes you beyond imagination directly to the lap of nature. Using nature-look tiles also creates a soothing and calm environment in your bathroom.
Similarly, if you looking to add a spa-like luxurious feel to your bathroom then you must choose vibrant hues and bold patterns of glazed porcelain tiles.
Creative Freedom: Crafting Unique Designs
Glazed porcelain tiles offer an expansive canvas for creative freedom in interior design. These versatile tiles are like a blank slate, allowing homeowners and designers to unleash their imaginations and bring unique visions to life. From mimicking the look of luxurious natural materials to exploring a spectrum of colors, patterns, and textures, these tiles provide the tools to craft spaces that express individuality.
The ability to mix and match, experiment with various layouts, incorporate mosaic accents, and even personalize designs through digital printing opens doors to endless possibilities. Whether you're aiming for a minimalist, contemporary feel or embracing intricate, artistic patterns, glazed porcelain tiles empower you with the creative freedom to transform any space into a work of art, reflecting your distinct style and personality.
Maintenance Made Easy: Cleaning and Longevity
Cleaning and maintaining glazed porcelain tiles is hassle-free and never requires continuous effort. These tiles are highly durable and can serve you with the same original beauty for decades with minimal maintenance.
These tiles have a non-porous water resistant surface with a strong and durable core. That's why these tiles are resistant to cracks in wet areas such as bathrooms and kitchens. This property also helps them prevent the accumulation of water to create a more hygienic ambiance.
Having a tough and brittle surface, glazed porcelain tiles can easily withstand high foot traffic and heavy impacts such as scratches and stains without losing their shine. That makes them one of the great flooring options in busy spaces for both residential and commercial use.
Designing Elegance: Enriching Living Spaces
Spaces adorned with glazed porcelain tiles offer a myriad of design possibilities. In kitchens, consider a bold, geometric backsplash that infuses energy into the room, or opt for wood-look porcelain tiles that evoke warmth without compromising on durability.
Living areas can benefit from large-format porcelain tiles that create a seamless, open feel, while outdoor spaces come alive with wood-look or stone-look porcelain tiles that blend aesthetics with weather resistance. Dining rooms take on a new dimension with porcelain tiles in intricate patterns that anchor the space.
The creative potential is boundless, offering the means to fashion spaces that reflect individual style and elevate the overall aesthetics of any environment.
Conclusion
In the above discussion, we have seen how glazed porcelain tiles can be your trusted partner for creating mesmerizing home decor along with a promise of longevity. Undoubtedly, these tiles can infuse much-needed charm into your spaces by elevating their appearance. In summary, we can say glazed porcelain tiles can be a straightforward choice for your upcoming projects.
About Us
Neelson Tiles stands as a global leader in the production of porcelain tiles. Through the utilization of cutting-edge technology and innovative craftsmanship, we have garnered the trust and accolades of clients worldwide. At Neelson, we take pride in offering an extensive collection of tile sizes, patterns, and designs to cater to the evolving needs of our cherished customers. Our tiles set the industry standard for unmatched durability and exceptional quality, serving as the foundation for countless dream homes. Discover your ideal flooring tile designs, and let us turn your visions into reality.