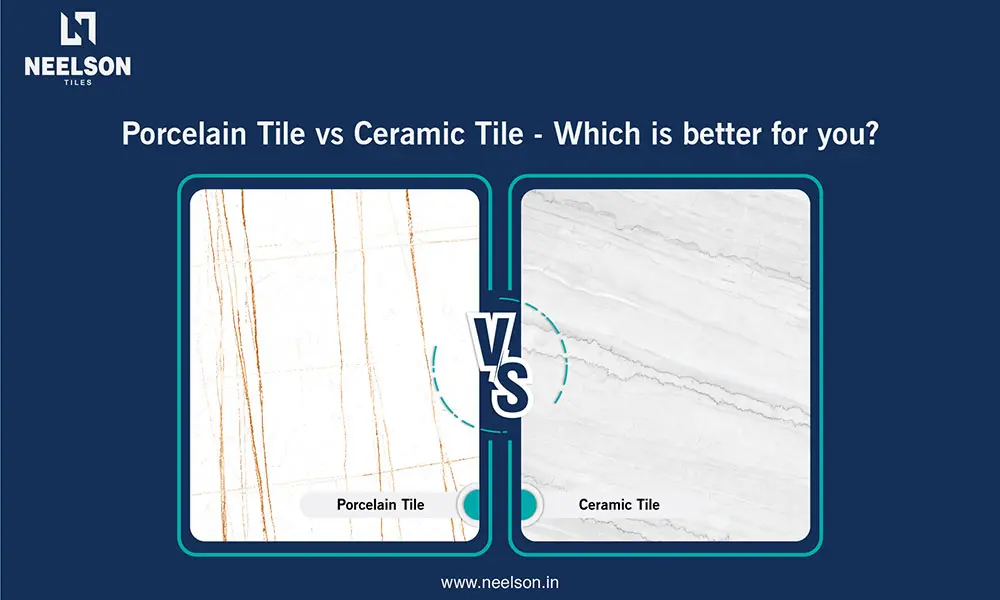 In the market, Ceramic and porcelain tile are two reputed and prominent options. Before picking any option, you must be aware of the difference between them.
There are certain pros and cons you have to take in mind while you choose any type of tile. Let's understand the difference between porcelain and ceramic tile.
Ceramic Tile vs Porcelain Tile
Ceramic and porcelain tiles get used correspondingly, but they are not the same. Then, what is the difference between them?
At the first glance, the ceramic and porcelain tile look similar, but there is a slight difference between both. Ceramic tile is made of ground sand, red, brown, and white clay, and talc, while porcelain is made of ground sand, dense clay, and feldspar.
Let's discuss the detailed difference between both and get to know which tile is better.
5 Difference between Porcelain Tile & Ceramic Tile
Here is the information which helps to choose the right type of tile for you and your place, and gets clear the difference between porcelain and ceramic tile.
The major difference as per appearance in both tiles is porcelain able to provide a higher gloss surface than ceramic. Also, we may introduce a new and trendy style in porcelain while there are certain limits in ceramic.
The color and pattern of porcelain tiles remain the same throughout. Ceramic tile does not provide density like porcelain and also it gives a more smooth touch by comparison.
2.
Water Absorption level
The water absorption rate of the tile is the most important factor that makes your tile long-lasting. If the tile has a high water absorption rate there is a chance to crack or slip.
It is certified by ISO that porcelain tile is impervious, which means it absorbs less than 0.5% water and makes surface slip-resistance. While ceramic tile is considered Vitreous, which means it absorbs 3-7% water.
The durability of the tile depends on the material and kiln-fired, specifically the clay which is used to make the tile. It is also measured by the PEI rating. Porcelain PEI rating is between 3 to 5, while ceramic tile is graded up to 4; which means the porcelain tile is great for high traffic.
Porcelain tile is made by the more refined and purified dense clay which gives the hardness, high density, and durability than ceramic tile. Also, porcelain tile is fired at high temperatures and gets more pressure so that it becomes durable and harder.
Grout is the fluid form of cement that is used to join the gap between tiles and make the surface stronger. It protects and seals the water and any kind of liquids penetration.
Epoxy Grout is superior for tiles, and it is used in porcelain tile. It helps tile to make stain and crack resistant, chemical-resistant, and able to stand in high traffic areas. Also, it is easy to clean just mop it up.
Ceramic tile can be used for walls, backsplashes, and other low-traffic places because of less durability. Porcelain tile is elegant for indoors and outdoors.
Porcelain tile is an ideal option for exterior walls and high-traffic areas as they are more durable. As above mentioned, it is water-resistant so you do not worry about anything nature throws on your patio.
Why Porcelain Tile is Better than Ceramic Tile?
Porcelain tile is better water-resistant and slips resistant than ceramic tile, and is one of the best options for those who have elders, kids, and pets. It is also a great choice for commercial places because it is durable and harder. The PEI rating shows that porcelain tile is suitable for high traffic.
This tile can be possible in every design and graphics with high gloss and smoothness while the ceramic tile is not. These tiles can be used indoors and outdoors.
Whichever tile you choose, one thing can be certain - both look wonderful but porcelain tile can instantly give any place a new stylish look better than ceramic.
Finally, you have a complete idea of porcelain and ceramic tile, you can narrow down which tile is best for your place. In the end, if you want to know some important advantages of porcelain tile, then you must check our blog: Top 6 Core Advantages of Using Glazed Porcelain Tiles
Neelson - a reputed and leading manufacturer of porcelain tile. We offer priceless quality in every square of tile.