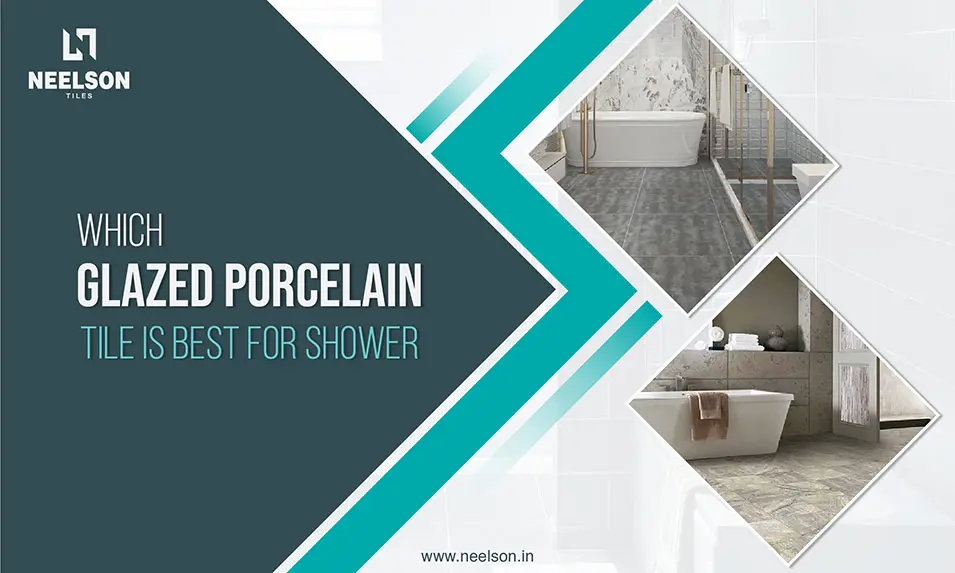 At home, a bathroom shower is a place that gives you a different kind of relaxation and pleasure. So it is necessary to pay a little attention to make this place more beautiful and safe. For this, tile is the best option.
But choosing the right tiles for shower walls and floors is a bit of a difficult task for homeowners. There are many types of tiles available today such as ceramic tiles, porcelain tiles, natural stone tiles. But, there can be no better tile than glazed porcelain tile for a shower as these tiles are very strong, attractive in appearance, scratch, slip and water-resistant.
So in this blog, we will know about some finishes of glazed porcelain tiles which are the best for your shower walls and floors. So, let's begin.
Best Glazed Porcelain Tile Finishes For Shower Wall And Floor:
The first best finish of glazed porcelain tiles for a shower is matt finish porcelain tiles. There are two reasons for this, firstly the area of bathroom shower is mostly wet, because of this it is necessary to prefer slip resistance tiles. Due to the texture of matt porcelain tile, the chances of slipping on it are very less.
The second reason is that these tiles are water-resistant and scratch-resistant. So, there is no need to worry about getting scratches while cleaning the tiles.
Apart from this, these tiles give a traditional, attractive, rustic look to the shower and also show fewer smudges and stains than other tiles. However, in matt porcelain tiles, you will have to put a little more effort in cleaning.
2.
Wood Look Porcelain Tiles:
Wood look porcelain tile is one of the most popular and trending tile finishes of all time. This tile is the first choice of many homeowners. The reason behind this is the natural wooden look of this tile which gives a classic, natural, stunning and attractive look to any space.
That is why if you want to give a unique classic look to the shower, then wood look tile is the best choice for you. Along with this, the tile is very durable, high moisture and scratch-resistant.
Because of all these features, wood look porcelain tile is the best and most popular option for shower walls and floors.
3.
High Gloss Porcelain Tiles:
If you want to give the shower a bright, rich and vibrant look then high gloss porcelain tiles are the best option for you. This tile has an enamel coating on top so it has very shiny surfaces with high strength and durability.
Due to its high gloss surface, this tile is very easy to clean. You can also remove stubborn stains using just a clean cloth, warm water, and a liquid cleaner.
But before choosing this tile for your shower, one thing should be kept in mind the shining surface of a high gloss porcelain tile is a bit slippery compared to other tiles. Therefore, choose the tile after considering all these factors.
4.
Rocker Finish Porcelain Tiles :
Rocker finish porcelain tiles are one of the most unique and out-of-the-box tile finishes. This tile has different types of cracks textured designs similar to natural marble and wood.
Besides this, Rocker finish tiles are having a carving finish surface like matt finish tile which gives extraordinary look to your shower. Maintenance of this tile is also very easy as it is stain, scratch and water-resistant.
Rocker finish porcelain tile is also a good slip resistance tile as this tile has a matt-type surface. Due to all these features, this tile is becoming quite popular among homeowners.
So these are some of the glazed porcelain tiles finishes that are best for your shower wall and floor. After finalizing the tile finish for a shower, choose a design of tile that matches the theme of other spaces in your home so that the look of your home is not spoiled.
Neelson ceramic is a leading and reputed manufacturer & exporter of glazed porcelain tiles in India. The reason for our success is our quality products, worldwide presence, cutting-edge modern technology and multi-layer distribution network. Check out our product page to know all our tile collections.