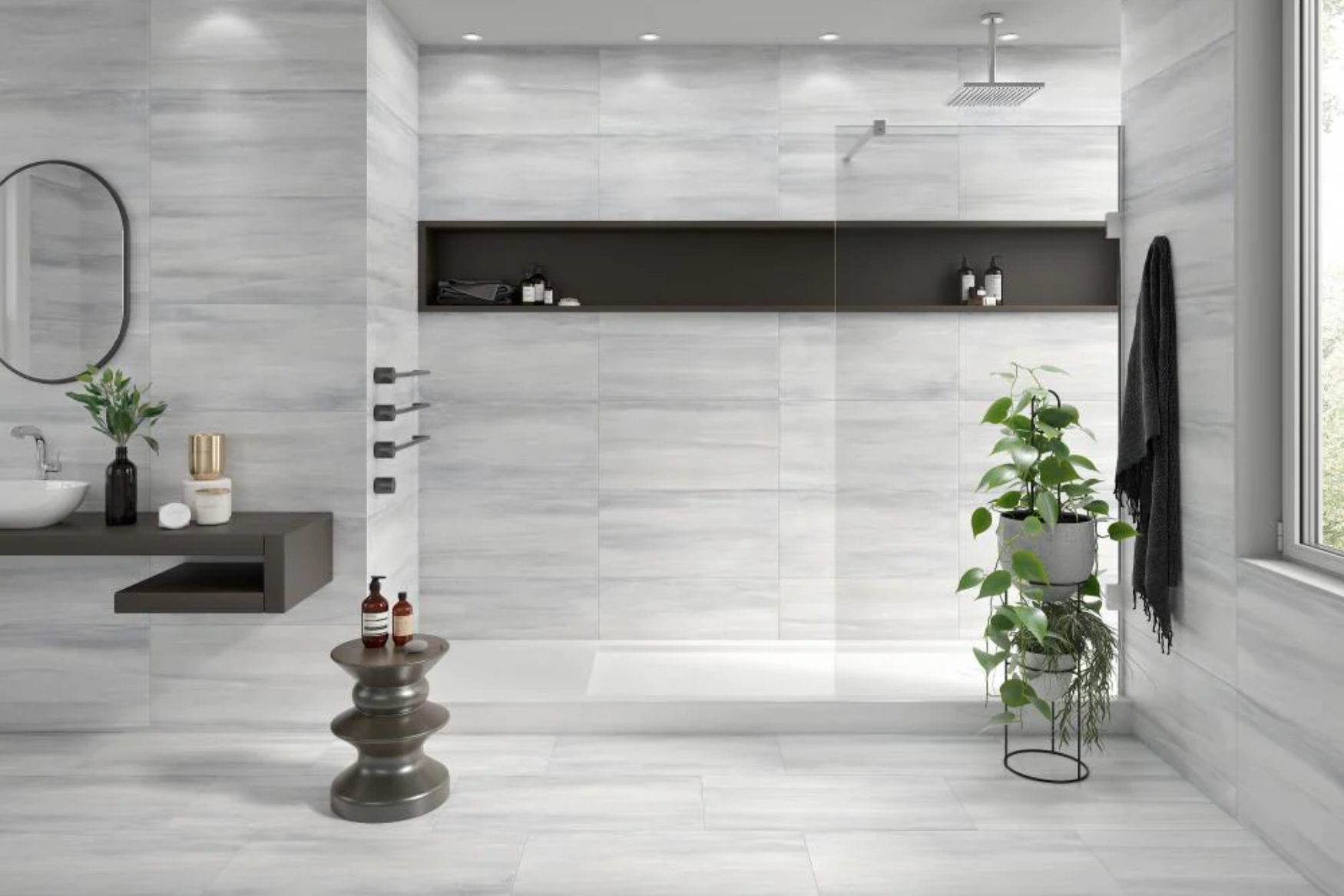 Porcelain Tiles 12x24 is a great and popular choice for Flooring & Walls Worldwide. In the last few years, whether it is classic or modern, it has been the first choice of homeowners for any type of decor. But what are the features that make these tiles so special? Is it just a thing of beauty or does it really provide something different from others options?
In this blog we will see what are the features of porcelain tiles 12x24 because of which you should choose them in your next project.
Let's dive into the world of porcelain tiles 12x24.
Spectacular Design Possibilities
Porcelain Tiles 12x24 provide you with magical decor possibilities that are difficult to match with other options. Their large glossy surface and elegant design make your floors and walls look mesmerizing. These tiles also offer a diverse range of collections with versatile patterns and textures.
Stone Look Collection:
Transform the floors of your home into a beautiful rock bed texture of Stone Look Porcelain Tiles. It will provide a solid and natural look to your home that is really calm and enchanting.
Marble Look Porcelain Tiles:
Marbles have always been one of the best flooring options. But it is very costly and also not that much durable. These flaws can be overcome with marble look porcelain tiles. It provides the same luxurious look as marbles at a more affordable range.
Wood Look Porcelain Tiles:
Wooden floors are a classic and heartwarming flooring option. Even today its popularity is very high, but due to environmental issues, its use has reduced. But my friends, you don't need to compromise with your desires. This is because wood look porcelain tiles give you the complete wood look design that brings classic decor to your home. Its fine finish and vibrant hues brilliantly mimic the natural beauty of woods.
Exceptional Durability
Not only in awesome design but also in terms of sustainability, porcelain tiles 12x24 have no match. Porcelain is a high strength material that can withstand heavy foot traffic and extreme weather conditions with ease. Therefore, whether it is living rooms or outdoors, it provides unrivaled decor settings.
They are also made UV protected and stainless with a blend of the best technology. Top manufacturers are also making them UV protected and stainless with the help of advanced technology. Because of which it is emerging as a wonderful and sustainable decor option for spaces like kitchen and bathroom as well.
Porcelain tiles 12x24 showcases the following durability features:
Scratch resistance
Stain resistance
Termite and Borer Resistant
UV protection
Moisture resistant
Budget Friendly
Its budget friendly nature is one of the very good reasons why maximum homeowners recommend porcelain tile flooring.You do not need to be a professional to install Porcelain Tiles 12x24 as they are easily installed. Larger size means fewer tiles are required for your space during installation and therefore helps you save money on extra tiles and installation costs. Furthermore, larger format helps to reduce grout lines that provides a continuous and durable flooring. So that you do not need to spend a lot on regular maintenance of flooring.
Easy Maintenance And Cleaning
Regular cleaning of the floor and walls is a hassle and when it comes to cleaning stubborn stains in the kitchen or bathroom, then it becomes a headache. But with Porcelain Tiles 12x24, this hassle is only a task of seconds. It is very easy to clean their stainless surface. So whether it be splatters of spices in the kitchen or muddy footprints in the bathroom, just a single wipe and everything back to new.
Rigorous activities do not affect them much as they are scratch proof. Hence there is no fear of scratches and cracks when used in high end spaces like living rooms and outdoors. All these features make porcelain tiles an awesome option and promise long term beauty with hassle free maintenance.
Hygienic Flooring Options
Porcelain Tiles 12x24 have amazing moisture resistant qualities due to which their surface does not hold water. As you would know, water is generally the cause of bacteria and infections caused by them. That's why porcelain tiles are a great hygienic flooring option that prevents the spread of infections.
Moreover, porcelain tiles are pollen repellent that makes them the perfect choice for allergy free decor. Due to high endurance and non porous surface, the growth of disease causing parasites is also impossible. That's why porcelain flooring is considered best for spaces like hospitals and it can provide complete security to your home as well.
Eco-Friendly
Porcelain is one such ceramic that can be recycled. Tiles made of porcelain are reused by many manufacturers to create new tile patterns. Therefore it's a sustainable decor option for present and future homes. Ceramic is an abundant resource, the use of which does not affect nature much. Moreover, Porcelain flooring can replace non-eco friendly flooring options such as wood flooring. That's why porcelain tiles are making an important contribution in reducing the world wide carbon footprint in many ways.
Conclusion
We found that Porcelain Tiles 12x24 will not only give a beautiful look to your project but will also decorate it with many other features. These tiles provide a long lasting visual appeal as well as easy ways to maintain them. They also help you to achieve your dream decor in a more natural way. Porcelain tile 12x24 therefore is an ideal and sustainable decor option for all your upcoming projects.
About Neelson Tiles
Neelson is India's one of the most promising ceramic manufacturers expanding its reach globally. Our glazed porcelain tiles set a benchmark for optimum quality and unbeatable durability. With cutting edge technologies and expert craftsmanship we manufacture innovative tile design for your project needs. Our tiles undergo several quality assurance checks to ensure the best product for our customers. Visit our website today and find the best quality collection for all your needs.