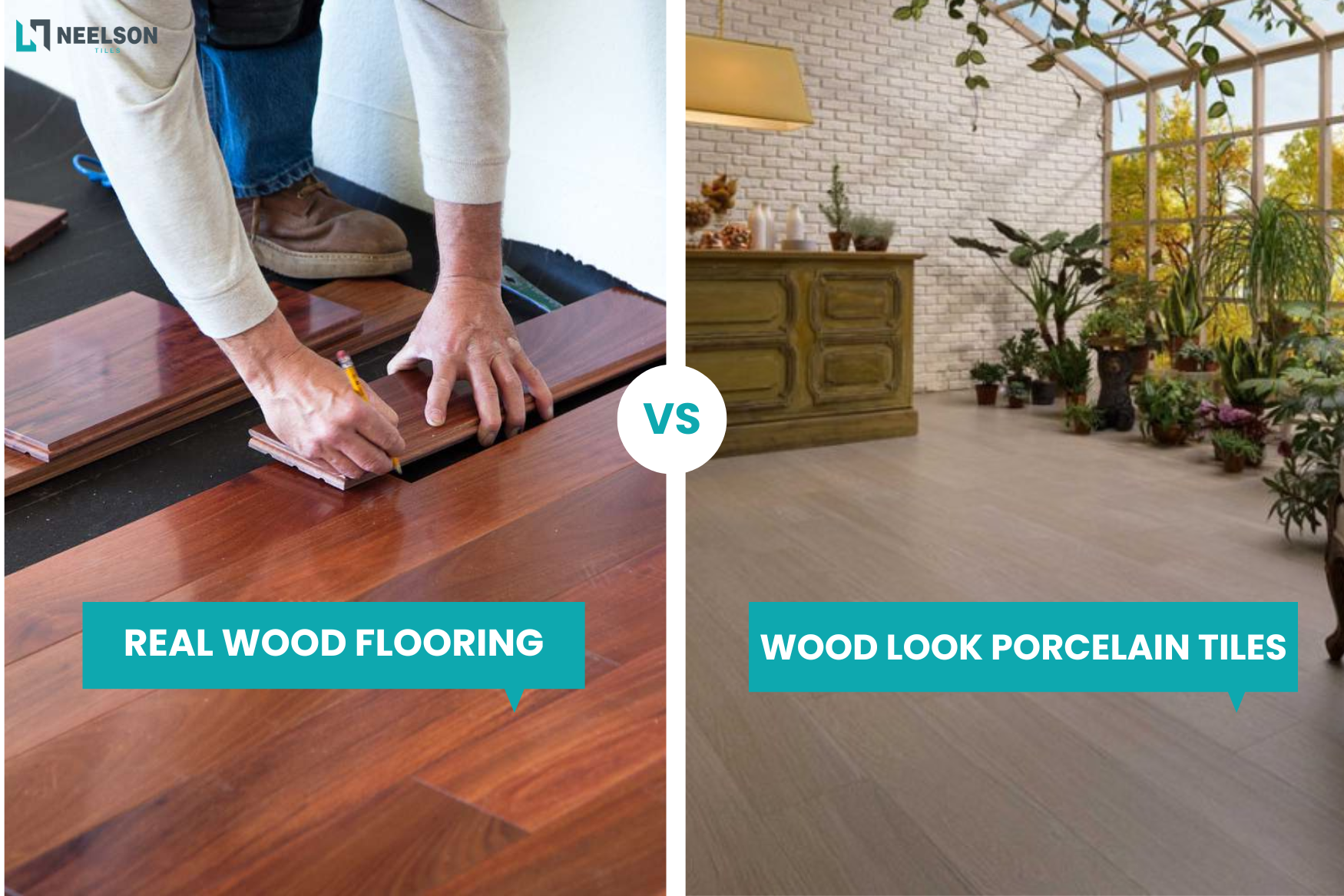 Gone are the days of hefty price tags associated with hardwood floors. Wood look tile flooring has emerged as a remarkable solution, providing the coveted hardwood aesthetic without breaking the bank. By incorporating wood look tile flooring into your space, you not only save costs but also infuse creative and complementary elements into your environment, resulting in a timeless yet contemporary ambiance.
The versatility of porcelain tile that looks like wood is yet another feather in its cap. Regardless of your architectural style, be it contemporary or traditional, these tiles seamlessly integrate into any room design in desired look. With numerous layout options at your disposal, you can achieve a truly unique and personalized look that reflects your individual taste and style.
On the other hand, real wood flooring exudes a natural charm and authenticity that is hard to replicate. The unique grain patterns, textures, and warm tones of real wood create a sense of warmth and character in any room. It is important to note that real wood flooring requires more extensive maintenance compared to wood look porcelain tiles. Regular care, such as refinishing and occasional repairs, is necessary to keep it looking its best. However, we've reached at a stage where we replicated the natural beauty and charm of real wood.
Here in this article you will find comparison between Wood Look Porcelain Tiles and Real Wood, which one will fit for your home or space.
What is a Wood Look Porcelain Tiles and Real Wood?
A Porcelain Tile is made out of a clay and raw material, which can be glazed and unglazed too to give a glossy or matte look. Wood look porcelain tile has a wood pattern on surface that appears like real hardwood. In addition to this, it is much cheaper than real wood flooring despite its durability and resistance to the effects of the environment.
Porcelain is made by finely purifying the clay and firing it at a higher temperature. Porcelain tiles are thicker, stronger, and more water-resistant than real wood. Wood look porcelain tile flooring is known to be among the solutions with the highest level of durability.
To What Extent Does Wood Look Like Porcelain Tiles Similar To Real Wood?
When you compare porcelain tile to real wood flooring, you'll find that wood-look porcelain tile gives the best of both worlds. It combines the sophistication of hardwood flooring with the sturdiness and resistance to water of tile. Tiles that are both beautiful and long-lasting, Wood Look Porcelain Tiles are designed to look like wood. Tile that looks like wood is available in a variety of colours, just like real wood.
Comparing Wood Look Porcelain Tiles To Real Wood
Durability: Wood-look porcelain tiles are more durable and scratch-proof than their natural wood counterparts due to porcelain's increased hardness. However, real wood takes more care and has a shorter lifetime.
Appearance: There is an almost infinite variety of options available for wood-look tiles. As its popularity increases, designers are coming up with fresh looks, colour palettes, and material combinations for it. Porcelain Wood Like Tiles provide you with a look that is both well-refined and classy, one that you will like for many years to come. On the other hand, genuine wood has a more traditional appearance.
Low Maintenance: Because it does not absorb moisture and has no pores, porcelain tile that looks like wood is an excellent choice for usage in moist environments such as bathrooms and kitchens. A real wood floor in a modern home has to be maintained on a regular basis in order to prevent damage from insects and other vermin, and it also needs to be protected against injury caused by pointed items.
Eco Friendly Option: Porcelain tile is considered to be one of the most environmentally responsible options for covering surfaces, including floors and walls. These tiles are made from almost all recyclable and reusable resources. and operate consistently in terms of both their technical and aesthetic performance throughout the course of their lifetime. Real Wood, on the other hand, is a contributor to the depletion of natural resources in a more overt manner.
Easy Installation: It is necessary to choose an option that is both inexpensive to install and requires minimal maintenance. There are no time-consuming steps involved in installing porcelain tiles. The setup time for these tiles is minimal.
Here is a short comparison table which can help you in distinguishing easily:
Basis of Comparison
Porcelain Wood Like Tiles
Real Wood
Durability
Scratch and Dent Resistant which makes them durable enough to last for years.
Possibility of Getting Dents and Scratches.

Pet Claws, and sharp edged objects can easily contribute to damage.

Appearance
Modern Look with Traditional appearance.
Traditional Appearance
Maintenance
Requires low and easy maintenance.
Both its preservation and the cleaning of it are challenging.
Installation
Easy to Install
A bit difficult as compared to the Tiles to install
Design and Style
Available in endless variety of options like colour, design and can create amazing pattern.
Almost all the Real Wood possess similar design and colour as the natural wood one resembles.
Water Resistance
Obviously they are water resistant and repels water to seep inside the tiles or floor or wall.
Real Wood can absorb spilled liquids and moisture in long term and may damage.
Budget
Incurs Low costs
Requires High Budget.
Which One To Choose?
Wood look porcelain tiles are a great option for individuals who want the timeless beauty of wood without the upkeep, since they look and feel just like reel wood but are far more durable. Improvements in tile design technology have made it easier than ever to duplicate the look of real wood using porcelain tiles, and at a fraction of the price.
These high-quality porcelain tiles may look just like real wood, making them a viable alternative to less eco-friendly materials. Its many benefits far outweigh the minor drawbacks.
Wrap Up
Remember that investing in real hardwood flooring is expensive compared to other flooring options like tile for any project. Although the investment is excellent, maintaining and refinishing hardwood floors may be expensive. Porcelain tile, on the other hand, is a worry-free, one-time purchase that doesn't require ongoing expenses to retain the same attractiveness. Eye catching designs and patterns of Porcelain Wood look tiles makes it premium and sophisticated feel around the space.
Porcelain Tiles are easy to clean and maintain with a strength in the tiles to stay for longer period. These Tiles are Scratch and Dent Resistant, avoiding moisture and water to seep into the tiles.
Frequently Asked Questions (FAQ)
Where can I use Wood Look Porcelain Tiles?
Wood look porcelain tiles are versatile enough to be used wherever within or outside the house. This includes the bedroom, living room, kitchen, bathroom and even the patio.
Are Wood Look Porcelain Tiles Waterproof?
One of the least permeable flooring options is porcelain tile. It is appropriate for showers, bathrooms, mudrooms, and kitchen floors.
Does Wood Look Porcelain Tile fades or Scratch?
Very durable and resistant to fading and scratching. A wood look tile floor may endure several decades with the right maintenance.