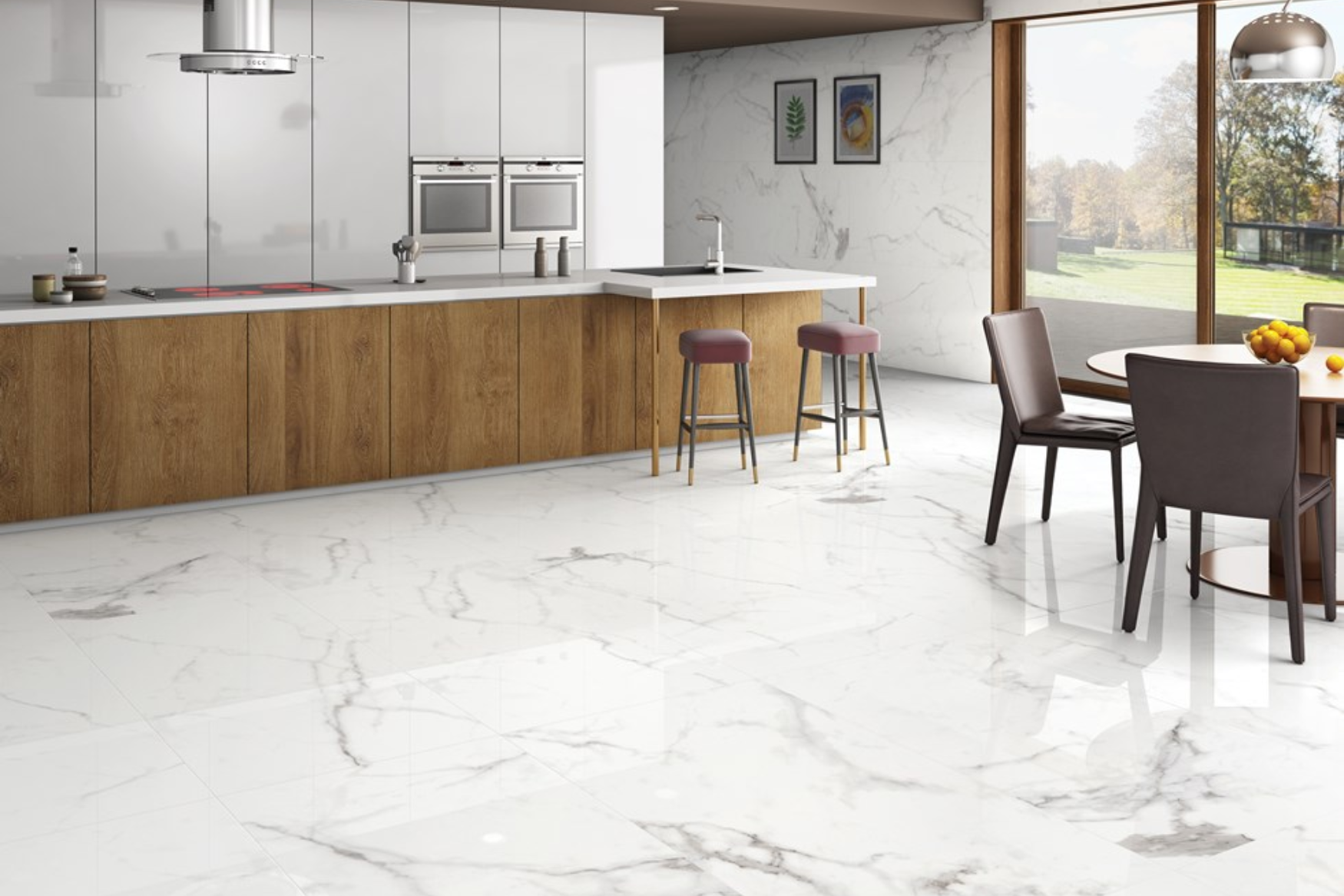 In recent years, glazed porcelain tiles have transformed the landscape of interior decor by presenting an array of design possibilities with their mesmerizing beauty and innovation. They have elevated simple living spaces to captivating pieces of art. Glazed porcelain tiles become so famous due to their unique appearance and versatility. But how can it transform your home into a living paradise and what special features are they providing to elevate your home decor?
Today, through this blog we will answer all these questions for you. We will delve deep into the world of glazed porcelain tiles and find the mystery behind their cozy appearance and how they can provide boundless possibilities for your next projects.
The Appeal of Glazed Porcelain Tiles
If you want to transform your home and interior, it's important to choose something that not only enhances the style of your space but also brings in the desired charm. Glazed porcelain tiles with their unbeatable elegance and meticulous appeal can be a perfect find for your search. These tiles are manufactured using cutting-edge technologies and expert craftsmanship for achieving the ultimate quality and signature glaze. Let's understand a bit more about their manufacturing process to know the benefits offered by these tiles.
Explanation of the Glazing Process
The high gloss finish and luring shine of the surface are a benchmark for glazed porcelain tiles. The glazing of these tiles is responsible for creating stunning decor possibilities. During the manufacturing process, these tiles are subjected to extremely high temperatures and pressure to adorn them with a smooth glassy finish above the surface. It provides them the signature visual depth and trendy look that matches perfectly with the modern interiors.
The Versatility of Glazed Porcelain Tiles
Glazed porcelain tiles, a type of ceramic tile renowned for their versatility and unmatched beauty, hold within them the power to redefine any environment they grace.
Wide Range of Colors and Patterns
The realm of Glazed Porcelain tiles is filled up with enchanting colors and innovative patterns for providing magnificent design ideas. They offer an extensive range of colors and geometric shapes of tiles to choose for satisfying everyone's needs. Glazed porcelain tiles are available in diverse textures starting from classic neutral to dominating vibrant. These tiles present a stunning stream of eye-catching patterns that can shape your home into a work of art.
Some of the unique patterns provided by the glazed porcelain tiles:
Floral mosaic
Classic checkerboard
Basketweave
Herringbone
Hexagonal
Creating a Sophisticated and Luxurious Atmosphere
As we have discussed, glazed porcelain tiles undergo a tough manufacturing process to attain a stellar glossy shine over the surface. Due to such an appearance glazed porcelain tiles effectively reflect light to create an illusion of optical expansion or spaciousness. This property is effectively useful for small and compact spaces to elevate their aesthetic appeal. For example, one can use monochromatic glazed porcelain tiles in bathroom walls and floors for crafting a more continuous and brighter space that resembles a calming and soothing look. The glazing appearance is also pretty effective for larger areas to build a lavish appearance.
Enhancing Visual Interest With Glossy and Matte Finish
Glazed porcelain tiles offer you the ultimate freedom for experimentation with a versatile range of designs and finishes. Their Glossy variants exude a lustrous shiny surface that serves a more contemporary and livish appearance. You can play with contrast with these tiles and utilize them in different spaces for achieving regal decor.
On the other hand, the matt porcelain tile showcases a velvety decor that is very clean yet elegant. Even though using neutral shades you can bring the texture out of the surface that channels the spirit of positiveness and energy in the overall space. Matte tiles in comparison to glossy variants provide a more vibrant look making them a good choice for busy spaces such as a living room.
Add Depth and Dimension To Spaces
Glaze porcelain tiles due to their glossy finish add a sense of depth to the space. Therefore beyond their remarkable appearance, these tiles are also used to create a more inviting and comfortable atmosphere in homes. Using large format tiles on both walls and floors amplifies the visual canvas. Cleverly chosen patterns and textures further amplify this effect, adding a sense of movement and intrigue.
Moreover, to enhance the overall decor of your space, glazed porcelain tiles also provide designs that mimic natural beauty such as wood, stone, and marble. These tiles flawlessly replicate the natural look of classic flooring ideas in a more enhanced way. For example, wood look porcelain tiles provide a more realistic look than natural wood flooring and also promote sustainability. That's why homeowners and interior designers love to use glazed porcelain being a viable eco-friendly option in comparison to others.
Durability and Easy Maintenance
Above beauty, glazed porcelain tiles also top the race in terms of endurance and maintenance. These tiles undergo an ultra-modern engineering process during manufacturing that gives them a non-porous and durable surface. Therefore it can easily withstand high traffic and rigorous activities. Glaze porcelain tile's non-porous nature makes its surface resistant to the accumulation of water and dirt. That's why these tiles become impenetrable against moisture and stains.
In bustling households and commercial spaces, where daily activities and footfalls abound, glazed porcelain tiles emerge as the ultimate flooring solution. Their ability to resist wear, scratches, and stains makes them a reliable option for areas that experience constant use and occasional mishaps.
Furthermore, they provide a silky smooth surface that is resistant to stains and scratches. Just a single wipe and you can clear up tough stains like oil spills and ketchup marks. They provide you with a highly dense surface that can easily withstand heavy foot traffic and doesn't acquire cracks easily. It prevents the accumulation of water in restrooms and creates a more hygienic atmosphere.
Conclusion
After considering all these aspects, we can say that glazed porcelain tiles are undoubtedly one of the perfect decor options for your upcoming projects. They will not only elevate decor but also provide much-needed functionality to the space. These tiles will provide you with a diverse range of creative designs to craft the interior of your dreams.
About Us
As a leading global manufacturer of wall and floor tiles, Neelson Tiles is known for its precision technology and innovative craftsmanship. We have earned the trust of our clients from around the world by consistently delivering high-quality products. At Neelson, we offer a diverse range of tile sizes, patterns, and designs to meet the evolving needs of our clients. Our floor tiles are renowned for their exceptional durability and superior quality, setting a benchmark in the industry. With thousands of satisfied customers, we have helped many people build their dream homes.