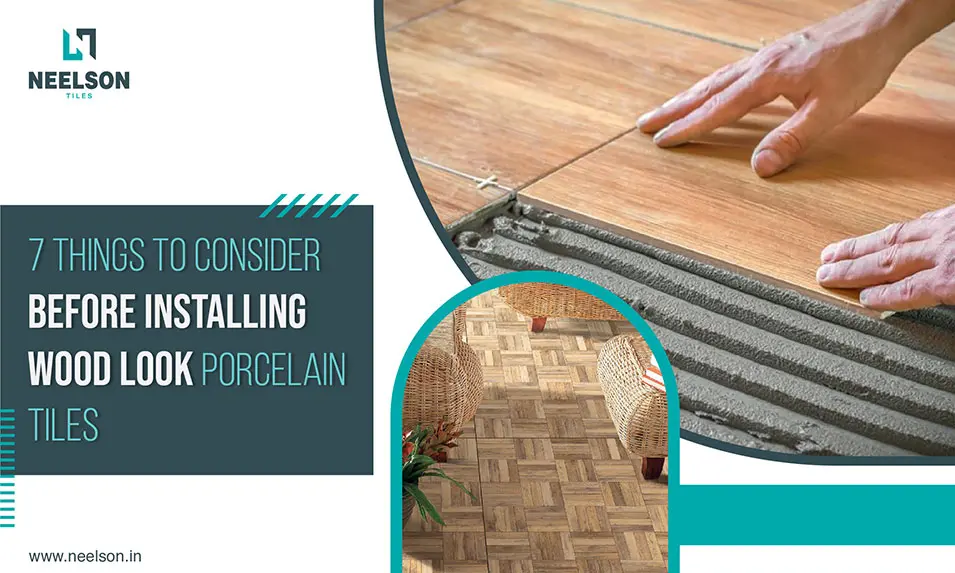 Flooring is an important aspect of architecture that should not be disregarded. When it comes to tile flooring, the wood look porcelain tile comes to mind right away. However, picking and installing wood look porcelain tiles might be difficult if you do not have a fundamental understanding of them. You must have aware of your needs, theme, tile characteristics, size and other things.
However, we had talked about how to choose best wood look tiles in the previous blog: 7 Tips To Choose The Best Wood Look Porcelain Tiles.
So in this blog, we will go through the seven key considerations to make before deciding on the ideal wood look porcelain tiles.
Things to Consider Before Tiling Your Home with a Wood Look Porcelain Tiles
The following seven tips to consider before installing wood porcelain tile into your home. However, be assured that none of them are skipped.
1.
Ensure Wood Look Porcelain Tiles Are Durable
Before installing the wood look porcelain tiles, the first thing to consider is durability. The general quality, thickness, and smoothness of the tile's surface are all factors in its durability. The tiles should be scratch-resistant, weather-resistant, and visually appealing. The high durability also provides a number of advantages, including lower maintenance costs and the ability to keep the area in good condition for an extended length of time. So, while installing wood look porcelain tiles, make sure they are durable.
2.
Choose a Good Wood Pattern and Texture
The second thing you should look for when installing the best wooden floor tiles is the best color quality and distinctive pattern. These kinds of wood look porcelain tiles often come in a wider range of variants and patterns. Manufacturers can replicate the wood grains of any solid wood floor you can think of, including teak, maple, oak, and walnut. So choose tiles that complement the style and texture of your property.
3.
Choose Tiles Based on Your Current Theme or Furniture
There's a chance you've found designs you adore but they don't fit your present furnishings. So consider your house furniture decoration while renovating your home, and then choose the best wood look porcelain tiles that actually complement your old furniture or theme. If you've decided on wood porcelain tiles for your house, company, or any other location, remember to check them first to see how they'll look with old furnishings.
4.
Choose The Longer Tiles
Longer wood look porcelain tiles create the impression that your room is larger than it actually is. For example, installed wooden porcelain tiles in 24x48 size look like a wide strip of real wood, which makes your floor more appealing and effective.
Wood look tiles are available in a variety of board lengths on the market. Whatever tile you pick, don't go any less than 24 inches in length since shorter tiles don't provide a true wood appearance. Another appealing feature of long wood look porcelain tiles is their design and several practical benefits. They offer an open, transitional area that allows for more creative design concepts.
5.
Consider the Grout Joint Size
When laying wood look porcelain tiles, many expert installers utilize a thin grout joint and then a blending hue that simulates actual wood. However, If the tiles are not leveled correctly, using only a tiny quantity of grout joints will just make the lippage more apparent.
A broader grout joint, on the other hand, can aid in the reduction of asymmetry between tiles. Grout lines mix into an overall appearance that tricks most people's eyes. Furthermore, by choosing a darker color, the grout lines in the set of installed timber look tiles are scarcely visible.
6.
Consider the Orientation of the Tiles
As wood look porcelain tiles are available in repeated patterns, you must regulate tile rotation to diversify the overall flooring look. There are a few methods for breaking up the repetitive pattern in wooden look tiles, but you may begin by changing the orientation. Begin with two rows and move them from one end of the room to the other.
7.
Use a Tile Leveling System
By clamping the edges of the tiles together and putting them into an equal plane, tile leveling systems ensure that there are no discrepancies in elevation between the margins of adjacent wood look porcelain tiles. When installing a tile, a leveling tool is used to measure the level between two tiles. A good tile leveling system prevents tile lippage, which is especially important when working with big format tiles.
Wood look porcelain tiles is one of the most popular tiles these days. However, if you've ever worked with this style of tile, you're aware of how difficult it can be. We are confident that if you adhere to all seven recommendations prior to installing wood appearance floor tiles, these tiles will not be damaged for years.
Neelson Tiles is a well-known manufacturer and exporter of glazed porcelain tiles situated in India. To make the best porcelain tile products, the company is well-equipped with cutting-edge technology and has an R&D facility and advanced production unit. Please contact us to learn more about our products.