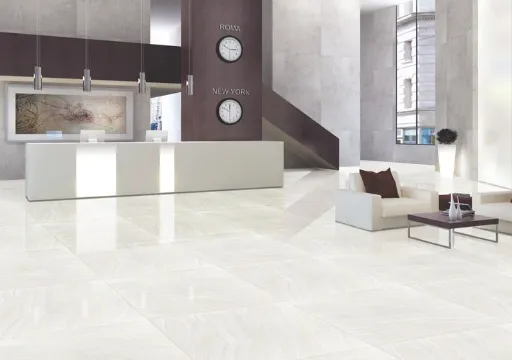 The wood look is a visual feature that any modern and vintage homeowner would prefer mainly because of its natural and fresh look. Wooden texture is a popular theme for homeowners to opt for, however, is it worth investing in actual wooden tiles? For practical homeowners, the answer may be quite straightforward yet controversial.
The current trend of wood look porcelain tiles has caught the eyes of homeowners because of their fresh and natural look paired with excellent durability. These tiles are made up of a mixture of clay and sand particles. The mixture is then subjected to extreme levels of heat thus reducing its water-absorbing capacity and giving its sturdiness thus making wood look like porcelain tiles aesthetically durable.
There are a tonne of different ways to organize this tile. Additionally, it is stunning; as you browse the enormous variety of available finishes, shapes, and colors, your ideas for kitchen flooring will flourish.
Let's look at some pros & cons of wood look porcelain tiles and decide if they are a better fit than real hardwood flooring?
Pros of Wood Look Porcelain Tiles
Wood look porcelain tiles are known for their durable and waterproofing features, however, that's not the end of it. There are several features these tiles provide to homeowners which makes them a popular option for modern and vintage homeowners to decorate their homes.
Wood is considered a classic theme and pairing it with a durable material gives an ideal tile to go for. There are several different types of wood look for homeowners to choose from that offer different vibes and aesthetics. Wood look porcelain tiles give homes a classic yet contemporary style. There are several selections available to select from over at Neelson Tiles.
Porcelain tiles are known to have increased levels of strength and sturdiness. Thus, allowing them to withstand heavy foot traffic. So, wood porcelain tiles do not get ruined easily and not require any maintenance/or very low maintenance for a long time.
3.
Excellent Alternative:
Wood-look porcelain tiles are an excellent alternative to hardwood tiles. The main difference that favors porcelain tiles is their durability and waterproofing abilities. Hardwood tiles are expensive to install and maintain however, porcelain on the other hand requires low maintenance.
Utilizing high gloss finish tiles in the modern kitchen is a new trend that will brighten your space. Urban residences have gotten smaller and are frequently open-plan or studio apartments as a result of the sharp increase in real estate prices. Tiles with a gloss surface provide a lovely mirror-like luster. The kitchen is made brighter by the glossy tile's reflective surface, which reflects light all around the room. Consequently, small kitchens appear larger.
5.
Wear and Tear Resistance:
The resistivity of porcelain tiles is truly remarkable. These tiles have great scratch and stain resistance thus making them an ideal choice for places with high activity. These tiles do not get ruined with wear and tear, additionally, they maintain their aesthetics for a long time. A tile with a higher level of resistance to environmental factors is considered to last a long time. Hence, when it comes to dealing with environmental stress porcelain tiles are tough to beat.
Cons of Wood Look Porcelain Tiles
Every coin has 2 sides, let us take a look at some of the cons of Wood Look Porcelain Tiles:
1.
Does Not Feel The Same:
Wood Look porcelain tiles though may look the same they may not feel the same. There is a subtle element of traction and interaction with actual hardwood tiles that a porcelain tile may not be able to mimic.
Wood porcelain tiles are extremely durable, yes this could be a drawback, which is why they are extremely difficult to install and cut. Tiles require some trims and these trims are harder to do so in the case of porcelain tiles.
Importance of Wood Look Porcelain Tiles And Their Manufacturers:
In a world where the trend is almost ever-changing, homeowners need to factor in the aesthetics that stay with time and the tile that doesn't degrade over time. That's why, Wood-look porcelain tiles have become popular as they offer excellent aesthetics to homes by giving them a classic yet contemporary style and long-lasting features.
Moreover, the above-mentioned features make wood porcelain tiles an ideal choice for homeowners to give a neo-retro look with wood look style.
Leading manufacturers, such as Neelson Tiles, offer a wide range of wood look porcelain tiles that has something for every space and style. A tile decoration reflects the personality of the homeowners and thus it is important to have a complete idea regarding the luxurious varieties of wood-look porcelain tiles for home decoration. These tiles prevail over hardwood tiles when compared side-by-side concerning the above-mentioned factors/features.
Neelson Tiles are a leading porcelain tiles manufacturer based in India. They offer a wide collection of wood look porcelain tiles that are durable and aesthetic. We offer fine-finished porcelain tiles such as matt porcelain tiles, polished porcelain tiles, high gloss porcelain tiles & more. Contact us now to know more about our products.