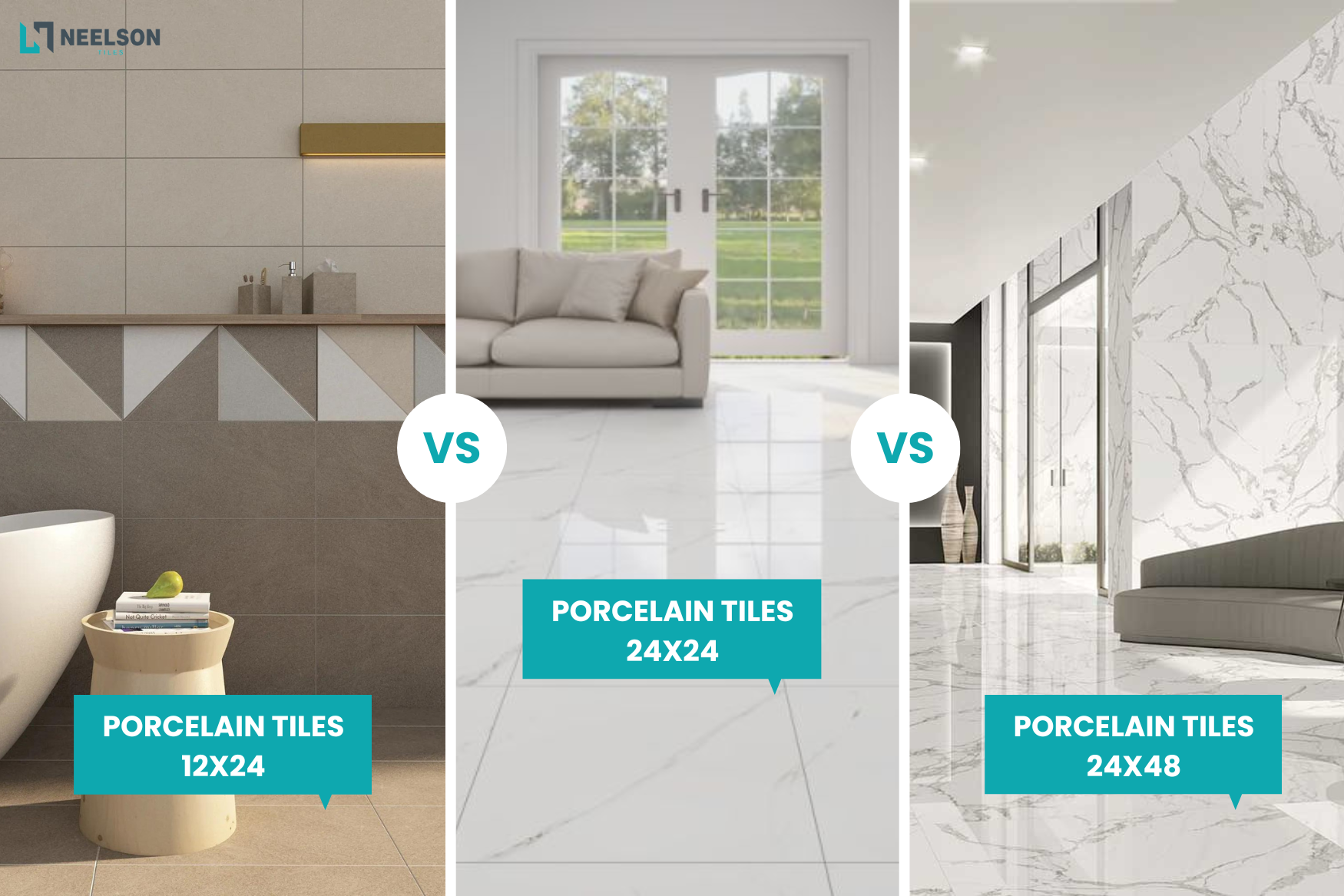 Porcelain tiles are a new identity of modern homes. They have been used in many home renovation projects recently for their exquisite design and high sustainability. But due to the many available size options of porcelain tiles, it becomes difficult to choose. Choosing the right size is very important as it will provide perfect beauty and sustainability to your project. Generally, porcelain tiles 12x24 are a favorable choice for homeowners. But large porcelain tiles of 600x600mm and 600x1200mm are also available in the market.
Can these porcelain tiles be a better option than 12x24 because of their larger size and larger surface area? This is what we are going to see in this blog. We will do an extensive comparison and see which size is the perfect match for your project.
Advantages of 12x24 Porcelain Tiles: Embracing Excellence
Versatility
Porcelain tiles 12x24 provide great versatility. It can be used on both the floor and wall. Due to their large size, they come out as a great option for high-traffic areas like living rooms, and parking lots. Hence these tiles are specialized in providing application diversity.
Visual Appeal
It comes in handy in giving your home a balanced visual appeal. Its large surface area allows pattern diversity and freedom to choose different contrasting color schemes. Which adds charm to the aesthetics of your room. Therefore you will be able to give a modern and sleek look to your home.
Durability
The large size of porcelain tiles of 300x600mm provides them high durability. It can easily withstand high wear and tear. They are highly resistant to wear, scratches, stains, and moisture, making them suitable for high-traffic areas and spaces prone to moisture, such as bathrooms and kitchens. Porcelain tiles are also resistant to fading, ensuring that their aesthetic appeal lasts for a long time.
Disadvantages of 12x24 Porcelain Tiles: Weighing the Downsides
Along with a lot of advantages, there are also some minor disadvantages of porcelain tiles 12x24 that you need to take care of during the project. Let's have a look.
Limited Design Options
While the 300x600mm size offers a balanced and visually appealing appearance, it may limit the design options compared to smaller or larger tile sizes. Some intricate patterns or designs may not translate well onto the larger surface area, and certain installation layouts may be more challenging to achieve.
Handling Issues
Due to their large size, they can be difficult to handle during installation. Extra care and attention are required to ensure proper handling, as improper lifting or transportation can lead to breakage or injury. It may be necessary to have more than one person involved in the installation process to handle the larger tiles effectively.
Comparing 300x600mm and 600x600mm porcelain tiles
As you can clearly visualize from the dimensions of these tiles that 300x600mm porcelain tiles are of rectangular size while 600x600mm is of square shape. Being rectangular tiles, porcelain tiles 12x24 can be used on both floors and walls, giving a visually balanced appeal. 600x600mm porcelain tiles are generally used for flooring. It is used a lot in commercial spaces to provide a symmetrical look.
Advantages
600x600mm porcelain tiles due to the square size, provides a beautifully symmetrical look with fewer grout lines. These tiles are primarily used for floors. Their square shape provides a balanced optical look, making them suitable for various floor designs and layouts.
Let's Have A Look At Some Of The Famous Design Options:
Stone look patterns
Wood look porcelain tiles
Marble-look appearance
Metallic appearance
It is also easy to handle them because of their symmetrical shape in comparison to porcelain tiles 12x24. Like other porcelain tiles, 600x600mm tiles are highly durable. They are resistant to wear, scratches, stains, and moisture, making them ideal for high-traffic areas and spaces prone to spills.
They Provide High Quality Durability Options Like:
Scratch resistance
Stain resistance
Termite and borer resistance
UV protection
The non-porous surface of 600x600mm porcelain tiles prevents the absorption of liquids and stains. This makes them easy to clean and maintain, requiring minimal effort for regular upkeep.
Disadvantages
The square shape and larger size of 600x600mm tiles may make them less suitable for wall applications. The rectangular 300x600mm tiles offer more versatility and aesthetic options for wall designs. The larger size of 600x600mm tiles can increase material and installation expenses compared to the smaller 300x600mm porcelain tiles. Therefore It should be taken into consideration when you are deciding the budget for a project.
Comparing porcelain tiles 12x24 vs 600x1200mm
Both 300x600mm and 600x1200mm porcelain tiles are rectangular in shape, but there is a difference in their dimensions which you can see. As an application, porcelain tiles of 600x1200mm are used for flooring large open places. These are used as examples in commercial buildings, supermarkets, and large parking spaces.
Advantages
The larger size covers a significant area with fewer tiles, resulting in fewer grout lines and a seamless appearance. Therefore Porcelain tiles 600x1200mm are ideal for expansive areas like commercial buildings, hotels, and open-plan spaces due to their huge surface coverage capability. These tiles also offer excellent durability for high-traffic areas to resist wear and tear. It makes them suitable for rush areas.
Disadvantages
600x1200mm porcelain tiles are definitely durable but they are equally difficult to install. Unlike porcelain tiles 12x24, they cannot be easily cut or drilled. It is also difficult to relocate them from one place to another. That's why the installation process becomes very complicated. Along with installation their price also might be an issue. 600x1200mm porcelain tiles are very expensive. Generally, they are used in commercial projects. Hence it is not budget friendly for home projects.
Conclusion
We looked at the advantages and disadvantages of each size. But which size is right for you depends on your project. Many factors like space, design and budget affect the choice of tile. So understand your needs and choose accordingly.
Who We Are?
Neelson is India's one of largest porcelain tile manufacturers renowned for its unbeatable quality and exclusive designs in the market. We are global exporters of porcelain tiles with size ranges of 12x24, 24x24, and 24x48. Our products ensure the greatest quality by undergoing multiple quality control checks. We use cutting-edge technologies and expert craftsmanship to provide a unique touch to each of our products. Therefore we have a wide range of variety with stunning designs and different color schemes. Visit our website today to learn more about our products.