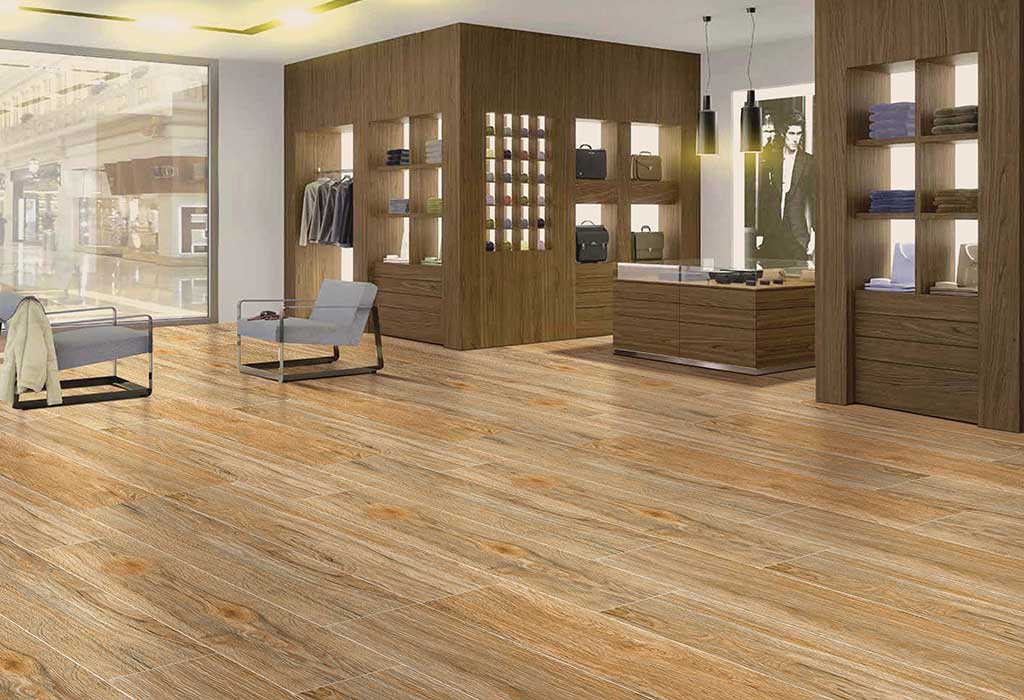 Wood flooring is undeniably the most popular flooring option for home decor. Because it gives an aesthetic and natural look to your home space. But to support the Go Green initiative, instead of Woods, homeowners are looking for good wood look tiles because of that wood look porcelain tiles are trending. The texture and design of these tiles are very much liked by homeowners. But how does it compare to other hardwood alternatives? Or Is there anything better than wood look porcelain tiles?
Today, through this blog, we will compare Wood Look Porcelain Tiles with other hardwood alternatives to know which one is best for you.
Bamboo Flooring Vs Wood Look Porcelain Tiles
Classic Bamboo flooring is a solid hardwood alternative for hardwood flooring with textured medium size boards. It is a soft and striking design. It gives a deep and dense touch to your flooring.
But the Bamboo design has some flaws. Due to being a soft wood, dents come in it very quickly. They cannot tolerate moisture and get spoiled during rainy days The risk of getting termites in them is very high.
But with wood look porcelain tiles there is no such trouble. Being made of ceramic, there is no risk of termites or dents in them. These tiles are not prone to moisture and also easily fit into your budget.
For a design similar to hardwood flooring, you can choose Neelson's Natural Brown Wood floor tiles. It will give you all the benefits of wood look porcelain and the perfect dense design of hardwood as well.
Painted Plywood Vs Wood Look Porcelain Tiles
Painted Plywood can deliver your floor a lovely reddish-pink appearance like cherry wood. This style can make any home seem inviting and charming. But its color is its specialty as well as its weakness. Painted Plywood being photosensitive loses its beautiful color in sunlight. Polywood has very little resistance to water and gets destroyed very quickly.
Another problem with plywood is that it is not sustainable. They require repairs almost every year. This is an economical alternative to Hardwood but cannot match in quality.
But with wood look porcelain tiles you will never have to face this problem. These tiles will be useful for you in the long run. The color of wood look porcelain tiles does not fade in the sun but shines in the outdoors.
Vinyl Plank Flooring vs Wood Look Porcelain Tiles
Wood look vinyl planks can clone Hardwood flooring. It is a very affordable alternative to hardwood flooring. However, there are several unseen issues with the plank flooring.
They are not sturdy, which is why they crack when subjected to heavy weight. Scratches appear rapidly, and there is no variety in the pattern.
But on the other hand, if we talk about wood look porcelain tiles, then they are very strong. You will find a wide range of diversity in wood look porcelain tiles designs. For example, there are several patterns available, such as Fair Wood, African Wood, and Brown Wood, in Neelson's wood look porcelain tiles collection.
Linoleum Flooring vs Wood Look Porcelain Tiles
Linoleum flooring is often regarded as an excellent alternative to hardwood flooring in many areas. However, when seen practically, these are not such good solutions.
It is because linoleum flooring turns yellow with time and can make your flooring appear lifeless. Due to being soft, it gets stained very quickly. And the biggest issue is the cost. Installing linoleum requires a flooring professional. That's why it costs a lot.
Linoleum is a poor substitute in comparison to wood look porcelain tiles. Wood look tiles are simple to clean and have a low possibility of becoming tarnished. You do not even need a professional to install wood look porcelain tiles and they are also very affordable.
Cork Flooring vs Wood Look Porcelain Tiles
Cork is an excellent alternative to hardwood flooring when observed. It is environmentally sustainable, cost-effective, and comfy. Its insulating properties make it the finest choice in the cold.
However, it has only one disadvantage, and that is its resilience. Moisture can ruin its texture, and being soft means it cannot be utilized in every context.
Porcelain wood appearance tiles are as soft as cork. Aside from that, it is also water and fire-resistant. Which gives them an advantage over cork flooring.
Laminate flooring vs Wood Look Porcelain Tiles
Laminate flooring is another alternative to hardwood flooring. Laminate flooring has exceptional stress retention quality. That's why they are durable and support you for a long time. It is also easy to keep this type of flooring clean.
But these tiles get destroyed in contact with moisture. That's why they cannot be used in the bathroom. They also cannot be used as outdoor tiles as they bleach when exposed to sunlight.
So if you are looking for an alternative to hardwood flooring for bathrooms and outdoors then Wood Look Porcelain Tiles is the best choice for you. There is no danger to them from moisture and no fear of bleaching.
Wood Look Marble vs Wood Look Porcelain Tiles
Wood look marbles give you a fine finish to your home as well as their different combination gives you variety.
But the biggest danger in marbles is getting scratched. And it also loses its shine with time. Due to this, your house starts looking dead.
But this is never the case with wood look porcelain tiles. It shines like new from the first day till many years. And these floor tiles are much more economic than marble and like wood look marbles give you a glowing charm at home.
After going through all the comparisons, we conclude that Wood Look Porcelain Tiles are the best alternative to hardwood flooring. It leaves a natural and matte finish similar to hardwood. It is also sustainable and economical. The biggest thing is that these tiles are eco-friendly. So it is the best option to replace hardwood in today's world.

Neelson is one of the leading tile manufacturers in India. Since our inception in 2015, we have created a benchmark in the world of Tiles. We are India's largest wood-look porcelain tile manufacturer and exporter. Being a global leader we assure quality and a wide variety of products. In wood-look porcelain tiles, our best collection is AFRICAN WOOD, BOSTON-BEIGE, CHEKER-DARK WOOD & NATURAL BROWN WOOD. There are many more stunning designs available on our website. Visit our webpage and get the best quote today.