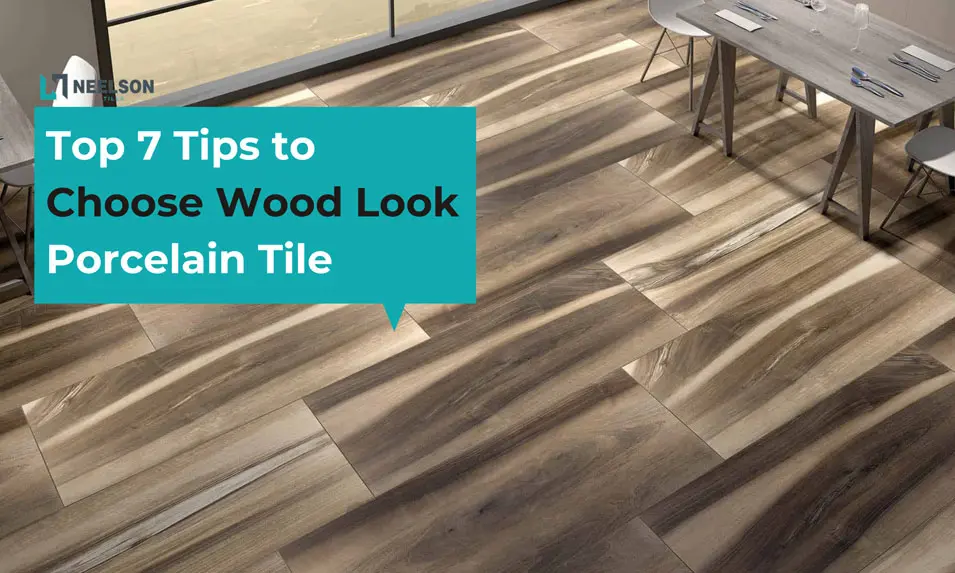 Choosing a tile is a challenging task if you do not have a basic understanding of porcelain tiles. You must have a basic understanding of your requirements, the theme, tile qualities, size, and other factors. Moreover, each floor tile necessitates a unique set of procedures in order to select the perfect one . This blog will look at the 7 tips for picking the best wood look porcelain tiles.
How to Choose the Best Wood Look Porcelain Tiles in 7 Easy Steps ?
The following are the seven stages to selecting the perfect, elegant, and long-lasting wood look tiles for your room. However, make certain that you do not skip any of them.
1.
Know Your Requirements
The first step in choosing the best wood look porcelain tiles is to understand your needs thoroughly. Because you're not sure what you're looking for, you won't be able to find the perfect tile. Decide whether you want a durable tile or whether you favor appearance above durability. Decide whether you will use the same pattern tiles across the space or whether you will use different tiles for each area.
The answers to all of these questions will ultimately lead you to a conclusion that will assist you in choosing the best wood look tiles. For example, if you plan to use different tiles in different rooms or areas, you should consult with an architect or interior decorator to ensure that the tiles match the theme and complement the décor.
Once you've completed the requirement analysis, proceed to the next step: budgeting. Any purchase requires careful consideration of the budget. Because sometimes it can be tough to match your requirements with your budget. In such cases, you either have to compromise on your preferences or stretch your budget by bit.
However, it is important to remember that finding the best wood look porcelain tiles within your budget is not a difficult task. Most of the porcelain tiles are available in the same price range. Only PGVT tiles will require some more bills. Also, we suggest that you always be prepared to spend a little more money if you are getting a fantastic product–after all, it is a one-time investment.
3.
Choose A Pattern That Perfectly Complements The Theme
After you've completed the budget planning and requirement analysis, choose the pattern or style that best fits your theme. If you want to go with a modern motif, go with a vibrant color pattern. Similarly, if you want a traditional vibe, go with rich color patterns.
However, keep in mind that the ultimate goal should be to pick the wood look porcelain tiles that complement the décor, surroundings, and theme. Moreover, if you are getting a better product by spending a bit more, don't think twice to push the budget a little.
4.
Test Shortlisted Patterns
It is always preferable to experiment before going full-fledged. Once you've decided on the wood look porcelain tiles for your home, business, or any other space, make sure to try them first to see how they'll look in real life. It may have looked nice in the digitally generated design, but it is possible that it would not go as planned during execution.
As a result, always experiment with designs by making a prototype to get a better idea of how it will look after installation. You can also hire an interior designer to assist you in selecting the best wood look porcelain tiles. To lower your confusion what to choose we have shortlisted top 7 wood look porcelain tiles patterns that you must try. Moreover, be prepared to replace your preferred pattern or color if it does not emerge as expected.
Assume you've found the perfect patterns or styles you're looking for. But, since each option has a different budget, what will you do? Which one should you pick? We recommend that you compare them all. Find out, for example, which one has a better-glazed surface, which one is more durable, or which one has a better finish.
This comparison will assist you in determining the best wood look porcelain tiles. For example, if pattern A is somewhat more expensive than pattern but has higher durability and better finishing, you should choose pattern A without hesitation. Make sure you always prioritize quality. After all, as previously stated, it is a one-time investment.
6.
Choose The Perfect Tile Size
You now have your favorite pattern or style of wood look porcelain tiles. However, there is one more task that must be completed– selecting the right tile size. Yes, tile size, like tile pattern and color, plays a significant role in making the space look prettier. For larger rooms, we recommend selecting a large size of at least 15-18 inches.
Similarly, for medium-sized rooms, 12-15-inch wood-look porcelain tiles are preferable. The larger tiles not only make the space appear larger but also make the area appear more beautiful. Again, you can seek the advice of an interior designer or study a few websites for a more informed decision.
7.
Always Choose Porcelain Tiles Over Ceramic One
We've now arrived at the final step of the process, but it's more of a piece of advice than a step. We recommend that you always choose porcelain tiles over ceramic tiles since they provide a variety of benefits such as higher durability, elegant patterns, a wide range of options, and more. Additionally, as compared to ceramic tile, porcelain tile is almost impervious to water.
For all of these reasons, we recommend that you always pick porcelain tiles over ceramic tiles.
These are the 7 stages for selecting the best wood look porcelain tiles. To get the best product, make sure you follow each of them.
If you still have doubt in your mind why we should choose Wood Look Porcelain Tiles and what are its advantages, then check our blog: 5 Reasons to Choose Wood Look Porcelain Tile
Neelson Ceramic based in India, is a recognized manufacturer and supplier of glazed porcelain tiles. The company is well-equipped with cutting-edge technologies and has the greatest pool of minds on its side to produce the best porcelain tile products. Contact us to discover more about their products, export policy, and after-sales support.