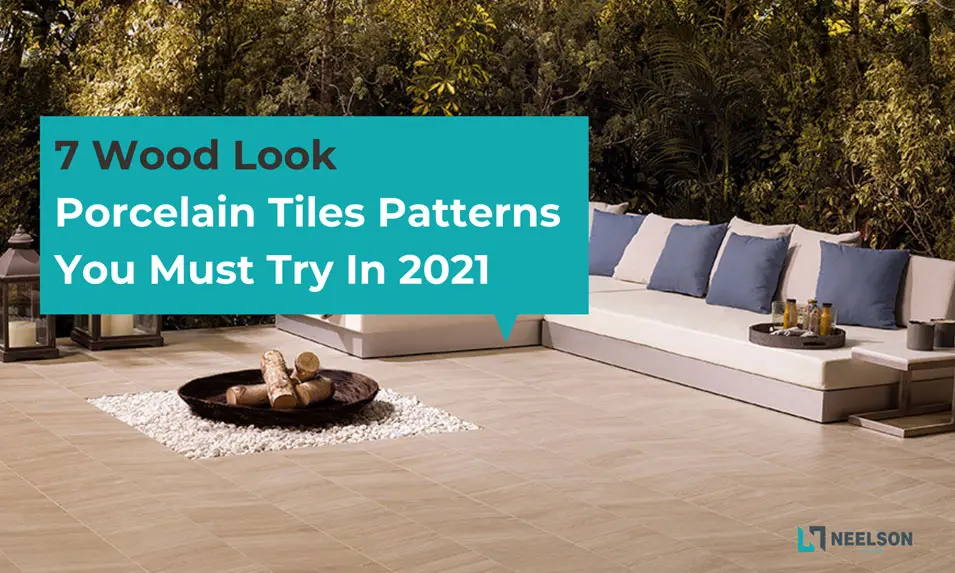 Wooden flooring is gaining popularity with each passing day. The rising popularity of this flooring trend can be attributed to a number of factors, including its lower cost when compared to natural wood flooring, as well as its no-harm-to-nature manufacturing process, as opposed to hardwood flooring. Other factors include its stunning look and long-lasting durability.
However, we will not delve into the advantages of porcelain tiles in this essay. Rather, we'll put a spotlight on 7 wood look porcelain tiles styles that you should try in 2021. The 7 patterns include basket weave, rock wood black, dark checker wood, tiger wood, natural brown wood, strip wood gold, and basket choco.
Let's take a quick look at each pattern and see what kind of décor or architecture it matches with.
Top 7 Wood Look Porcelain Tiles Styles In 2021
The first guest on our list is basket weave tiles. This tile pattern falls under the mosaic tile category and is widely popular for kitchen flooring. As the name implies, this pattern is constituted of many horizontal and vertical strands, resulting in a square pattern associated with woven baskets.
These wood look porcelain tiles have a striking and strong appearance. However, for the same reason, many homeowners who want a more plain and modest look shun basket weaving pattern floor tiles. However, if you like rich texture, a basket weave pattern is the way to go!
Rockwood black tiles are another excellent option for flooring if you prefer wood look porcelain tiles. These tiles have a design similar to rockwood but in a dark brown color. Unlike basketweave tiles, these tiles can be used for almost all kinds of rooms, including the living room, kitchen, and hallway.
The beauty of rock wood black tiles is that they complement nearly any décor, whether traditional or contemporary. In addition, being made of porcelain tiles, these tiles have a high level of durability and the potential to survive all types of weather conditions.
The checker dark wood tiles have a design that consists of square or rectangular boxes. They are all identical in some cases while asymmetrical in many others. Unlike rock wood black tiles, these tiles provide your space with a serene yet dynamic look. Furthermore, these wood look porcelain tiles complement all types of architecture or décor.
These tiles are more commonly found in drawing rooms, living rooms, and bedrooms than in kitchens. The box pattern enhances the overall visual appeal of the space while also adding a unique and personal touch.
Tiger wood porcelain tiles feature a distinct texture and design that will completely transform your floor. As the name implies, these wood look porcelain tiles have gorgeous colors ranging from light orange to a deep reddish-brown, as well as striping that ranges from small lines to bold strokes. In a nutshell, these colors and textures are beautiful enough to make a stunning floor.
It is recommended that you pair these tiles with light wall colors to create a contrasting look. Moreover, we believe that dark wall colors will mask the uniqueness of these tiles and instead create a dismal ambiance.
If you like dark tones over light ones, natural brown wood tiles are the best option for you. These are dark brown wood look porcelain tiles. These tiles are often used in commercial places such as cafés, restaurants, and shopping malls. These tiles are extremely popular among those who adore natural décor.
Just like tiger wood tiles, you should choose light wall colors such as white, light cream, soft peach, etc., along with these tiles to create a warm and fresh look. It is also recommended that you use minimal furniture and décor when selecting these tiles in order to let their beauty shine through.
Strip wood gold porcelain tiles are similar to wooden stripped tiles but have a golden color. These wood look porcelain tiles have a variety of color stripes on them, such as brown, golden, tortilla, and mocha. The golden color, on the other hand, stands out more than the other colors.
The presence of a gold hue not only makes the entire flooring look exquisite but also rich. Furthermore, these tiles allow you to select between light and dark wall colors. Overall, strip wood gold porcelain tiles could be the finest option if you want to start something different or seek something extraordinary.
Basket choco tiles have a basket weave pattern in chocolate color. Likewise, these wood look porcelain tiles are ideal for individuals who like dark hues over light colors or for homeowners who like to experiment with color. In these tiles, two rectangular boxes are divided by a square box in the designs of these tiles.
Again, if you select basket choco tiles for flooring , go with light wall colors like a white, light cream, light peach, and so on. Dark wall colors will certainly look really bad and create a dreary ambiance. Moreover, we recommend that you use these tiles only with contemporary décor as they will contrast with traditional décor.
So, these are the top 7 Neelson ceramic wood look porcelain tiles that you must try for flooring this year. In addition to the 7 styles, there are several other unique and lovely designs in our collection.
Neelson Ceramic is a renowned porcelain tile manufacturer in India, offers a wide range of porcelain tiles with unique textures, patterns, and sizes. All Neelson products are made with high-quality raw materials and innovative technology, and they are subjected to stringent quality tests. Check out our broad and rich collection here.