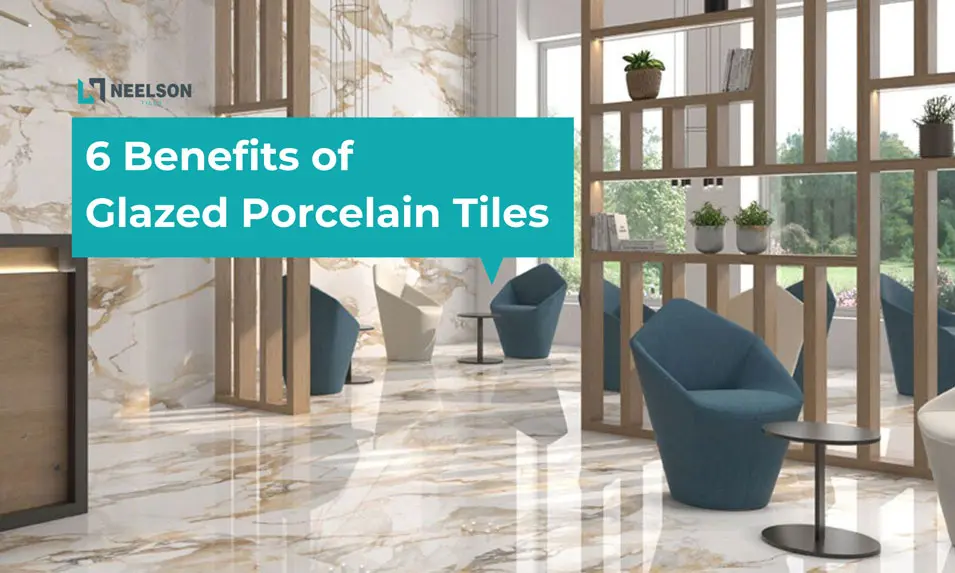 We appreciate that you are weighing the advantages and drawbacks of each tile in order to make an informed decision. After all, when it comes to design and décor, flooring is a critical component.
Not only must you consider the wall colors, but you must also consider the type of tiles to be used in your home or workplace. This blog will explain and educate you about the 6 benefits of glazed porcelain tiles.
But first, let's take a quick look at what glazed porcelain tiles are and how they differ from polished tiles.
What Are Glazed Porcelain Tiles?
In general, people feel that glazed refers to the surface or texture of the tile. But that is not the case. In fact, glazed porcelain tiles are distinguished by their materials rather than their texture. It is the material that is coated to the tiles. The material could be anything from liquid glass to the enamel.
Glazed porcelain tiles have a higher luster than unglazed porcelain tiles, are thinner, and go through an additional firing process to add an extra coating layer. Let us now look at the six characteristics of glazed porcelain tiles.
6 Advantages of Glazed Porcelain Tiles
The following are the six core advantages of using glazed porcelain tiles. Let's take a brief look at each of them to see how these tiles will be an ideal flooring option.
1.
The Colors Will Not Fade Easily
The first important advantage of glazed porcelain tiles is that they do not readily lose their luster or color thanks to the extra coating on the surface.
Most of the time, these tiles are laid indoors, where they are less likely to come into contact with direct sunlight. However, even if you use glazed tiles outside, you won't have to worry about color fading since these tiles can endure direct sunshine.
In a nutshell, this property of glazed porcelain tiles allows you to use them both indoors and outside, such as on a patio or terrace.
2.
Scratch and Stain Resistance Surface
Glazed porcelain tiles, like all other porcelain tiles, are scratch and stain-resistant. In other words, even if the tiles are scratched, they have the ability to hide the stains and scratches.
This allows glazed porcelain tiles to be utilized in the kitchen as well. The scratch resistance property keeps the glazed tiles' beauty and quality intact for a long time.
Additionally, because the glazed tiles' shining surface reflects most of the light, it would be nearly impossible for the guest or visitor to easily detect the scratches or stains.
3.
Easy To Clean & Maintain
Another significant advantage of glazed porcelain tiles is their ease of cleaning. You won't have to spend as much time cleaning these tiles as you would matt floor tiles because they have a very even surface. Even if you accidentally spill food or anything else on these tiles, all you have to do is wipe them clean using a clean towel and warm water.
Moreover, because they are incredibly robust, scratch-resistant, and easy to clean, these tiles are simple to maintain. Also, if you break any tiles by mistake, you will only be needed to replace that specific tile rather than the entire floor, as is the case with wooden flooring.
4.
Highly Durable– Long Life Span
Glazed porcelain tiles, like all other forms of porcelain tiles, are extremely durable. Since they are composed of the best materials, such as kaolin clay, and undergo various manufacturing processes, these tiles have a strong character. Also, because of their excellent endurance, the tiles can be used in multiple spaces or areas.
Glazed porcelain tiles can be used indoors, outdoors, and in commercial settings. Moreover, high durability ensures a longer lifespan, saving your money on frequent expenses or maintenance charges. Overall, it strengthens your space while also saving you money.
5.
Looks Exquisite with Modern Décor
Porcelain glazed tiles are stunningly beautiful. The extra coating on the surface gives the tiles a rich and elegant appearance. So, whether you utilize them in your home or office, they carry on their beauty to the surrounding décor, making the entire space look gorgeous.
Moreover, these tiles typically complement modern décor. It will make the entire space appear larger and will be pleasing to the eyes. However, avoid using glazed porcelain tiles in the bathroom because they are slippery. Aside from the bathroom, you can use these tiles in any room or area of your home or office.
6.
Numerous Designs, Patterns, Colors, & Sizes
Glazed tiles come in a wide range of colors and patterns. The numerous choices ensure that every customer's desire is met and that they get the best glazed porcelain tiles that perfectly match their home/office theme. Aside from that, high-gloss tiles indicate grandeur, class, and uniqueness, and they can enhance the appearance of the walls and floors in your rooms.
Not only do these tiles come in a variety of shapes and patterns, but they are also available in a variety of sizes, including 300X600mm, 600X600mm, and 600X1200mm. Ultimately, when you choose glazed porcelain tiles, you will not have to make any compromises in terms of color, pattern, or size.
So those are the six advantages of glazed porcelain tiles. As we can see, each benefit increases the value of these tiles. Whether it's durability, quality, beauty, or size, glazed porcelain tiles have it all. If you want to buy porcelain tiles for your home, glazed tiles are the ideal choice!
Neelson Ceramic is a renowned manufacturer of glazed porcelain tiles in India. The company makes a range of porcelain tiles in an array of styles and sizes and distributes them around the world.