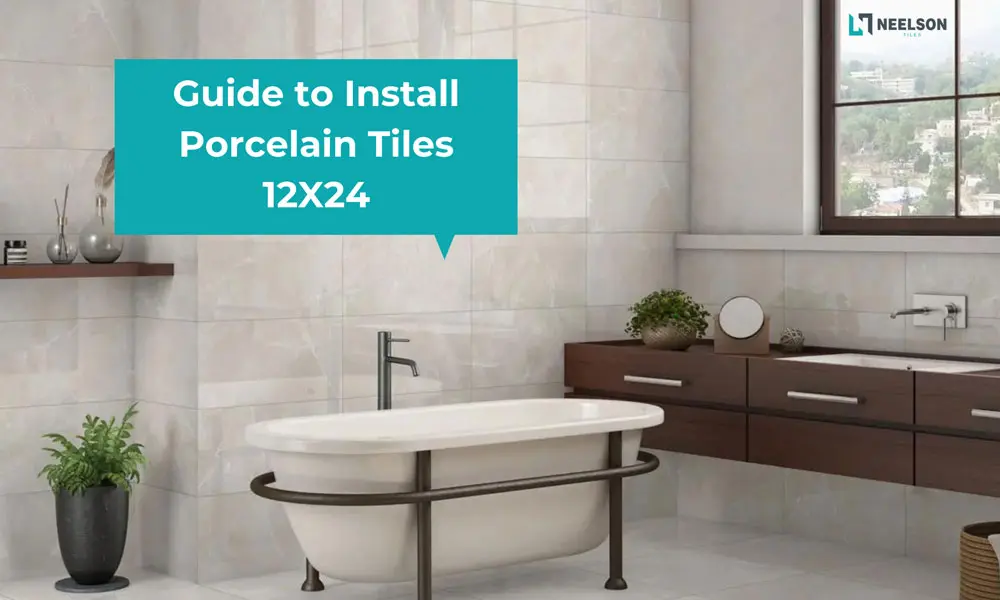 Gone are the days when porcelain tiles 12x24 were only used in bathrooms. But, thanks to innovative patterns, textures, and designs, these tiles are now used in almost all types of places, including the kitchen, bathroom, living room, and bedroom, among others. As a result, not only are these tiles popular in home settings, but they are widely used in commercial spaces as well.
However, when compared to regular porcelain tiles 12x12, porcelain tiles 12x24 are more challenging to set up. However, with a bit of preparation and following the few tips provided below, you can quickly install these tiles even if you have no prior experience. Check out and follow the tips provided below to make your tile installation experience as enjoyable and memorable as possible.
6 Steps to Install Porcelain Tiles 12x24
The following are the 6 stages for installing 12x24 porcelain tiles. It's worth noting that, due to the larger size, the procedure and tools used are somewhat different than the typical process. Let's take a brief look at each phase.
The first step in the tile installation process is to level the floor. Making the surface even is crucial for various reasons; including improving tile interlocking and ensuring that the surface remains smooth and flat. The uneven ground surface will result in uneven flooring, which will not only have an impact on the further design but will also appear bad.
Moreover, the uneven surface increases the chance of water gathering at a lower level area, which will eventually damage the tile quality in the long run. For all of these reasons, level the surface before you start to install porcelain tiles 12x24.
2.
Choose the Right Tile Mortar
Once the surface has been leveled, proceed to the next step– choosing the right tile mortar. Mortar, also known as thin-set, is an adhesive that is composed of cement, fine sand, and a water-retaining ingredient such as an alkyl derivative of cellulose used to attach tiles. Additionally, there are three types of mortars: thin-set, mastic, and epoxy mortar.
The most common tile mortar is thin-set; however, while installing porcelain tiles 12x24, we recommend that you use medium-size or mastic mortar because it has higher holding power than thin-set. Also, if you use the thin-set, your tile will become uneven and unattached in some spots as it dries and sets, which could result in loosened tiles.
When it comes to installing porcelain tiles on the floor, a good set of tools is necessary. The tools will not only speed up the process but will also ensure that everything goes as planned. Notched trowel, flat margin trowel, saw, knee pads, and drill are some of the tools you will need to install porcelain tiles 12x24.
You can use the flat margin trowel to scoop the mortar out of the bucket and put it in a stack on your base before you hammer it. The drill will help you in mixing the mud without stirring it. At the same time, the saw will assist you in cutting the porcelain tiles 12x24 according to the patterns. In a nutshell, all of these equipment will help to speed up and improve the tile installation process.
4.
Keep the Work Neat & Clean
Another critical thing that you must not overlook is keeping the tile installation process neat and clean. For example, assume you are installing porcelain tiles 12x24 in a 40x40 foot space. You began at one end and finished at the other after a few hours. Then you decide to start cleaning the floor from the outset. So you went to the beginning and attempted to clear the surface. However, by that time, the mortar excess that you left at the beginning has dried entirely and become difficult to remove.
As a result, we recommend that you perform cleaning in tandem with tile installation. For example, as soon as you finish the first 3-4 rows, clean or wipe away the excess mortar from the tiles with a flat margin trowel so that it doesn't dry up and becomes hard to remove.
5.
Don't Forget the Grouting
The next step in the installation of porcelain tiles 12x24 is Grouting. It is the process of filling the spaces between tiles and is an essential part of tile installation. Moreover, there are three types of grout: cementations grout, epoxy grout, and furan resin grout. Each of these grout types has distinct qualities that make it suited for particular applications.
Additionally, grouting prevents dirt and debris from entering between and under your tiles while also adding rigidity and strength to the tiles. To obtain flawless and equal grout lines, we recommend that you use 1/4 inch spacers. After you've grouted the entire floor, let it set for 20-30 minutes. Then, using a dense grout sponge soaked in water, clean the excess grout.
Once you've completed all five of the preceding stages and successfully installed the porcelain tiles 12x24 in your space, there's still one thing left to do– clean the tiles. Yes, cleaning the tiles or the floor after installation is a vital phase of the process. It will help remove mortar, glue, paint, and other residues from the surface of the tile.
However, let the grout settle for a while and avoid using any corrosive or acidic cleaning products that could damage the tiles. Instead, simply wet the surface for 10-15 minutes before rubbing it with a soft brush or cloth.
That's it! We are optimistic that if you follow these 6 steps, you will be able to install porcelain tiles 12x24 perfectly in your space without any damage or difficulties.
Summary: Installing porcelain tiles 12x24 is somewhat more complicated than installing any small size tiles, particularly porcelain tiles 12x12. However, you can efficiently complete this task by keeping a few tricks in mind and following the above process step by step. Moreover, in addition to following the steps, don't forget to use the tools listed above.