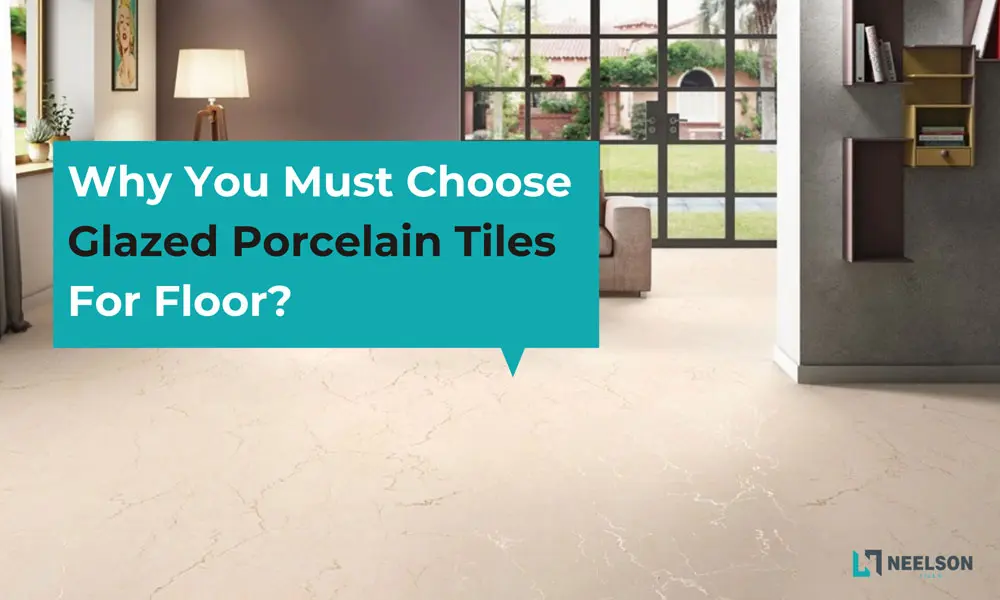 Glazed porcelain tiles are gaining popularity around the world due to factors such as their aesthetic appeal, durability, and scratch-resistant surface. Moreover, compared to unglazed porcelain tiles, glazed floor tiles are available in a wide variety of styles and colors, allowing users and designers to find the perfect design that matches the theme.
In today's blog, we'll look at why you should choose glazed porcelain tiles for the floor. We'll look at its advantages and the elements that set it apart from other tiles or flooring options.
7 Reasons to Choose Glazed Porcelain Tiles for Floor
The following are 7 compelling reasons why you should choose glazed porcelain tiles on any given day. Our team of specialists has compiled all of this information based on their considerable knowledge of the ceramic industry.
Let's get started.
1.
Glazed Porcelain Tiles Has Much Cleaner Surface
The first major reason to choose glazed porcelain tiles for the floor is that they have a cleaner surface than matt tiles and unglazed floor tiles. The smooth surface will improve the overall appearance of the space and make it more beautiful. It will create a mirror-like effect, making the space appear much larger and brighter than it was before.
Moreover, the smooth surface of glazed tiles will add charm to the surrounding décor. So, even if you only have a few pieces of furniture or décor, the glazed tiles will make enough to fill up space.
2.
Glazed Porcelain Tiles Are Highly Durable
Another key advantage of glazed porcelain tiles is that they are exceptionally durable. It has a great strength since it comprises kaolin clay and other components similar to porcelain tiles. Moreover, the advanced level manufacturing technique makes the porcelain tiles robust.
All of this adds up to the tiles' ability to survive heavy footfall and unusual weather conditions. Also, porcelain tiles can conceal stains better than most other tiles. The higher durability ultimately extends the life of glazed porcelain tiles and reduces maintenance costs.
3.
Glazed Tiles Are Available In Multiple Styles
In addition to the durability and cleaner surface, glazed porcelain tiles come in a variety of styles. The broad availability of diverse, gorgeous patterns ultimately broadens the scope of its popularity as each consumer gets the best fit that perfectly matches their preference or theme.
For example, when you buy glazed porcelain tiles from Neelson Ceramic, you will have access to a large collection of tiles that includes matt porcelain tiles, wood-look porcelain tiles, polished porcelain tiles, high gloss porcelain tiles, and rocker finish porcelain tiles, among other things. Along with the styles, the company offers a variety of sizes, including 300x600mm, 600x600mm, and 600x1200mm.
In a nutshell, by choosing glazed porcelain tiles for the floor, you will be able to find the ideal tile option as per your desire.
4.
Glazed Porcelain Tiles Are Scratch Resistance
Scratches are a common problem with floor tiles. Since the surface comes into contact with a variety of objects throughout the day, it is frequently scratched. However, when you choose glazed porcelain tiles, you can avoid this problem to a large extent since these tiles are scratch-resistant .
Not only are the materials used to manufacture these tiles scratch-resistant, but the surface of these tiles is capable of camouflaging scratches better than most other tiles. This property of Glazed porcelain tiles allows them to be used in the kitchen as well.
5.
Glazed Porcelain Tiles Blend Easily With Décor
One of the most important factors when choosing floor tiles is finding whether they will fit with the theme, surroundings, and décor. The floor tiles you plan to purchase may seem nice on display, but they may not go well with the theme or contrast the décor. However, in the case of glazed porcelain tiles, you can be certain of their compatibility with the surroundings or décor.
In addition, most porcelain glazed tiles have a fantastic surface that allows them to blend with a wide range of décor styles ranging from contemporary to traditional. Overall, when you choose glazed porcelain floor tiles, you can be sure of their compatibility with the theme.
6.
Glazed Porcelain Tiles Are Water Resistance
Higher water absorption is the primary factor that cuts down the life of any tile. As a result, it is recommended that you choose tiles that are water-resistant. Fortunately, glazed porcelain tiles have this property. Like most porcelain tiles, glazed tiles are water-resistant or have a water absorption rate of only 0.5 per cent.
The low absorption rate eventually protects and extends the life of the tiles by preventing damage or decay. This property of high water resistance is achieved by using clays with finer particles that are fired at a higher temperature, resulting in a harder, less porous surface than standard ceramic tiles.
7.
Glazed Porcelain Tiles Are Easy To Clean & Maintain
The 7th reason to go with glazed porcelain tiles is that they are easy to clean and maintain. Every day, you will most likely spill one thing or another on the floor tiles. As a result, it is critical to have tiles that are simple to clean. Fortunately, unlike matt floor tiles, glazed floor tiles are relatively easy to clean.
The smooth surface of the tiles allows you to thoroughly clean them and remove all dirt from the surface. Moreover, the enhanced durability of the tiles makes them more robust and lowers the need for and cost of maintenance. Additionally, even if you break or damage a tile, you will only be required to repair that particular tile and not the entire floor.
These are the seven reasons that explain why you should choose glazed porcelain tiles over other floor tiles.
Neelson Ceramic is an ISO 9001-2008 certified porcelain glazed tile manufacturer in India recognized for its exquisite porcelain tile collection and cutting-edge infrastructure. The collection features a range of tiles in multiple styles and sizes. For more information, contact us.