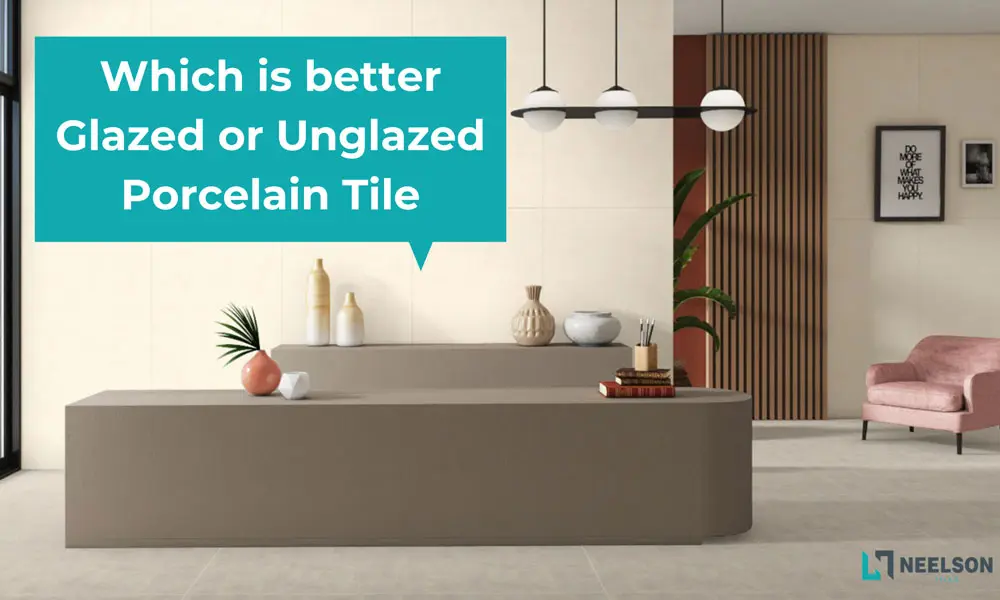 Floor tiles have come a long way in terms of design, composition, texture, and price over the last few decades. From single-color tiles in the Persian era to mosaic patterns in the 17th century to porcelain tiles in the 20th century, there has been a long history of tile design.
In fact, it would not be an exaggeration to say that porcelain tiles have become a rage among homeowners, architects, and interior designers, in the past few years. This triumphant success can be attributed to its elegant finishes, standout features, and diverse applications.
But what are porcelain tiles, what are their different types, how are porcelain tiles different from ceramic tiles, how are glazed porcelain tiles different from unglazed porcelain tiles, and which is the best among them? In this article, we'll attempt to answer all of these questions in a lucid way.
What are porcelain tile?
Porcelain tile is made by combining refined clay and other natural materials and firing them at a high temperature. The high temperature strengthens the tiles, making them more durable, denser, and water resistant.
The following are some of the most noticeable characteristics of porcelain tiles:
High scratch, stain, and moisture resistance
Wide design options
Lowest water absorption rate (~0.5%)
Low maintenance cost
Significant durability
Ability to withstand wear and tear
Compatible with most of the architecture
Easy installation
Along with these distinguishing characteristics, porcelain tiles are available in a wide range of sizes, including 300x600mm porcelain tile, 600X600mm, 600X1200mm, and others. These various sizes ensure that you get the best fit for your space.
Moreover, it's available in multiple finishes, including high gloss finish, matt finish, rocker finish, and wooden finish porcelain tiles, to name a few.
With all of these features, sizes, and finishes, it is obvious that porcelain tiles would have a variety of applications as well.
Yes, it can be used both indoors and outdoors. Besides, it can also be used for residential and commercial projects such as malls, airports, and educational institutions.
With all of these details, you're probably wondering how porcelain tiles are different to ceramic tiles. Let's find out some significant differences between these two tiles that set them apart in the following section.
Porcelain tiles vs ceramic tiles
Ceramic tiles and porcelain tiles are difficult to distinguish based on appearance because both tiles typically have surface glazing, making them appear very similar. However, the composition and manufacturing process are the primary differences between these tiles.
Ceramic tiles are made of coarse clay, whereas porcelain tiles are made of more refined and high-quality clay, known as Kaolin clay. Since Kaolin clay is denser than coarse clay, porcelain tiles are highly water-resistant and long-lasting.
The 4 major distinctions between ceramic tiles and porcelain tiles are as follows:
Water Absorption Rate: The absorption rate is a rate that defines how much moisture a specific tile is likely to absorb. Ceramic tiles absorb more than 0.5% of the water, whereas porcelain tiles absorb less than 0.5%.
Composition: The materials used to make the product are known as the composition. For example, ceramic tiles are made of coarse clay, whereas porcelain tiles are made of fine kaolin clay, which is denser and has white burning properties that make it suitable for porcelain tiles.
Appearance: When it comes to appearance, porcelain tiles outperform ceramic tiles. Compared to ceramic tiles, it has more colours, design patterns, and finishes. In addition, unlike ceramic tiles, porcelain vitrified tiles can be polished to create a sparkle without using a glaze.
Water & Heat Resistance: Porcelain tiles are less resistant to water and heat than ceramic tiles. The least absorption rate and denser particles together make porcelain tiles an ideal option for outdoor surfaces, commercial projects, countertops and kitchen wall tiles.
These are the top 4 distinctions between porcelain and ceramic tiles. Let us now proceed to the next section, which discusses the distinction between glazed porcelain floor tiles and unglazed porcelain tiles.
Difference between glazed porcelain tiles vs unglazed porcelain tiles
Some of the key differences between glazed porcelain tiles and unglazed porcelain tiles are listed below.
Glazed Surface Coating: Glazed tiles go through an additional firing process in the kiln, during which a layer of glazed surface coating is coated to the tile at a very high temperature. Unglazed tiles, on the other hand, are not coated in this way.
Skid Resistance: Because of the top layer glaze coating, glazed porcelain tiles are less slip-resistant in wet or heavy traffic areas, whereas unglazed tiles are highly slip-resistant and an excellent choice for outdoor spaces and commercial areas.
(It is recommended that you check the slip resistance rating known as COF (Coefficient Of Friction) before taking the final call. These ratings will assist you in determining whether you are purchasing the appropriate tile or not.)
Scratch/Stain Resistance: Because of the non-porous glaze coat on top, glazed porcelain floor tiles are less likely to stain. Unglazed tiles, on the other hand, tend to stain and scratch more easily.
Multiple Designs: Glazed porcelain tiles are available in a range of colors and patterns, and they can also be digitally printed using inkjet machines. Unglazed porcelain tiles, on the other hand, are only available in a rustic and earthy appearance.
So those are the main distinctions between glazed and unglazed porcelain tiles. Let us now proceed to the final section of this blog– which one is superior: Unglazed or Glazed Porcelain Tiles.
Which is better: glazed porcelain tiles or unglazed porcelain tiles?
Although many factors influence the decision between glazed porcelain tiles and unglazed tiles, we would recommend glazed porcelain floor tiles over unglazed tiles due to their distinguishing features, which include Glazed tiles are stain and scratch-resistant, come in various elegant designs and are long-lasting. To sum up, glazed porcelain tiles are an excellent choice for outdoor or commercial applications, whereas unglazed porcelain tiles are an excellent choice for indoor applications.
Summary: It is always beneficial to have a basic understanding of the tile types, their features, applications, limitations, and compatibility. This information will assist you in selecting the best porcelain tiles that complement your space in the most beautiful way possible. Therefore, when purchasing porcelain tiles, keep all of the aforementioned tips in your mind.