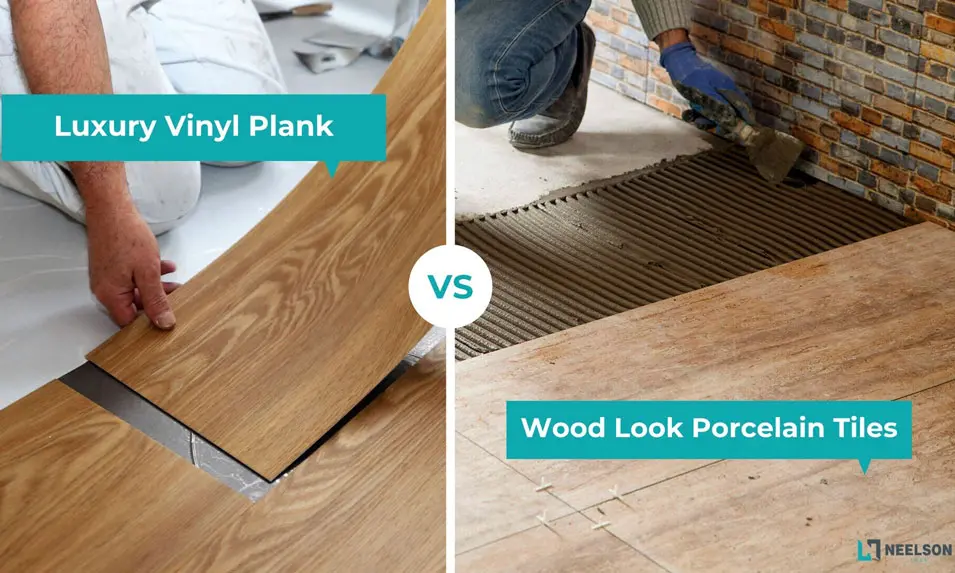 Fortunately, we now have a wide range of flooring options that are affordable, appealing, and easy to maintain. Among the various options are glazed porcelain tiles, matt floor tiles, wood look porcelain tiles, marble tiles, wooden flooring, and vinyl plank.
However, choosing the best flooring for your home, workplace, or commercial setting is always a difficult decision. You must consider multiple factors like quality, theme, budget, durability, and many others.
This blog will examine two of these flooring options: wood look porcelain tiles and Luxury Vinyl Plank (LVP). We will consider a variety of parameters such as cost, lifespan, maintenance, installation, fading, adaptability, and others. Let's get started right away!
Wood Look Porcelain Tiles Vs Luxury Vinyl Plank
The 5 significant differences between LVP and wood look floor tiles are as follows.
1.
Wood Look Porcelain Tiles Vs Luxury Vinyl Plank: Composition
Vinyl flooring comprises several layers of various materials, one of which is polyvinyl chloride (PVC). Again, there are two types of vinyl flooring: Luxury Vinyl Plank and Vinyl Roll. Luxury Vinyl Plank is meant to look like natural floorings, such as hardwood and ceramic tiles. This option is available in a variety of styles and designs. Furthermore, the LVP's multi-material composition makes it an excellent choice for flooring.
On the other hand, wood look porcelain tiles are made of several types of clay, sand, and feldspar. The most popular clay among top porcelain tile manufacturers, such as Neelson, is Kaolin clay. The Kaolin clay makes the tile structure denser, making it water-resistant as well as sturdier. Aside from the materials, the process itself is highly advanced– porcelain tiles are manufactured under high pressures and fired at high temperatures.
2.
Wood Look Porcelain Tiles Vs Luxury Vinyl Plank: Aesthetic
Another key distinction between wood look porcelain tiles and Luxury vinyl plank is their appearance. Vinyl planks, for example, come in a variety of styles, colors, shapes, and sizes. In addition, there is an LVP that resembles wood or other patterns. Moreover, you can choose vinyl plank based on the texture or finish you want to replicate, such as rustic, traditional, modern, hickory, or wood oak designs.
When it comes to Wood Look Porcelain Tiles, the possibilities are nearly endless in terms of color, pattern, style, and size. You may pick the best wood look porcelain tiles based on your theme, budget, and preference. In addition, when purchasing wood porcelain tiles from a reputable tile manufacturer such as Neelson, you will have the choice of purchasing plank design wood tiles. That is, you receive not just the wood design but also the plank size tiles.
3.
Wood Look Porcelain Tiles Vs Luxury Vinyl Plank: Fading Character
Fading is another important factor to consider while choosing the best flooring solution. When comparing wood like porcelain tiles to Luxury vinyl plank, vinyl flooring has a significantly higher fading possibility.
As we all know, vinyl being is a heat-sensitive substance; when exposed to direct sunlight, it will expand and contract as it warms and cools, causing the flooring to deteriorate. Several vinyl and laminate flooring products have UV inhibitors to prevent fading; however, they still fade to some extent.
On the contrary, wood look porcelain tiles, or any porcelain tiles, do not fade with time. As previously said, since porcelain tiles are made of a variety of high-quality materials, they have a very subtle structure that protects them from environmental effects. Moreover, glazed porcelain tiles have an additional layer of coating that prevents further fading or damage. Overall, wood look tiles do not discolor over time.
4.
Wood Look Porcelain Tiles Vs Luxury Vinyl Plank: Maintenance
Nobody prefers to choose a flooring option that requires frequent care or is high-maintenance. As a result, this is another factor to consider when deciding between wood look porcelain tiles and Luxury vinyl plank. You can clean the vinyl flooring using a damp mop or a cloth dampened with warm water and a neutral detergent every week. However, for daily cleaning, you just need to sweep or vacuum.
On the other hand, porcelain tile cleaning varies from tile to tile. For example, matt floor tiles are more difficult to clean because of their uneven surface. Assume you spilled some beverages or something else on the matt flooring. Cleaning them will take time and effort. However, cleaning would be relatively simple in the case of wood look porcelain tiles since they have a consistent flat surface, exactly like vinyl flooring.
5.
Wood Look Porcelain Tiles Vs Luxury Vinyl Plank: Cost
Above all other factors, the cost is the most crucial element that influences most consumers. Let's start with the cost of vinyl flooring. For example, if you choose vinyl flooring, you will need to pay around $5000 to cover the material costs, installation costs, and labor costs for 500 square feet vinyl plank floor. That equals about $10 per square foot. However, installation costs may vary depending on location, building type, and other factors.
When it comes to the cost of installing wood appearance porcelain tiles, the price ranges from $0.4 per square foot to $5 per square foot. That is, your 500 square feet porcelain tiles flooring might be done for as little as $200 or as much as $2700! So ultimately, when it comes to price, both porcelain tiles and Luxury Vinyl Plank have a broad spectrum.
This is an honest comparison of wood look porcelain tiles and Luxury Vinyl Plank. As we can see, porcelain tiles have the upper hand in most of the qualities. So, if you ask us, we would suggest that you go with wood look porcelain tiles rather than vinyl flooring.
If you want to know more about Wood Look Porcelain Tiles or want to know about some of its important benefits, then you can check our blog: 6 Exceptional Benefits of Wood Look Porcelain Tiles
Neelson Ceramic is a renowned manufacturer of glazed porcelain tiles in India. The company manufactures and offers a variety of tile finishes, including matt, polished, high gloss, rocker, and wood look. All of these products are incredibly durable and look gorgeous. To view our entire collection, visit our catalogue page.