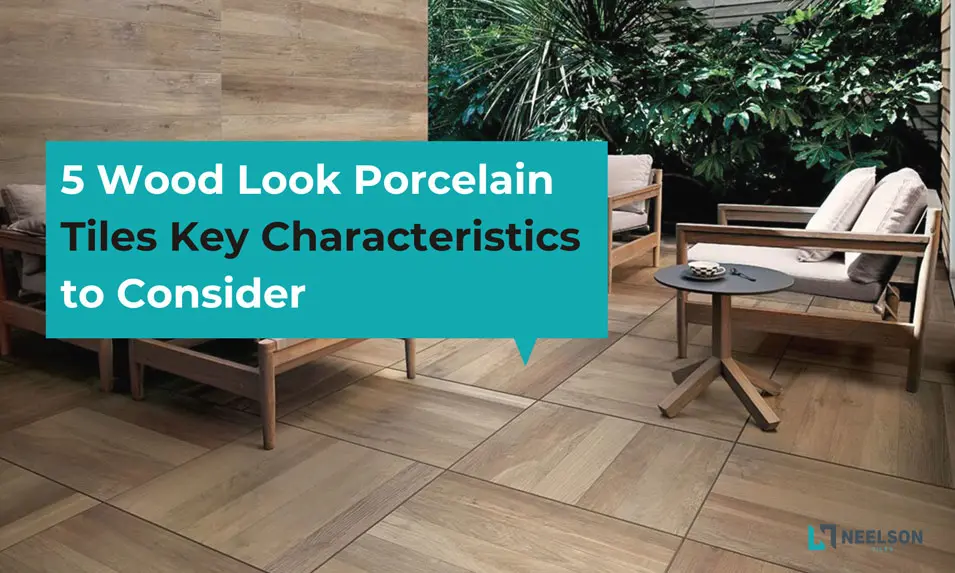 Glazed Porcelain tiles need no introduction. These tiles are currently one of the most popular flooring solutions . Whether for outdoor and indoor uses, these tiles are in high demand. However, since flooring is not something that most of us do on a daily basis, it is vital to have a fundamental understanding of porcelain tiles .
Furthermore, there is now a wide variety of porcelain tiles available in terms of surface, pattern, and size, including matt porcelain, polished porcelain, high gloss porcelain, and wood look porcelain tiles, among others. In today's article, we'll look at the five qualities of wood look porcelain tiles that you should consider when you buy.
5 Features of Wood Look Porcelain Tiles You Shouldn't Ignore
1.
High Resistance to Wear & Tear
The first thing to consider when choosing wood look porcelain tiles is their immunity to wear and tear. Wear and tear is simply the gradual deterioration of a product over time. Since floor tiles are used every day, it is critical that they be long-lasting. This quality can be verified by the producer's certification. For example, most reputable porcelain tile manufacturers, such as Neelson, have ISO certification.
You can also look at the manufacturer's or their products' online reviews. The higher wear and tear resistance will not only save you time and money on maintenance and repairs but will also help you keep the setting in good condition for a longer period of time.
So, while purchasing wood look porcelain tiles, the first thing to consider is– wear and tear resistance. Once you've verified that the tiles are of higher quality and have garnered positive user feedback, you can add them to your shortlist.
2.
Must Go Along With the Theme
Following wear and tear resistance, the next factor to consider when buying wood look porcelain tiles is compatibility with your place's theme or decor style. Wooden tiles may offer your home a natural rustic and luxurious appearance. This means that you select the décor that matches this style.
Moreover, when you buy wood look porcelain tiles from a credible porcelain tile manufacturer like Neelson, you will have access to a wide range of colors and patterns such as African Wood, Artica Wood, Boston Beige, Natural Brown, and many more.
So, take a good look at each of these patterns and picture how it would appear or complement your décor, as well as how well it would match with your theme. You can also consult with an architect or a home designer before you make the final decision. Moreover, it is always preferable to trial before going full-fledged.
3.
Stain, Scratch & Water Resistance
As previously said, floor tiles are very susceptible to staining and scratching as they come into contact with various materials and objects throughout the day. As a result, it is critical that you select stain and scratch-resistant wood look porcelain tiles. Furthermore, the floor tiles should also be water-resistant.
Porcelain tiles, fortunately, have all of these characteristics. They are stain and scratch-resistant and have a low absorption rate of 0.5 percent. This implies that when looking for wood look porcelain tile; make sure you only go after porcelain tiles.
If the tiles are not water-resistant, water will accumulate and cause decay and damage to the tiles' quality. Also, ensure that the tiles you chose are stain-resistant and easy to clean. We recommend glazed porcelain tiles for all rooms except the kitchen and bathroom since they are highly stain resistant. For the bathroom and kitchen, you can choose matt floor tiles.
As previously stated, the floor tiles get dirty far too often due to their usage throughout the day. This implies that it must also be easy to clean and maintain so that it does not get a dirty texture or appear dull after a few days. We recommend porcelain tiles over others since they are very easy to clean and maintain. All you have to do is sweep them with a broom and wipe them with a slightly damp mop.
You can inquire directly with the retailer or manufacturer regarding the ease of cleaning. Also, when you're focusing on its appearance, don't underestimate its maintenance quality. If you discover that wood look porcelain tiles are good in pattern and also look fine with the design but are difficult to clean due to texture or any other reason, it is best to drop them from the list.
Overall, consider wood look porcelain tiles that are simple to clean and require minimal maintenance.
When it comes to tiles, size does matter. We've already explained why each space or room requires a different tile size in some of our previous articles. For a kitchen, for example, 600x600mm or 600x1200mm tiles are recommended. At the same time, we would suggest a large size, such as 600x1200mm, for a hallway, living room, or bedroom.
Similarly, for the bathroom, we recommend 600x600mm wood look porcelain tiles. The general principle for choosing tile size is that the smaller the space, the smaller the tile size; for larger spaces, choose the larger size.
You'll also need different tile sizes and patterns for the wall and floor. Above everything else, make sure the size you choose compliments the overall aesthetic of the space.
So, these are the five most important qualities to look for when buying wood look porcelain tiles. If needed, you can make a bit of compromise on the size, but not on any of the other four qualities.
Neelson Tiles is a leading porcelain tile manufacturer in India, known for its outstanding quality and extensive and enticing collection of matt, polished, high-gloss, wood-look, and rocker finishes. To learn more about Neelson Tiles or to explore its enticing collection, visit us.