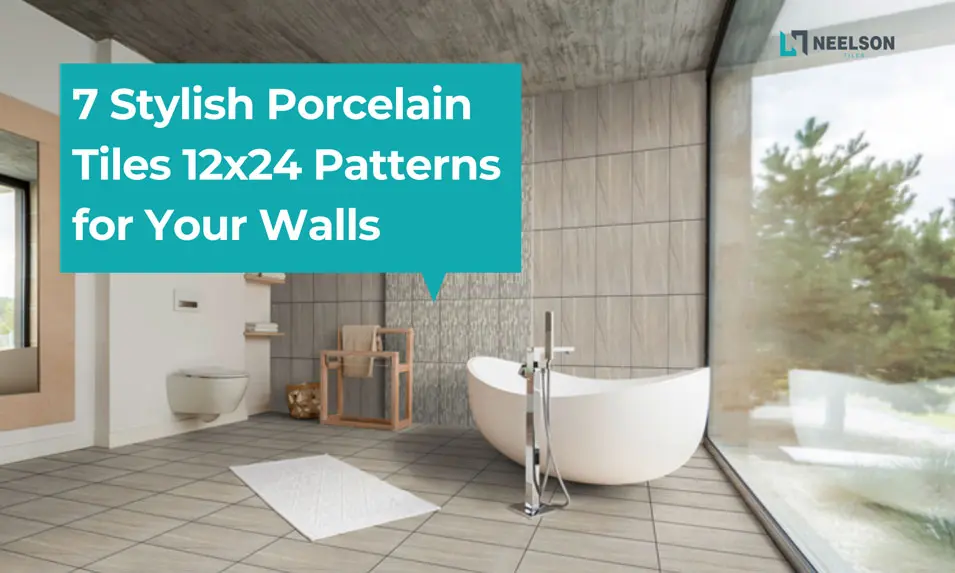 Not only do people demand choices when it comes to the texture and style of the tiles, but they also expect varied options when it comes to how to arrange the tiles or which layout/pattern to use. Since each design has the potential to give the space a unique appearance, it is essential that you have a basic understanding of the best trendy porcelain tiles 12X24 patterns for the wall.
For example, there is a horizontal layout, a monochromatic tile pattern, a diagonal layout, a diamond pattern, and many more. In this blog, we will look at the top 7 porcelain tiles 12X24 patterns for walls in 2021. We'll go through which room types each of these patterns is suitable for, as well as when you should use them.
Let's get started!
7 Stunning Porcelain Tiles 12X24 Patterns to Consider in 2021
The top 7 patterns of porcelain tiles 12X24 that you should consider for your space are listed below.
One of the most simple tiles arrangements for the wall is a horizontal pattern. All you have to do in this pattern is put the tiles horizontally one by one. You begin at one end of the room and work your way to the other. Or, you simply lay down porcelain tiles 12X24 one after the other till you reach the other end.
However, there is one thing you will need to decide– the direction. Meaning, you can set the tiles on the wall from top to bottom or from left to right. We would advise you to choose the direction based on the length. For instance, if the distance from top to bottom is 15 feet and the distance from left to right is 20 feet, lay the tiles from left to right.
2.
Monochromatic Tiles Pattern
Monochromatic tile patterns are one of the most popular tile layouts that never go out of style. For the uninitiated, monochromatic tiles are a combination of white and black tiles. You may give your home a modern makeover with a high-end appeal by placing porcelain tiles 12X24 in a monochromatic arrangement.
Moreover, it will give the texture a unique edge and create a strong sense of visual consistency. Another advantage of the monochromatic tile design is that it complements practically any sort of decor or architectural style. Moreover, the varied tile sizes call attention to the walls without detracting from the rest of the space.
Another common porcelain tile style to consider is the brick layout. This pattern, often known as staggered brick arrangement, is quite popular among homeowners and often used for bathroom and kitchen walls. The porcelain tiles 12X24 are laid at the center of the tiles below it in this pattern, or each tile is half the length of the adjacent tile.
This pattern has a powerful, traditional appeal. However, if you want to try something different, you can also consider a 30/70 offset or less. This will result in a softer, more natural appearance. You can also use irregular offset to provide a more organic effect. In comparison to 50/50 and other offsets, however, you will have more cuts in irregular patterns.
As the name implies, you will need to lay porcelain tiles 12x24 diagonally in a diagonal pattern. Each tile in this pattern is offset by one-third of its length from the tile below it, resulting in a staggered diagonal effect. You can use more than one color tile to add an 'extra' touch to the design. Also, this pattern has several advantages.
For example, a diagonal design might make a small room appear larger. Moreover, if your wall isn't completely square, a diagonal pattern will cover any defects. On the other hand, setting tiles on the diagonal increases the number of cuts you must make around the perimeter of your installation because the tiles no longer line up with your walls.
The Herringbone pattern is named after a supposed resemblance to the bones of the Herring fish. The equal-size, rectangular porcelain tiles 12X24 in this pattern are arranged in a staggered zig-zag pattern. This design has long been a favorite for architects and homeowners alike.
The herringbone pattern will offer your space a unique and intriguing appeal while also making the room feel larger. Moreover, because this design is made of porcelain tiles, you can be confident in the quality and durability of the tiles. However, Herringbone tiles are best suited for small spaces such as laundry rooms, powder rooms, and entryways rather than bedrooms or drawing rooms.
The diamond pattern is another unique yet popular pattern for porcelain tiles 12X24. This design can be found in many homes. Moreover, in this tile pattern, two tiles with contrasting colors are often used to create an alluring effect. Although this design has a historic feel to it, it is widely used in heritage buildings.
The diamond pattern, like the herringbone design, requires tile cutting. Remember to budget 10-20% more for damage from cuts and breaks. Moreover, by arranging matching tiles at an angle, you can add subtle interest without detracting from the dominant hue. So, if you want to experiment with different color combinations, the diamond design is the way to go.
The basket weave design gets its name from its resemblance to the texture of a woven basket. This pattern comprises many horizontal and vertical porcelain tiles 12X24, resulting in a square pattern reminiscent of woven baskets.
Depending on the surrounding decor, this pattern can be styled in a traditional or contemporary manner. This pattern also produces a visual and tactile aesthetic that can be pretty appealing. However, this pattern is more commonly used for bathroom or kitchen than for bedroom or drawing room walls.
Neelson Ceramic is a well-known porcelain tile manufacturer in India, producing high-quality, tempting porcelain tiles in multiple designs and textures. The company has the backing of competent industry experts and cutting-edge technology to manufacture unique design porcelain tiles 12X24 and other tiles. Visit the website to find out more about the collection.