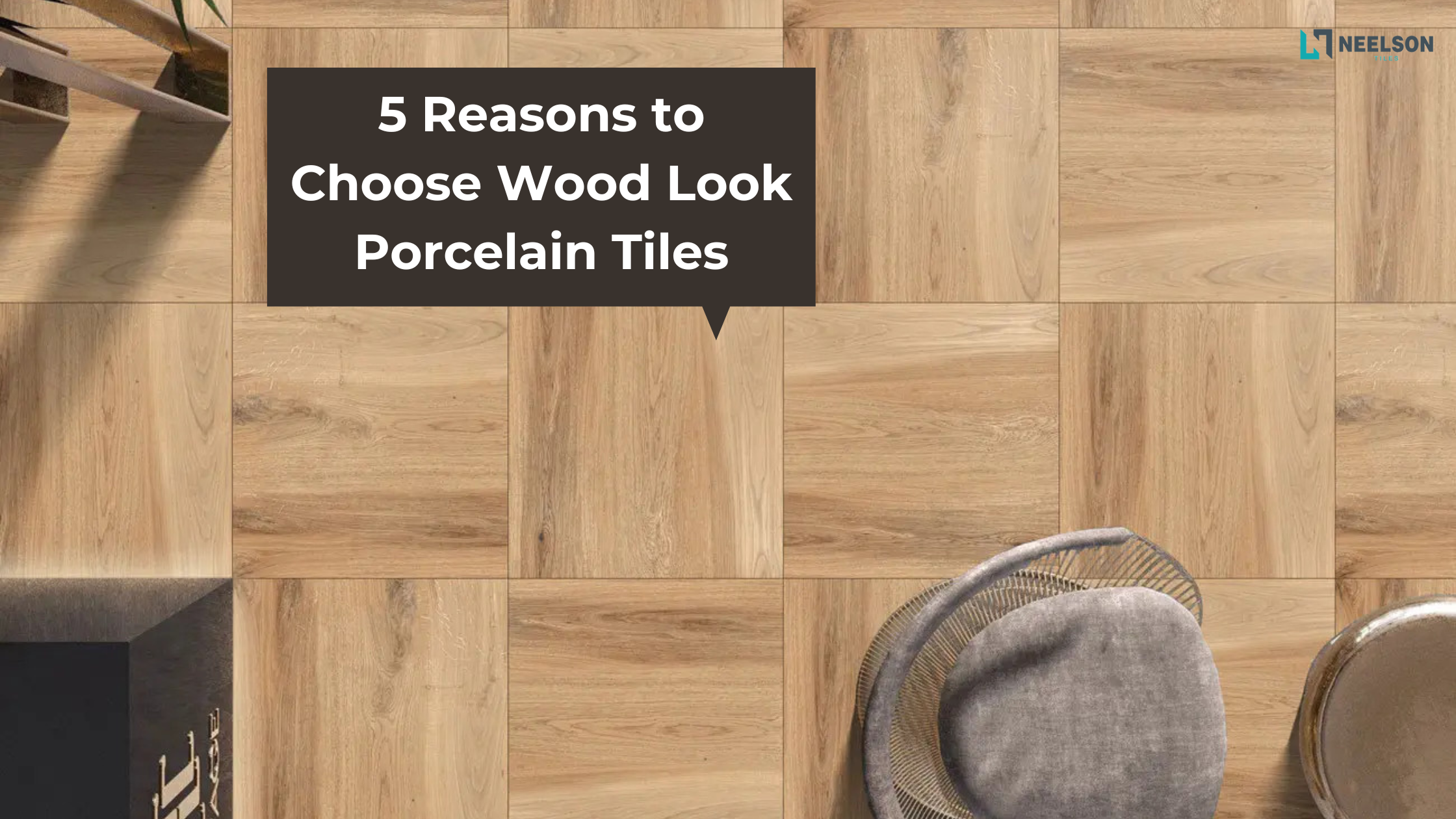 With the advancement of modern technology in the ceramic industry, there has been a flood of a wide range of tiles, patterns, designs, textures, finishes, materials, sizes, shapes. Just in the past few decades, we have been introduced to a range of new tiles, including glazed porcelain tiles, wood look porcelain tiles, polish tiles, and so on.
Not only has the tile type improved, but so has the tile quality. For example, Companies have begun to produce tiles with less porosity and more strength. Moreover, as compared to traditional tiles, the latest tiles have numerous advantages such as anti-bacterial, anti-skid, durable, non-porous, and so on. However, in this blog, we will focus on wood look porcelain tiles and 9 reasons to choose them.
Let's start with what a wood look porcelain tile is.
What is a Wood Look Porcelain Tiles?
Wood look porcelain tile is a new trend that has grabbed the attention of both customers and designers. It is a sort of porcelain tile with a wood print on the surface that resembles real hardwood.
Using wood that looks like porcelain tiles has several advantages, including being far less expensive than wood flooring, being durable, able to resist weather extremes, being simple to maintain, and providing the enticing look of hardwood flooring at a fraction of its cost!
Along with these benefits, there are other significant advantages to using porcelain wood tiles discussed in the next section.
9 Reasons to Choose Wood Look Porcelain Tiles
The following are the top 9 reasons to choose porcelain tile that looks like wood, also known as porcelain wood tile:
When choosing tiles, quality should be prioritized because it is a product that will be used on a daily basis. As a result, it is expected that the tiles have high durability and a long lifespan. Fortunately, when you buy wood look porcelain tiles, you can be sure of its durability. Since porcelain materials are of high durability, its products are also incredibly durable and have a longer lifespan than other tiles.
It can withstand heavy wear and tear even in high-traffic areas. Moreover, the porcelain tile that looks like wood does not require re-sanding or re-sealing regularly. Overall, its high level of durability makes it a perfect flooring solution that can be used in both residential and commercial settings.
2.
Resistance to Stains, Scratches, & Moisture
In addition to being long-lasting, wood look porcelain tiles are resistant to stains, scratches, and moisture. As a result, wood look floor tiles can last for decades if cared for and maintained properly. Moreover, the wood effect flooring tiles' long-wearing finish makes them stain-resistant and easier to maintain.
Also, natural wood flooring is sensitive to water and scratch damage, making it unsuitable for use in bathrooms, kitchens, and other wet spaces. However, if you choose porcelain wood tiles, you may install them almost everywhere, including the bathroom, kitchen, shower, mudroom, and so on.
On the one hand, whereas cleaning a wood floor requires a lot of attention, time, and resources, cleaning wood look porcelain tiles requires nearly none. To clean them, all you need is a simple mop or a vacuum machine. Moreover, if they become dull or lose their luster, clean them once a week with regular detergent.
This keeps the wood look like floor tiles as gleaming as a metal. Also, since these wood look porcelain tiles can withstand water and moisture, you won't have to worry about water absorption or water damage. In a nutshell, all of these advantages work together to make porcelain wood tiles the low-maintenance tiles.
Thanks to their versatility, wood look porcelain tiles can be used in nearly every room of your home, including the bedroom, living room, kitchen, bathroom, and outdoor areas. The non-porous and anti-moisture nature of porcelain wood tiles and the variety of finishes are available, including classic oak, rich cherry, and rustic driftwood, make them ideal tiling solutions for all types of architects.
Moreover, the variety of sleek and stunning finishes and textures available in porcelain wood tiles make them an ideal solution for almost any type of architectural style, whether traditional, modern, or contemporary. Also, since these tiles are available in the most common sizes, such as wood look porcelain tiles 600x600mm you may easily fit them in all room sizes– small or big.
5.
Natural & Sleek Appearance
The primary objective behind using wood look porcelain tiles is to achieve a natural wood flooring look at a lower cost. Isn't it? Porcelain wood tiles, fortunately, completely meet this requirement. It provides your home a very natural and elegant appearance that complements the natural wood look flooring. So you not only receive wood like flooring at a low cost, but you also get the benefits of wood look porcelain tiles!
Moreover, the versatility of porcelain wood tiles expands the range of styles that can be achieved using porcelain wood look like tiles. Overall, wood look floor tiles outperform natural wood in many ways, and they also contribute to conserving the environment.
Opting for wood look porcelain tiles instead of real wood flooring is an eco friendly option. These tiles are made from ceramics which is a abundantly and easily available resource in India. That's why many manufacturers use the principle of recycle and reuse for the manufacturing of glazed porcelain tiles.
Being recyclable , it helps in reducing the increasing danger to the environment. As it helps to reduce manufacturing rates in industries therefore also help to reduce the carbon footprint in the world atmosphere. Wood look porcelain tiles are also a great alternative to natural wood. That's why by using them you can save the forest from getting destroyed.
Wood look porcelain tiles costs very little for installation in comparison to real wood flooring which costs a lot for installations. These tiles can be installed in variable easy ways. All the installation options are easy and cost effective. Whereas installation with other flooring options can be a little complex and expensive.
With proper installation it optically enhances your space. You can also easily do customizable installation with Wood Look Porcelain Tiles. Because very few grout lines are visible in their installation. Therefore you can add natural beauty to your home by spending less on installations.
Easy repair option is another great reason to choose wood look porcelain tiles. Floor tiles get damaged over time and repairing them becomes a hassle. But this is not the case with wood look porcelain tiles.
These tiles can be easily replaced if damaged. It does not affect the entire flooring like other tile options. Therefore it provides you flexibility in maintenance. Despite minor repairs, it is able to retain its consistent look and feel. The cost of repairing wood look porcelain tiles also comes in handy. The same cost can be very high with natural wood flooring and marbles.
9.
Create a Healthy Flooring
Wood look porcelain tiles are pest resistant, so it is impossible for pests to grow in them. Due to having very small pores and being water resistant, even bacteria cannot grow in them. Hence it promotes a sterile and healthy atmosphere in your home.
Moreover, wood look porcelain tiles are resistant to dust. It means dust and debris cannot easily stick or penetrate to the surface of the tiles. Therefore it helps to prevent dust allergies and growth of parasites on the floor.
This brings us to the end of our list of 9 reasons to choose wood look porcelain tiles. We hope that this information has persuaded you that wood look porcelain tiles are superior to hardwood flooring.
Summary: To summaries, Neelson tiles wood appearance porcelain tiles clearly outperform hardwood flooring in terms of quality, durability, moisture and scratch resistance, pricing, and versatility. So, if you have to select between the two, we recommend that you go with porcelain wood tiles. Dive to our collection section to explore the wide variety of stunning wood look porcelain tiles.