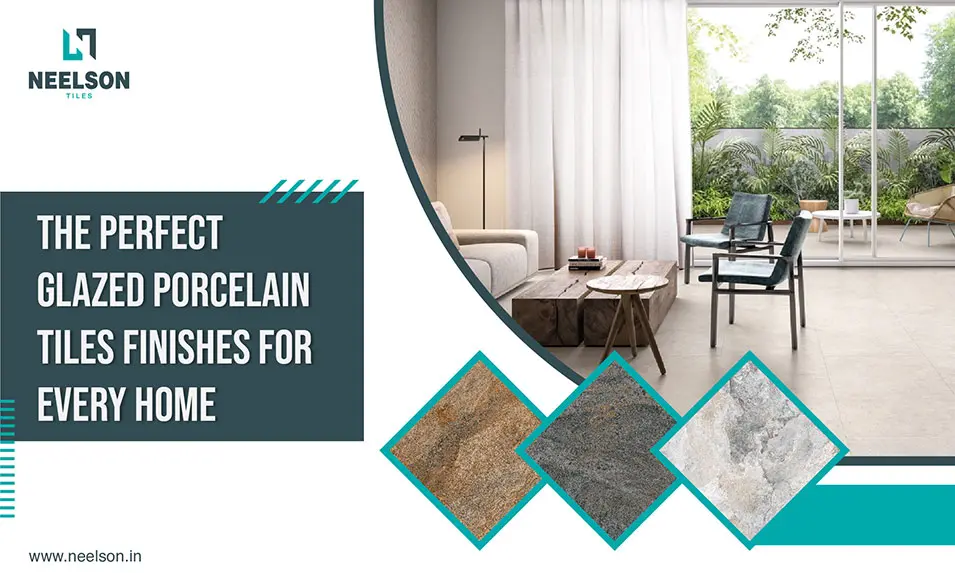 It is the dream of every homemaker to decorate every corner of their house and make it attractive, eye-catchy, and unique. Glazed porcelain tiles are undoubtedly one of the famous choices for homeowners and commercial spaces. You can enjoy the same benefits of porcelain tiles by using glazed porcelain tiles, which include the lowest water absorption rate, not getting stained or scratched, enduring wear and tear, and more. It has significant durability with a wide range of designs and colors.
But, what are glazed porcelain tiles? In the tile industry, glazed is a reference to a coat of texture on the surface of the tiles which provides the tiles a glossy/shiny look. Over the years, tile manufacturers have been able to develop porcelain tiles in several different finishes with all their properties intact, meaning you can achieve the same performance in a variety of different looks! Such an advancement allows glazed porcelain tiles to be incredibly versatile. Hence, these tiles do not lose their visuals easily and stay aesthetically pleasing for a long time.
There are several different finishes available in the market nowadays, as the demand for glazed porcelain tiles has increased. It is necessary to install the perfect tile finish according to the area to make the area elegant and classy. Today, we will take a look at the 7 most fantastic glazed porcelain tile finishes:
7 Excellent Finishes Of Glazed Porcelain Tiles
Homeowners have been requesting different finishes for glazed porcelain tiles for their unique homes. The essence of customization is important, we know! Hence, Neelson - one of the leading tile manufacturers has introduced different finishes for glazed porcelain tiles that are guaranteed to enhance the atmosphere at your homes or offices! Let's dive into it:
1.
Matt Glazed Porcelain Tiles
Matt Finish Glazed Porcelain Tiles are suitable for you if you have a contrasting personality. Matt finish gives a bold look to the room and offers beautiful aesthetics. Matt porcelain tile is the ideal option to give the traditional and rustic touch to the area. Matt finish glazed porcelain tiles do not reflect light, they provide an authentic and strong look to the room! This tile is highly anti-skid, stain-resistant, and lightweight. It is more suitable in the living room because it creates an aesthetic look..
One interesting fact is that this floor tile is appropriate for every atmosphere because it absorbs less than 0.5 water. At Neelson Tiles, Matt Finish Glazed Porcelain Tiles are available in three different sizes, 30X60cm, 60X60cm, and 60X120cm. Matt finish glazed Porcelain tile 30x60cm or porcelain tile 12x24 is best suitable for bathrooms, kitchens, and other areas.
2.
Polished Glazed Porcelain Tiles
Stunning and contemporary finish! For home flooring, Polished Porcelain Tile is an extremely popular glazed porcelain tile. A smooth look is admired by almost everyone. The polished finish gives a clean and crisp look to your room. You can feel the smoothness as your feet rest on the tiles and they are one of the most popular types of finish in the market. A polished finish is suitable for modern homeowners and lobbies because a smooth finish never goes out of style! The shiny nature of polished glazed porcelain tiles also aids in enhancing the ambiance of the room.
Polished Glazed Porcelain Tiles are available in three different sizes 30x60cm and 60x60cm and 60x120cm with attractive textures and designs. This finish is mostly used in bedrooms, kitchens, balconies, entrances, and other areas.
3.
Wood Look Glazed Porcelain Tiles
The best way to give a natural, lavish, sophisticated, and rich look to the space is Wood Look Glazed porcelain tiles. Glazed porcelain tiles with a wood look finish are considered ideal for modern contemporary homes as they offer the beautiful aesthetic of wooden tiles and features of porcelain tiles, meaning "2 targets with one arrow"!
It offers plenty of benefits such as wear-tear and moisture resistance, preferably for high-traffic areas of the home such as the living room and the entrance.
Wood Look Glazed Porcelain Tiles can sustain against the changing climate. Even these glazed porcelain tile has good compatibility with interiors and gets matched with any kind of decor. Wood look tile is available in a wide range of patterns and colors & a size of 60x60cm.
4.
High Gloss Porcelain Tiles
If shine is your style then high gloss is the way to go for you. High gloss glazed porcelain tiles have their surface coated that reflects light and makes the room brighter and shinier. This finish reflects the maximum amount of light and hence makes the room appear bigger and brighter. There are several home applications of high gloss glazed porcelain tiles which are also popular for commercial settings. Since these are high gloss finish they would be difficult to maintain, right? Not particularly, a high gloss finish is relatively easy to clean; either with warm water or just a wipe, and viola, the shine is back.
In addition, this glazed porcelain tiles bring cleaning very easy. With a clean cloth, warm water, and liquid it can easily get shiny and make maintenance hassle-free. Also, it gives a rich and vibrant look to the area. This High gloss porcelain tile comes in sizes 30X60cm, 60X60cm and 60X120cm which are perfect for any area.
This High Gloss Glazed Porcelain Tile comes in sizes 30X60cm, 60X60cm, and 60X120cm which are perfect for any area.
5.
Rocker Finish Glazed Porcelain Tiles
Wood and Marble feels amazing, there is no doubt about that, but they are more expensive and not that durable. So what can be a good alternative? Porcelain tiles with rocker finish. With the rocker finish porcelain tiles, it is possible to give a unique, glitzy, and attractive touch to the area. These tiles are ideal for commercial and residential settings that require a wooden or marble-like finish. The feel, visuals, and aesthetics of rocker finish glazed porcelain tiles are unmatched, not to mention the properties of porcelain!
Rocker Finish Glazed Porcelain Tiles is available in porcelain tile 600x1200 size which is suitable for living room, garden, porch, and other large areas with a diverse collection of designs.
6.
Honed Finish Glazed Porcelain Tiles
If you are the person who wants the best of both worlds, contrast, and shine, then Honed Finish Glazed Porcelain Tiles are for you. The process of manufacturing honed finish tiles is similar to that of polished finish tiles but they just go through less processing and polishing. Thus, giving a shine and matt finish to your homes.
7.
Brushed Finish Glazed Porcelain Tiles.
A brushed finish is essentially a stone finish tile with a soft feel. Additionally, these tiles go through fewer metal bristles and can thus withstand great and tear. Perfect to decorate your commercial settings or home bathrooms! These tiles offer a unique relaxation and are quite frankly soothing in nature.
These are some popular finishes of glazed porcelain tile that are widely used in the home and make them attractive with their extensive patterns and designs. These all finishes are budget-friendly and give longevity.
Neelson Tiles is India's renowned glazed porcelain tile manufacturer that provides a large number of carving tile finishes that can add beauty to your space. Check out our vast and unique collection of patterns, colors, and designs.