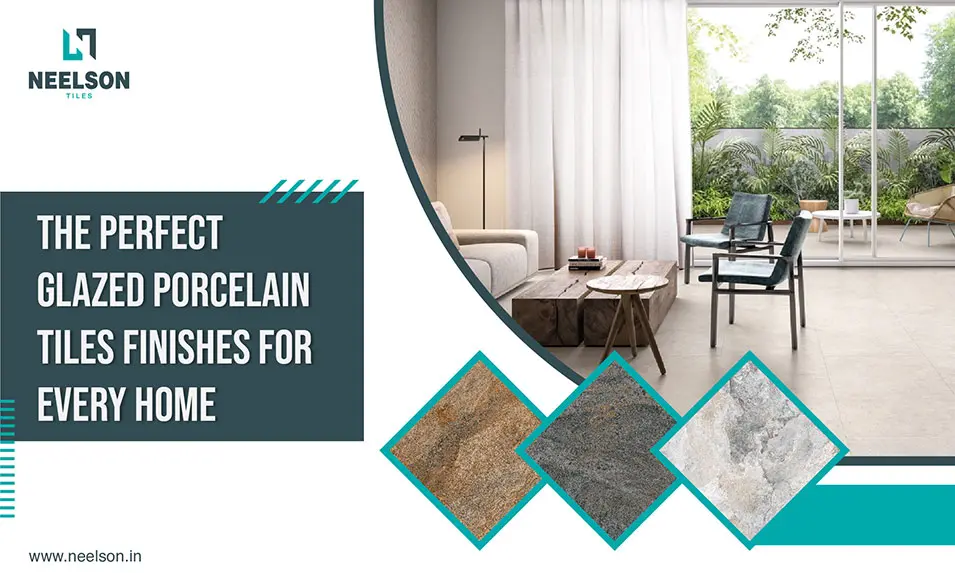 To make the area elegant and classy is needed to install the perfect tile finish according to the area. It is the dream of every homemaker to decorate every corner of their house and make it attractive and eye-catchy.
Glazed porcelain tile is an excellent floor tile as it has significant durability with a wide range of designs and colors. You can experience the benefits of using it such as the lowest water absorption rate, being highly resistant to stains and scratches, the ability to withstand wear and tear, and more.
Below are some of the different finishes of glazed porcelain tile with their characteristics that are the most convenient and reliable for your home, let's take a look at them.
5 Excellent Finishes Of Glazed Porcelain Tile
Matt porcelain tile is the ideal option to give the traditional and rustic touch to the area. This tile is highly anti-skid, stain-resistant and lightweight. It is more suitable in the living room because it creates an aesthetic look.
One interesting fact is that this floor tile is appropriate for every atmosphere because it absorbs less than 0.5 water. At Neelson Tiles, Matt tile is available in three different sizes, 30X60cm, 60X60cm and 60X120cm. Porcelain tile 30x60cm or porcelain tile 12x24 is best suitable for bathrooms, kitchens, and other areas.
2.
Polished Porcelain Tiles
For home flooring, polished porcelain tile is the extremely popular glazed porcelain tile. This tile gives a smooth and soothing touch to the area. Also, it is the perfect choice for residential and commercial areas.
There are three different sizes are available such as glazed porcelain tile 30x60cm and 60x60cm and porcelain tile 60x120cm with attractive textures and designs. This finish is mostly used in bedrooms, kitchens, balconies, entrances, and other areas.
3.
Wood Look Porcelain Tiles
The best way to give a natural, lavish, sophisticated and rich look to the space is wood look porcelain tiles. It offers plenty of benefits such as wear-tear and moisture resistance, preferably for high-traffic areas of the home such as the living room and the entrance.
Wood look porcelain tiles can sustain against the changing climate. Even these glazed porcelain tile has good compatibility with interiors and gets matched with any kind of decore. wood look tile is available in a wide range of patterns and colors & a size of 60x60cm.
4.
High Gloss Porcelain Tiles
If you want to make the area bigger and brighter the high gloss porcelain tile is the foremost choice because this tile has a powerful enamel coating that reflects the maximum lights and makes your space shiny & spacious.
In addition, this glazed porcelain tiles bring cleaning very easy. With a clean cloth, warm water, and liquid it can easily get shiny and make maintenance hassle-free. Also, it gives a rich and vibrant look to the area. This High gloss porcelain tile comes in sizes 30X60cm, 60X60cm and 60X120cm which are perfect for any area.
5.
Rocker Finish Porcelain Tiles
With the rocker finish porcelain tiles, it is possible to give a unique, glitzy and attractive touch to the area. These glazed porcelain tiles are capable to create a similar look of natural marble and wood. These tiles are slightly simple to maintain without any special care.
Nowadays, these carving glazed porcelain tile is very famous for their elegant and stunning features. It is available in porcelain tile 600x1200 size which is suitable for living room, garden, porch, and other large areas with a diverse collection of designs.
These are some popular finishes of glazed porcelain tile that are widely used in the home and make them attractive with their extensive patterns and designs. These all finishes are budget-friendly and give longevity.
Neelson Tiles is India's renowned glazed porcelain tile manufacturer that provides a large number of carving tile finishes that can add beauty to your space. Check out our vast and unique collection of patterns, colors, and designs.