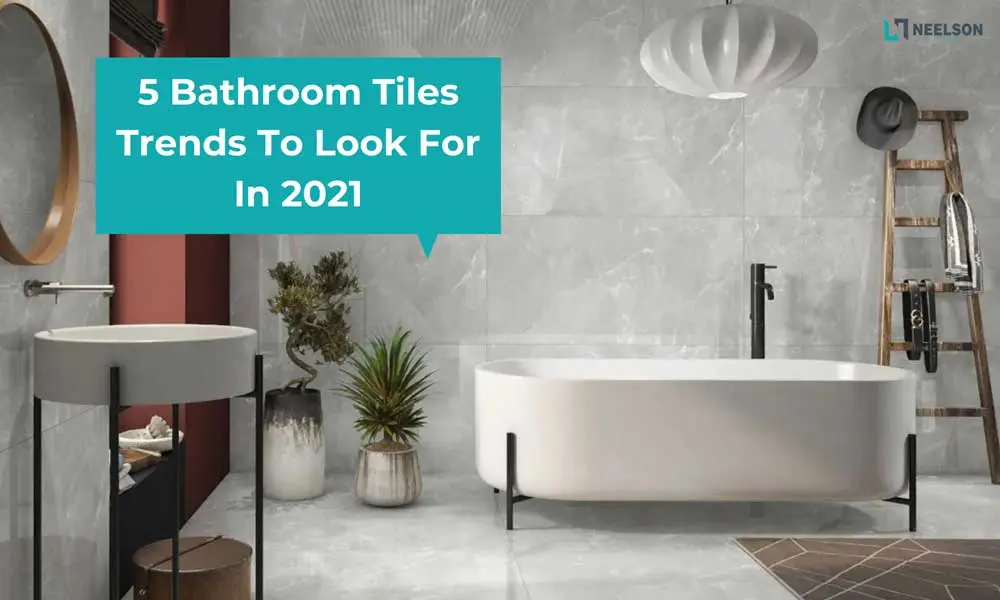 When upgrading or designing your home, you cannot afford to disregard the bathroom tiles. The bathroom, like every other space in the house, such as the bedroom, drawing room, kitchen, balcony, children's room, parking, and so on, is an important place that requires equal attention and care when planning the decor.
However, the design and styles of bathrooms and bathroom tiles have developed significantly over time. As a result, we now have glazed porcelain tiles that are a fantastic fit or a perfect solution for bathroom flooring since they are long-lasting, scratch-resistant, maintenance-free, and non-porous. Aside from that, the glazed porcelain tiles also offer the bathroom a great appearance and make it look magnificent.
This blog will take a quick look at the top 5 bathroom tile trends for 2021. We are confident that this information will assist you in short listing and selecting the best bathroom tiles for your bathroom. Let's get started!
5 BATHROOM TILE DESIGN TRENDS FOR 2021
For generations, marble tiles have been used to make a space look luxurious and exquisite. Although it was originally only used by the elite, it is now available to everybody and everyone. As a result, marble glazed porcelain tiles have now become one of the top tiling solutions for bathrooms. The best thing about marble tiles is that they can be installed on both the bathroom floor and the walls.
Besides, using marble tiles in the bathroom has a number of advantages, including the fact that these tiles are beautiful, highly durable, have hard wear and tear strength, are excellent insulators, and are reasonably priced. Not to mention that it complements nearly all bathroom styles and interiors, making the entire space look seamless and complete!
Mosaic bathroom tiles have made the second place on our list. These tiles are made up of small tile pieces that are put onto a mesh backing to form a bigger tile. Because the bathroom is a moist place, installing mosaic glazed porcelain tile for bathroom is always regarded as the best option since it is easy to clean, available in several materials such as glass, natural stone, and porcelain glazed tiles, is highly durable, resistant to mould, and comes in a variety of colours.
Moreover, mosaic tiles will add a high-end luxurious appeal to your bathroom while also providing a unique texture. Using mosaic tiles, you may create attractive patterns and add an artistic touch to the bathroom. Furthermore, you can give the bathroom a dazzling, light-reflecting surface by using glass mosaic tiles or high gloss porcelain tile. Given all of these factors, we are confident that mosaic glazed porcelain tile will be among the top bathroom tile trends in 2021.
3.
Wooden Finish Bathroom Tiles
When it comes to flooring, wood tiles have always been the best choice. However, it is worth noting that, in the recent decade, there has been a surge in the use of wood finish tiles in bathrooms. While wood look porcelain tile is a durable option for bathroom floors, it also looks great on the ceiling and walls. In addition, it offers a sense of natural warmth as well as a classic touch to the overall look of the bathroom. Moreover, aside from its durability, wooden finish tiles are relatively simple to clean as well. At the same time, we suggest that you use 12x24 porcelain tile to make the bathroom look bigger.
Also, wooden finish tiles can be cleaned with any cleaning product with utmost ease. Even in the odd case that these durable wooden tiles get broken, you can easily replace that single tile rather than the entire flooring. Another major benefit of wooden finish bathroom tiles is that you may have a fantastic wood impression without spending a fortune! For all of these reasons, we are confident that wooden finish glazed porcelain tile will be among the most popular bathroom tile trends in 2021.
Subway tiles have been known for their beauty and elegance for decades, and they are expected to continue to dominate wall tile designs and trends for many years to come. These little white rectangular tiles look absolutely classic and add a calm and luxurious vibe to the bathroom. Moreover, these tiles are extremely versatile, and you can use them to create multiple patterns.
For example, you can use white subway glazed porcelain tile with contrasting colour insets to create a monochrome design, or you can use vivid colours like green, coffee, or violet subway tiles to create a bold look or you can match it with rocker porcelain tiles. Overall, subway tiles for the bathroom are always a great option to consider. So there is no doubt that subway tiles will continue to dominate bathroom tile trends in 2021, as they have in the past!
5.
Matte Finish Bathroom Tiles
Like subway tiles for bathrooms, Matte glazed porcelain tiles have always been a popular tiling option for bathroom flooring. The most prominent advantage of using matte tiles in the bathroom is that, unlike gloss tiles, matt tiles can camouflage smudges, stains, and dried water droplets better. Moreover, matt tiles do not require frequent wiping, and when you clean them, you do not need to be as concerned about water and soap marks.
Moreover, there are some additional advantages to using matt porcelain tile in the bathroom. For example, they require less care, provide the best natural rustic feel, and are non-slippery since they have more friction than gloss tiles, ensuring the safety of kids and the aged. Also, if you like dark colours and darkish interior design, matte glazed porcelain bathroom tiles are the finest choice for you. To create a unique design, you can pair them with polished porcelain tiles.
Given all of the benefits of matte finish bathroom tiles, we are confident that matt bathroom tiles will be one of the top bathroom tile trends in 2021.
So those are the top 5 bathroom tile trends to look out for in 2021. The entire 5 bathroom glazed porcelain tiles will produce a unique appearance and appeal in your bathroom and will be enough to satisfy your design cravings.
Summing Up: As previously stated, when preparing the interior of your home, you should not overlook or underestimate the bathroom design. Give the same attention to bathroom flooring as you do to drawing room flooring. Explore all of the 5 bathroom tile trends to look for in 2021 listed above and select the best one that fits your thoughts and needs.